Virgin Atlantic has revealed its Airbus A330neo, designed to provide a premium, personalised experience for passengers. The airline's Upper Class cabin boasts a brand new seat, evolution of its iconic social space and the unveiling of The Retreat Suite, the most spacious suite in Virgin Atlantic's history.
Virgin Atlantic's A330neo is expected to take off to Boston on its first customer flight in early October. Tickets will go on sale later this month. From September 2022, the airline will take delivery of three aircraft, with the remaining deliveries following between 2023 and 2026.
Upper Class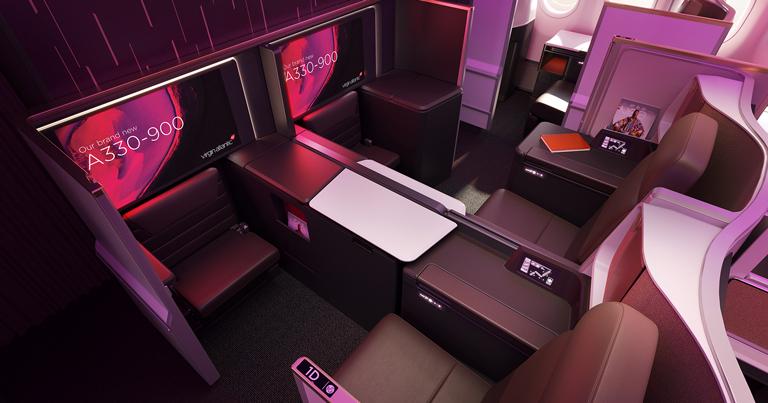 The Retreat Suite is a brand new innovation in Virgin Atlantic's Upper Class offering and consists of two exclusive suites at the front of the cabin. The airline's most spacious suite yet, comprising a 6ft 7' direct seat to fully flat bed and a 27" touchscreen with Bluetooth connectivity and wireless charging. With each suite boasting an ottoman that doubles up as an extra seat, up to four people can comfortably dine, chat or play games in their own private social space.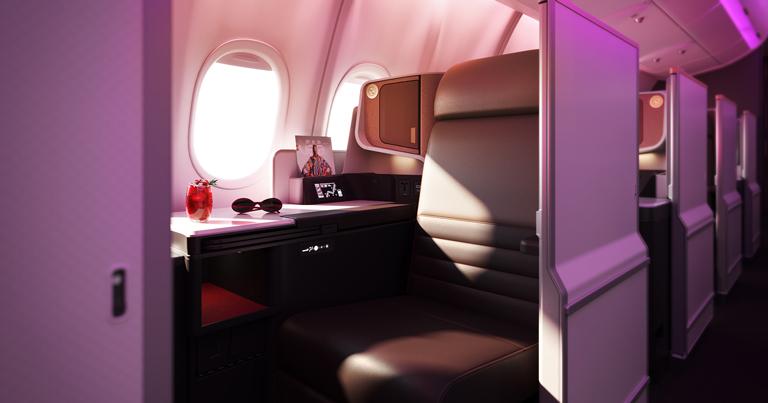 In addition to The Retreat Suite, the A330neo will offer 30 brand new Upper Class suites. The fully forward-facing suite offers more space and storage alongside a fully closing privacy door. It has passenger-controlled mood lighting, 17.3" touchscreen TV and a mirror.
The airline's social space, The Loft, remains a focal point of the cabin design as customers board the aircraft and is a core part of the Upper Class experience. In an evolution of design from the Airbus A350, it consists of space for eight people, with four comfortable seats, allowing guests to sit and chat or enjoy refreshments from the new self-service fridge and drinks dispenser. Customers can also connect Bluetooth headphones to the dual panoramic 27" touchscreens or utilise the wireless charging facilities for their devices.
Premium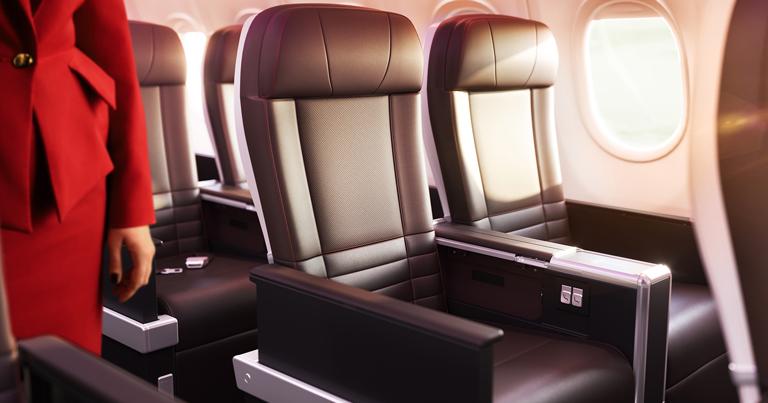 The new Premium class consists of 46 seats. Virgin Atlantic's trademark burgundy Premium seats, with a 38" pitch remain, but they're accompanied by calf rests in every seat and a 13.3" touchscreen with Bluetooth audio. The airline is also offering its Premium customers an in-seat wireless charging pad.
Economy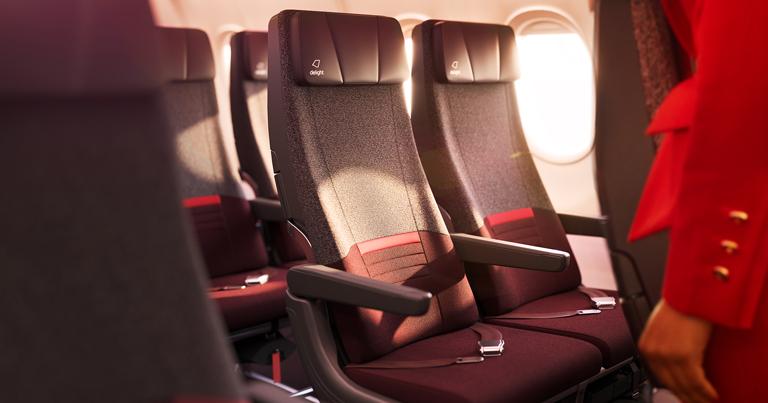 Economy cabin customers are set to experience the largest ever economy screen at 13.3", with an intuitive touchscreen and Bluetooth audio to connect headphones, with customers able to use their phone as a controller. There's also plenty of storage, plus AC power and USB ports to keep gadgets energised. Customers have the choice between 28 Economy Delight seats, which offer an increased 34" seat pitch, or 156 Economy Classic seats, providing a 31" pitch.
Corneel Koster, Chief Customer and Operating Officer at Virgin Atlantic, commented: "When it comes to innovating for our customers, we never stand still.  Our desire to create memorable experiences means we'll continue to imagine with fresh ideas. We care about every detail of the cabin design and every step of our customer's journey. We're proud to unveil our state of the art A330neo and show the evolution of our customer experience, with each of our customers receiving a premium experience regardless of the cabin they travel in. They'll be better connected with their fellow travellers and our amazing crew in the air, and with their friends and family on the ground.
"The A330neo plays a significant role in our multi billion dollar fleet transformation, demonstrating our commitment to the planet. We know the most impactful thing we can do as an airline is to fly the cleanest, greenest, youngest fleet possible and the A330neo is integral to achieving this goal. It's truly a plane for the future."
Virgin Atlantic's in-house design team has worked in collaboration with Factorydesign to develop the Retreat Suite, Upper Class Suite and The Loft.