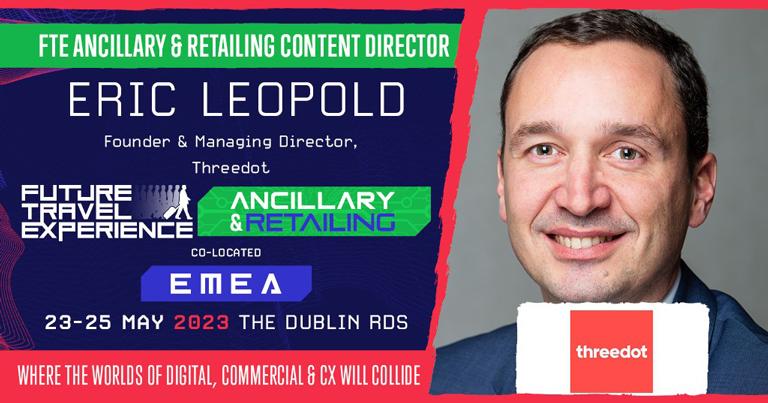 Future Travel Experience (FTE) is delighted to announce that Eric Leopold, Founder & Managing Director, Threedot, will work with us closely for next year's FTE Ancillary & Retailing show, which will be co-located with FTE EMEA in Dublin on 23-25 May 2023.
The reimagined FTE Ancillary & Retailing event will focus on how the worlds of commercial, digital and customer experience can converge more effectively, under the event theme of "Tomorrow's Customer", and Eric will bring his unique perspective on the evolution of airline retailing and ensure we deliver our best agenda, and attendance, yet.
Eric is a long-time friend to FTE, and in 2021 he launched Threedot – an advisory services company for the travel industry supporting clients with their digital transformation and go-to-market strategies, and working on new ventures. Prior to that he spent 15 years at IATA where he focused on strategy and transformation leading efforts on important initiatives such as NDC & Simplifying the Business, and key events such as the World Passenger Symposium & World Financial Symposium.
Eric commented: "FTE Ancillary & Retailing is the must-attend annual meeting where innovators showcase their latest developments, where leaders share their vision and where all partners contribute their use cases. I am excited to be working closely with FTE to help accelerate the industry's transition to airline retailing and ultimately improve the travel experience."
Daniel Coleman, founder & CEO, Future Travel Experience, said: "Since its introduction in 2017, we have established FTE Ancillary as the worldwide event where the industry gathers to discuss the best ways to generate new digital revenue opportunities at every step of the journey. Optimising commercial performance has never been more important and through the rebranded FTE Ancillary & Retailing events, we want to go even further to help the sector establish creative new ways of working together collaboratively to create more revenues for all to share in through the show, and I know Eric will make an invaluable contribution to those efforts."
The co-located FTE EMEA and FTE Ancillary & Retailing shows will feature multiple conferences, a major end-to-end exhibition, co-creation workshops, tours, briefings, startup content and showcases, and a unique social and networking programme in the heart of Dublin.
Both co-located shows are free for airlines to attend, and low-cost for other industry stakeholders. More details to follow in the coming weeks.