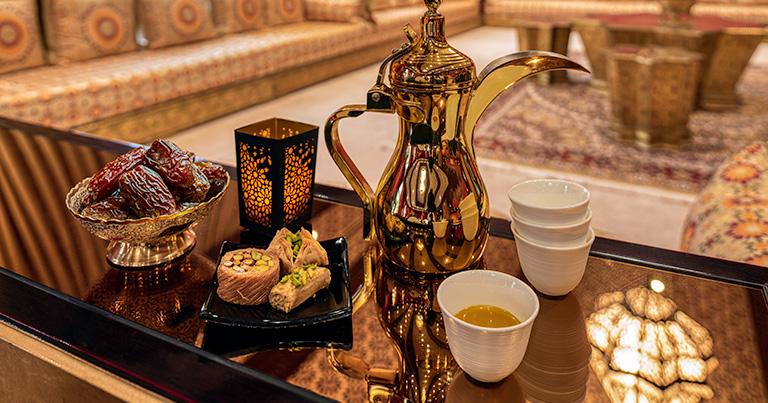 Qatar Airways welcomes the Holy Month of Ramadan with preparations to offer a bespoke Iftar to passengers onboard and at its Al Safwa, Al Mourjan and Global Premium Lounges. Special Ramadan offerings will be available on flights to the GCC, Middle East, and some Indian sub-continent, African and Asian destinations.
As the sun begins to set and passengers approach the time to break their fast, Qatar Airways cabin crew will make an announcement indicating Iftar time and invite passengers from First, Business and Economy Class to indulge in the appetising treats presented in a specially designed Iftar bag to cater to fasting travellers. The bag design wishes travelling customers 'Ramadan Kareem' written in traditional Arabic calligraphy. The treats include vegetarian and non-vegetarian wraps, Arabic sweets, dates, a slice of cake, laban and water.
Similarly, Qatar Airways' Al Safwa First Class Lounge and Al Mourjan Business Lounge will announce the prayer call, in readiness for passengers to utilise the prayer rooms.
"During the Holy Month, it is our duty to tend to each other and foster spirituality," said His Excellency Mr. Akbar Al Baker, Qatar Airways Group Chief Executive. "Welcoming one of the most spiritual seasons, Qatar Airways is proud to offer its passengers a calm and curated travel experience during the Sacred Month of Ramadan. On behalf of Qatar Airways, I wish you all a blessed Ramadan."