Ahead of the FTE Ancillary & Retailing event, co-located with FTE EMEA in Dublin on 23-25 May 2023, FTE spoke to Advisory Board member Sammy Patel, Vice President Commercial, Vantage Airport Group & Chief Executive Officer, Midway Partnership, about responding to the latest commercial innovation trends, the commercial proposition in the new terminal at Kansas City International Airport, and the role of technology in enhancing the retail experience for travellers.
View the FTE EMEA and FTE Ancillary & Retailing schedule at a glance >>
Register for FTE EMEA and FTE Ancillary & Retailing – one registration provides access to both events >>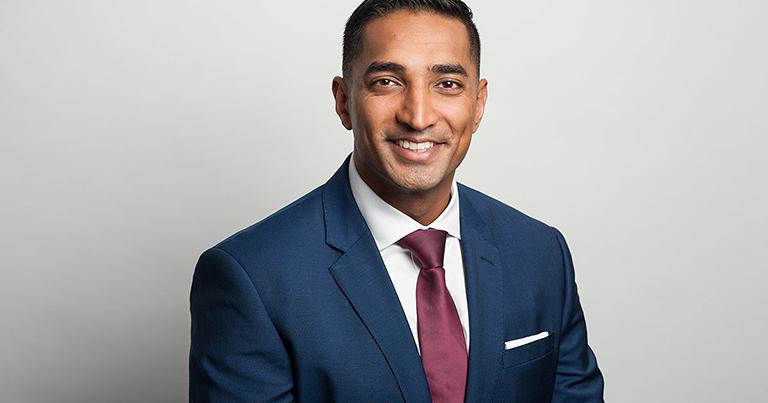 "Our airports have faced huge challenges and have undergone an incredible amount of change over the past few years, and this won't slow down in 2023," Patel begins. "Our Operational & Commercial Teams are dealing with the impacts and learnings from the pandemic, current economic challenges, including inflation, and the ever-changing advancement of technology and digital."
He identifies three key commercial innovation trends, outlining how Vantage Airport Group is proactively responding:
Automation and robotics: "We are spending an increasing amount of time on how we can leverage autonomous robots in our operation, but in particular, for the delivery of retail and food & beverage. I can see this being a valuable solution to streamline operations and help us with current workforce shortages."
Accelerated digital transformation: "The pandemic sped up our digital transformation, and our passengers became far more familiar with and willing to use digital methods, including contactless payment options, self-checkout, and mobile ordering. We are open-minded as to innovations and developments in transformative technologies such as Artificial Intelligence and Virtual and Augmented Reality if they can help make us more efficient, drive revenue, and ultimately improve our guest experience."
Immersive experiences: "We are already seeing in other industries customers want an experience and are willing to pay for amazing, engaging, and memorable moments. We are working closely with our commercial partners to see how we can continue to drive engagement and conversion through the process of choosing, purchasing, and enjoying the products in our airports."
New Kansas City terminal: a customer-centric approach and multi-sensory retail experience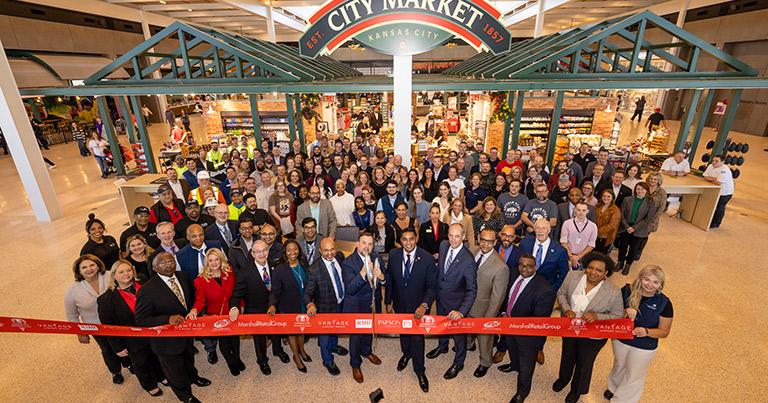 Vantage Airport Group recently celebrated the opening of the new terminal at Kansas City International Airport. Its partners, the Kansas City Aviation Department, were fully aligned with a customer-centric approach as they curated the entire passenger journey from the terminal offerings of public art installations to an electric fountain representing Kansas City's world recognition as 'The City of Fountains'.
"With the airport's vision, it was easy for us to curate and integrate a programme into the wider airport's base build plans with the dining and shopping environments created with the local concessions, national brands, and concepts," Patel explains. "This approach is unique to how Vantage designs shops and restaurants throughout our network of airports that make guests feel more relaxed because, at Vantage, we know that happy passengers spend more money. We take a unique approach in our partnership with a more human customer-first methodology."
The new terminal has one single open checkpoint with a high ceiling and locally harvested wood-planked ceilings with warm tones and plenty of light. As passengers leave the screening area, they enter a huge open space that is surrounded by concessions on both sides and clear lines of visibility as to where they may want to go next or spend their time prior to departing.
"Our design inspiration for the new terminal was simple: it was the people and places of Kansas City that inspired us and continues to inspire us," says Patel. "As a tribute, we designed our programme to represent the communities, the talent, and the people within the communities that are so uniquely Kansas City."
Creating a sense of place is not just about the brands or concepts offered. It must come through in the design aspects of the terminal and the common areas, in order to bring it all together. "That's what drives the sense of place, the taste of place, and our overall vision," Patel explains. "Our goal was to create a multi-sensory experience for travellers that defined a sense of place, so that if a person were placed inside the new terminal with their eyes closed when they opened them they did not see a space full of glass and shiny objects. Instead, they would be immersed in the sights, sounds, tastes, and smells of Kansas City and the local community that created them."
"A product mix and environment that is relevant to the customer"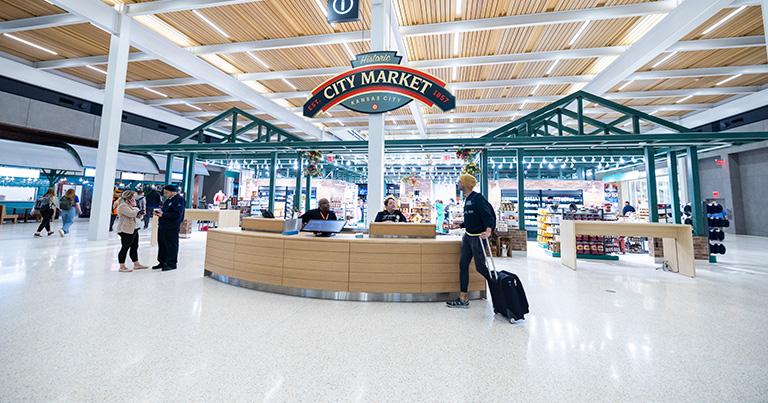 Vantage Airport Group's primary objective was to properly showcase the passion and flavour of Kansas City within the airport, along with the right mix of global brand favourites. "Like with every project we work on, a key element to delivering a successful commercial offer and enjoyable passenger experience is providing a product mix and environment that is relevant to the customer," says Patel. "To gain a deeper understanding of passengers using the airport, we conducted our own research to gain insight into the types of passengers using the old terminals to best design and cater the concession programme to their needs."
Two key operating partners are food and beverage operator Outstanding Hospitality Management (OHM) and customer-focused travel and convenience specialty airport retailer Marshall Retail Group (MRG), a WHSmith company that both supported the curation of the programme with its own concession locations and also many local and international brands and concepts.
"As we've introduced at LaGuardia Terminal B, one of the lasting trends we're seeing is a shop-within-a-shop, department store-style experience, which offers much more flexibility for the operators and variety and choice for passengers," Patel explains. "As we did at LaGuardia, there was excitement in trying something similar with MRG, which led to the evolution of the 'Made in KC Marketplace' in the Concourse A Node and the 'City Market' in the Concourse B Node. Both locations are representative of Kansas City's iconic shopping experiences. The 'Made in KC Marketplace' is a well-known, established local entrepreneurship business and mentorship programme that promotes the careers of hundreds of local makers with several citywide retail locations. The 'City Market' has a rich history dating back to 1857 and is located in the heart of Kansas City and is a year-round Farmers Market."
Taking cues from the shop-within-a-shop concept, the approach was also taken to create a BBQ experience with Kansas City being one of the BBQ capitals of the world, including an in-airport full smoker that fills the air with the smells of BBQ. "This one-of-a-kind, fully immersive dining, shopping, and performance space experience was created with operator OHM and is so much more than just a BBQ restaurant," says Patel. "Passengers can relax and indulge in Kansas City's best-known specialties, BBQ, and music in this beautiful space with natural light from the windows overlooking the airfield and vaulted ceilings that encompass a combination of a rustic and modern feel."
Innovative technology to "provide a powerful, competitive edge"
Innovative technology also plays an important role in the commercial proposition in the new terminal at Kansas City International Airport. "At Kansas City, we have implemented the right technology that can save time and provide a powerful, competitive edge in growing the concessions business, as well as offering something unique to arriving, departing, or connecting passengers," Patel explains.
Self-checkout options: "In select retail locations throughout the terminal, easy-to-navigate self-checkout stations have been integrated, allowing passengers convenience, privacy, and control. They have the ability to grab their favourite snack, head to the self-checkout station, scan, bag, and complete their purchase within minutes. Through our commercial experiences at Chicago Midway International Airport and LaGuardia Terminal B, we know a large portion of our passenger base is comfortable with using technology and welcomes digital interaction, convenience, and shopping on demand. As in our other airports, we have also partnered with OHM to introduce Amazon's Just Walk Out technology and Palm Payment options."
Amazon Just Walk Out technology: "Two '&Go' locations, pre-security, and post-security, are featured at Kansas City with the Amazon Just Walk Out technology that uses a combination of ceiling-mounted cameras and shelf weight sensors to automatically track customers and items as they move around the store. Once someone has finished their shopping, they can walk out of the store without needing to scan anything or interact with a cashier. In practice, customers swipe their credit or debit card or scan a QR code at the entrance, then shop and simply walk out when they are done shopping."
Self-serve craft beers and nitro cold brew self-pouring systems: "As part of the overall concessions offerings, OHM, in partnership with Drink Command and its technology platform, have taps across six different restaurant options in Kansas City, offering travellers the convenience and ease of serving their own beverages. Intuitive touch screens and tap-to-pay payment options provide a premium experience with its own unique design to complement the locations at Stockyard Brewing Co., Martin City Brewing Co. Meat Mitch, Made of Kansas City Food Hall, and the City Market Food Hall."
Mobile ordering: "We have activated mobile ordering for employees and airline crew members, starting first with our national brands. We will be rolling out a broader offering to the public once each operator has tested and prepared. This web-based marketplace creates a tailored experience for passengers, allowing them to order their meal from anywhere in the airport and have it waiting for them to pick up. This customer experience offering is another important step we have taken to ensure passengers have access to touch-free and convenient options, reducing stress while travelling through the beautiful new terminal."
New JFK Terminal 6: "100,000 square feet of world-class shopping and dining"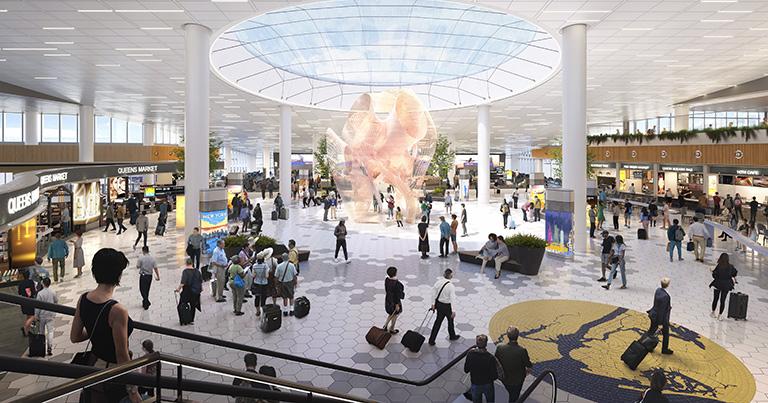 Vantage Airport Group also recently broke ground on the $4.2 billion development of a new international Terminal 6 at JFK Airport. The new Terminal 6 is a public-private partnership between the Port Authority of New York and New Jersey and JFK Millennium Partners – a consortium that includes Vantage Airport Group; American Triple I, a certified minority-owned investor, owner, and developer; New York real estate operating company RXR; and JetBlue Airways.
The new terminal will be developed in two phases, with the first new gates opening in 2026 and project completion anticipated in 2028. The 1.2 million-square-foot Terminal 6 will have the capacity for 10 gates – including nine wide-body gates – and will connect seamlessly to JetBlue's Terminal 5.
"This will be a state-of-the-art facility," says Patel. "It will feel spacious, bright, and airy thanks to floor-to-ceiling windows and high ceilings throughout the new terminal. Inspiring public art by New York-based artists and architectural elements depicting New York landmarks will create a unique sense of place. Passengers will enjoy more than 100,000 square feet of world-class shopping and dining featuring locally-based restaurateurs, craft beverage options, and integrated well-known global brands."
Chicago Midway dining and retail transformation nearing finishing line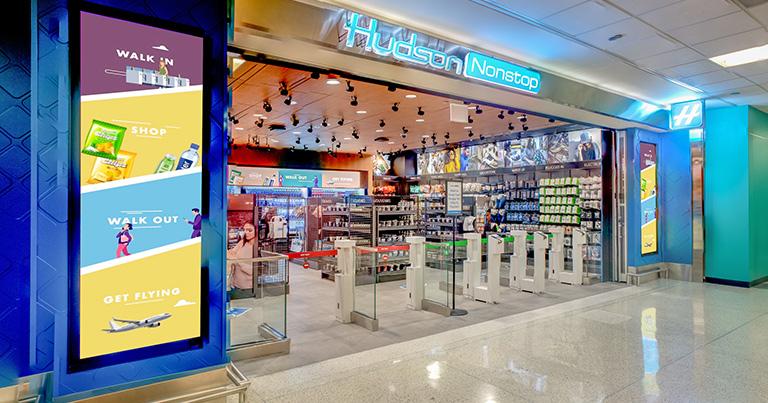 Chicago Midway International Airport's dining and retail transformation is nearing the finishing line, and the final phases are under design and construction. Midway Partnership is a joint venture comprised of SSP America, Hudson Group, and Vantage Airport Group. This team is investing over $75 million to nearly double the retail footprint at Midway.
"The final phase includes the introduction of Hudson's Evolve concept, which will combine convenience retail with branded shop-in-shops," Patel explains. "This new store at Midway will be 6,700 square feet and extends Hudson's familiar convenience format by adding an array of well-known names – among them Bang & Olfusen, Burt's Bees, Herschel, Lego, and Tumi – as well as up-and-coming local brands in shop-in-shop spaces."
Chicago Midway International Airport introduced one of the first Hudson Nonstop stores, which utilises Amazon's Just Walk Out technology. It is one of the largest airport stores featuring Amazon's technology – the 1,000-square-foot store spills out directly onto the concourse floor. "By inserting or tapping a credit card, travellers can enter the store, pick up their products, and quickly exit – avoiding checkout lines and making passing through the Windy City store a breeze."
FTE Ancillary & Retailing: "The best yet in terms of speakers and agenda"
Patel is also a member of the FTE Ancillary & Retailing Advisory Board and will be speaking at the event in Dublin, 23-25 May 2023, in a session focused on 'What will tomorrow's customer expect from the travel retail eco-system, and how do we evolve our approaches to ensure we deliver for them whilst creating better efficiencies and margins?' "This year's event looks like it is going to be the best yet in terms of speakers and agenda. I am looking forward to a progressive discussion. There has been a lot of advancement over the past couple of years, so I am looking forward to hearing learnings from industry colleagues and sharing our own experiences."
View the FTE EMEA and FTE Ancillary & Retailing schedule at a glance >>
Register for FTE EMEA and FTE Ancillary & Retailing – one registration provides access to both events >>