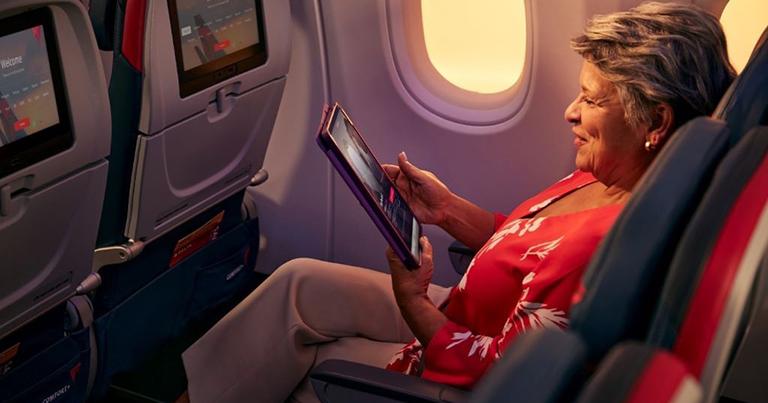 Delta Air Lines has launched 'Delta Sync Exclusives' – a first-of-its-kind platform to curate the onboard experience for passengers. First announced at CES 2023, the new digital experience for mobile devices brings together exclusive content, access and offers to customers beginning with Delta's domestic mainline fleets equipped with free Wi-Fi presented by T-Mobile.
Passengers simply need to connect to onboard Wi-Fi and log in with SkyMiles credentials to discover Delta Sync.
"Delta Sync Exclusives is an entirely new platform for entertainment and discovery designed to elevate the experience for every customer," said Ranjan Goswami, SVP – Customer Experience Design, Delta. "Customers deserve a journey that feels seamlessly fit for them, and that means delivering meaningful, personalised and relevant touch points in compelling new ways."
Delta began testing the new platform in late April on select aircraft flying domestically, with plans to introduce the platform on more than 540 aircraft with fast, free Wi-Fi by the end of July. By year-end more than 700 domestic mainline aircraft are set to upgrade to Delta's new free Wi-Fi and support Delta Sync Exclusives. Delta will bring the platform and high-speed Wi-Fi to its entire global fleet by the end of 2024.
"Our recent launch of free Wi-Fi with T-Mobile unlocks what is possible – it gives us a new set of tools and opportunities to elevate the customer experience onboard," said Goswami. "We make a habit of listening, learning and innovating based on what we hear from customers about the experiences that make travel on Delta unique and rewarding. As we refine and enhance Delta Sync Exclusives in the months ahead, our goal is to build a platform that is familiar, ever more personalised and helpful that customers can come back to across their journey."