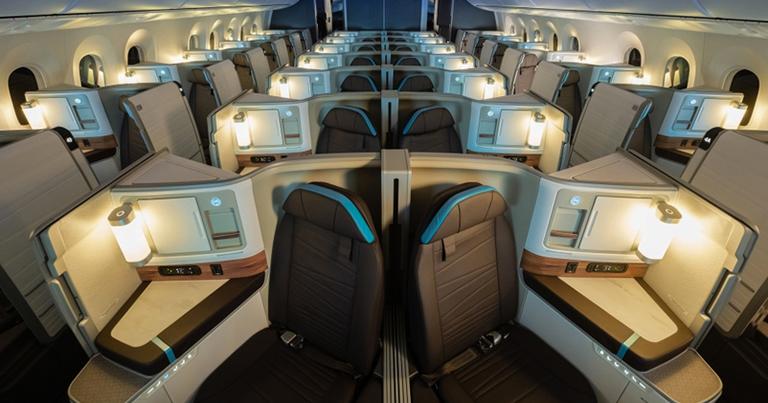 Hawaiian Airlines has unveiled its Boeing 787 Dreamliner interior and a new class of premium service – the Leihōkū Suites. Passengers onboard Hawaiian's 787, which enters service early next year on select routes, will be immersed in cabin design elements that evoke Hawaii's rich natural world through bold textures, island-inspired sunrise and sunset lighting, and sinuous ocean and wind patterns.
"The combination of our evocative cabin design and unparalleled service will make our 787 the most relaxing and enjoyable choice for travel to and from Hawaii," said Avi Mannis, Chief Marketing and Communications Officer, Hawaiian Airlines. "We take pride in sharing our home with our guests, and the design and details of this product truly reflect what it means to be the flagship carrier of the Hawaiian Islands."
Hawaiian's 300-seat 787 features its newest premium products, Leihōkū (garland of stars): 34 suites with fully lie-flat seating, an 18-inch inflight entertainment screen, personal outlets, wireless charging and direct aisle access. Set in a 1-2-1 configuration with doors, the suites can offer privacy or a shared experience, with combined double seats for couples.
In developing its Leihōkū Suite, Hawaiian became the first airline to partner with Adient Aerospace – a joint venture between the Boeing Company and Adient, a leader in automotive seats.
"It was evident from the beginning that Hawaiian Airlines is very passionate about its culture and branding, and making sure that this came through in the design language and in the passenger experience," said Tony Guy, CEO, Adient Aerospace. "It is so rewarding to bring this vision collaboratively to life and see it realised in the delivered product."