Manchester Airport recently started work on the next major phase of its comprehensive £1.3 billion Transformation Programme. In this deep-dive interview, Jill Fraser, Transformation Programme Delivery Director, Manchester Airports Group, shares how the programme will "revolutionise the customer experience", the innovative technologies being implemented, and plans for more personalisation.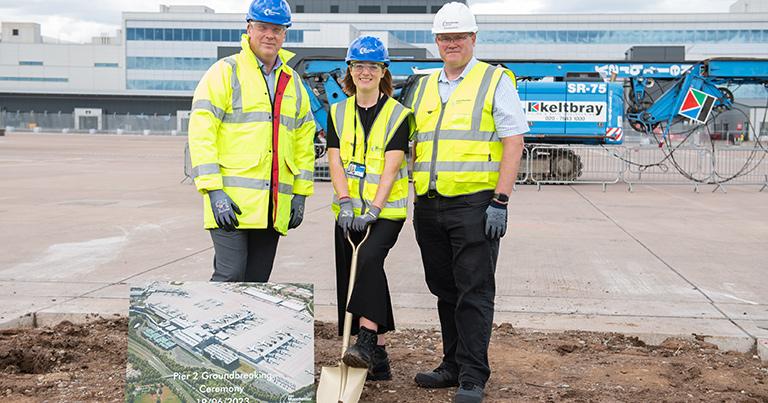 The first phase of the Transformation Programme saw the expansion of Terminal Two, with a new extension added, increasing its capacity by 150%. Phase 2 will further transform the passenger experience, with new spacious facilities, state-of-the-art technology and equipment, and new shops, bars, restaurants and airport lounges. The programme was first announced in 2015 with a 10-year vision to "revolutionise the customer experience". This latest investment will complete the transformation of Terminal Two, delivering improvement to all stages of the passenger journey – from check-in to baggage reclaim – as well as upgrading the airfield to cater for next-generation aircraft.
"We're now looking to build on that in this second phase by redeveloping the original terminal building and adding another pier, with 12 new boarding gates and flexible aircraft stands equipped to accommodate a variety of aircraft types, including the Airbus A380," says Fraser. "Much of the original building has been closed since before the pandemic, and when reopened in 2025 it will boast a brand-new security hall and 27 new restaurants, bars and retail units. Once the work is complete, Terminal One will close, and 80% of our passengers will use these brand-new facilities. This is all part of our vision for providing an experience befitting Manchester Airport's status as the UK's global gateway in the North."
"Modernised check-in and security areas designed to reduce congestion"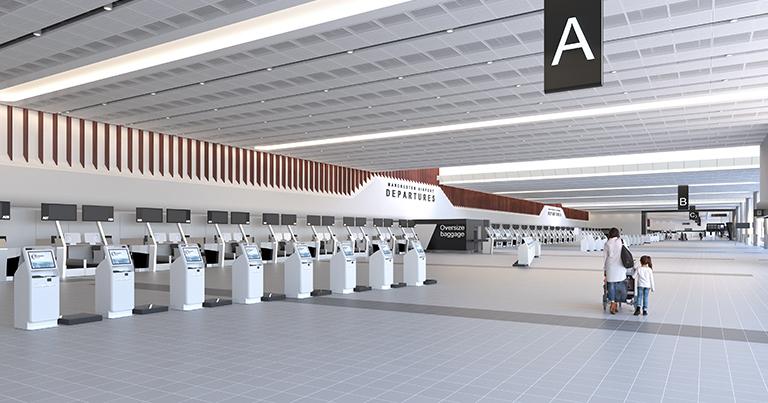 Manchester Airport is implementing innovative technologies across the Transformation Programme in its efforts to enhance the passenger experience and improve operational efficiency. The second security hall, for example, will feature new security processes in line with the transition to next-generation computed tomography (CT) scanners. This technology will be in place in the new security hall from the moment it opens and will allow passengers to carry liquids, gels and pastes in their hand baggage, in quantities over 100ml.
"Passengers travelling through the new terminal will see innovative design features throughout," Fraser explains. "These range from modernised check-in and security areas designed to reduce congestion and queueing in busy periods, to an 83sqm digital screen – the largest of its kind in a UK airport – to provide interactive entertainment and information to travellers."
While the programme is centred on the Terminal Two development, it also encompasses reconfiguration of the airfield to maximise the potential of Manchester Airport's two runways and ensure it is operating as efficiently as possible. "We are achieving that through a new dual taxiway system, with flexible aircraft stands," says Fraser.
A personalised passenger experience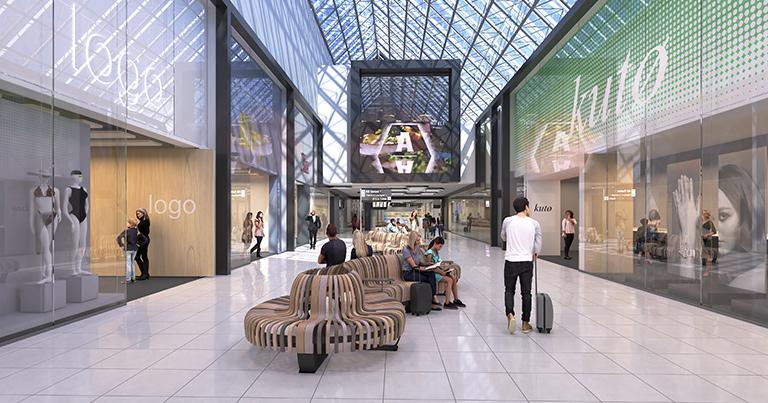 A key element of the Transformation Programme is providing a more personalised experience for passengers, particularly in the strategy for the commercial and retail offer in the expanded Terminal 2.
"More than 20 million passengers will be travelling through the new terminal every year and each passenger will have their own personal preferences, so it's hugely important to ensure we cater for all tastes," says Fraser. "We've sought to provide a mixture of major high street brands and local independent chains in the terminal's retail and dining options, and the terminal's design creates a strong sense of place with nods to Manchester's industrial and cultural heritage."
The first phase saw a mixture of national and regional brands take up residence in the Terminal Two extension, from Wagamama to an independent Salford-based brewery and a local coffee chain, and Fraser adds that the airport intends to replicate that diversity of options in the next phase. "We are currently tendering for 27 new units opening in 2025, and plans include a new Champagne bar, a market hall style food court and a boutique high street shopping area. We are keen for all units, whether occupied by regional brands or household names, to convey a strong sense of place – and that could be accomplished through their stock, their menus, or their design."