About Up in the Air
With aviation innovations groundside arriving faster than ever, passengers traveling from major airports are finding life increasingly easier. From self-check-ins to portered baggage drops to quicker and more efficient body scans, the industry has advanced more in the past five years than in the 20 that preceded.
Once the boarding process is completed though, there is a stark contrast. A glance into most economy cabins will reveal a landscape largely unchanged from the inception of the now-ubiquitous Boeing 747. Why is it that the airborne passenger experience is so underdeveloped? Numerous restraints, both financial and logistical have, in the past, prevented airlines from achieving their in-air vision.
In this new stream of FTE, 'Up in the Air', we will provide coverage to an area of the air travel experience that is beginning to catch up to its groundside equivalent. Our regular news and features will keep you up to date with all of the movements within the industry as we work towards the Future Travel Experience 2013 conference, 4-6 September at the Mandalay Bay Hotel, Las Vegas.
Changing landscape
A recently published study by American business magazine Forbes has announced that, despite widely maligned prices and countless additional charges, airlines are still not in a desirable financial position. In fact the average profit for US airlines is $0.21 per passenger – a margin of just 0.1%.
The question has arisen; how are airlines to make their business more profitable? With consumers unwilling to pay any more for a standard economy ticket, one option stands out – make the more lucrative business and first class tickets more desirable.
There has been a noticeable recent trend from airlines improving, overhauling and reworking their luxury travel experiences. In the past month alone seven airlines from all corners of the world have announced upgrades to their business or first class cabins, from a simple cheeseboard selection onboard Japan Airlines to Lufthansa's completely ergonomically redesigned first class cabin.
Possibilities
Teague is a global industry design consultancy based in the United States. For more than 50 years it has worked exclusively for Boeing, developing generation after generation of passenger cabin. One of its most recent creations, the first class cabin upon the Boeing 787 Dreamliner, has been hailed as the world's best – but where does it go from there?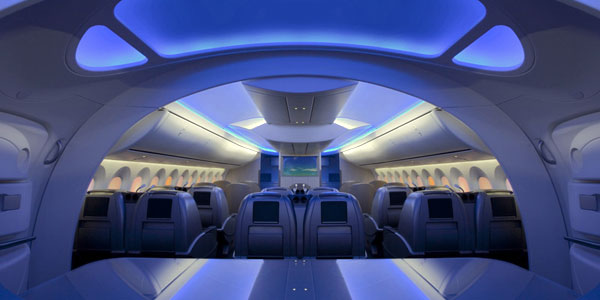 "I think there will certainly be a demand for 'super-luxe' travel. I think flying luxury in the future could be like a cruise. If a select few hundred-thousand are willing to pay for space travel, why not an experience like that?" says Timothy Miller, Senior Design Strategist at Teague. "Maybe you fly from New York to Los Angeles and that's a holiday experience in itself."
Miller believes this is a key part of Teague's ideology for the future, "The next leap for luxury travel could well not even be about a big technological breakthrough. It might be about tailoring the experience to the passenger. We don't know what technology will be available in ten years from now, but aircraft being bought right now have to be able to accommodate them.
"Connection and integration with information is key – right across the board. All the way from information on the ground, to the information that flight attendants to have to the information that the passenger has in their hand. It needs to be seamless. From the car they drove to the airport to the check-in at the airport it can't stop there. It should carry on to the flight. Perhaps instead of just lining the walls of the cabin with LEDs we have display panels. Technology right now is too disconnected – why do passengers who are so well connected in their personal lives tolerate this?"
Realistic aims
Airbus has been Boeing's main rival in the aircraft construction world for the past 40 years. Two years ago it unveiled their plan for 2050, dubbed 'Future by Airbus', and have been slowly working towards it since. A highly conceptual project, a video was released by Airbus showing off many of the features it expects to be a part of the every-day future flight experience, ranging from a bionic cabin roof membrane to morphing seats. Miller believes that the luxuries of the everyday traveller in the future will not be a revolution so much as a regression, "We want to bring back what it used to mean to fly, we want to bring back the humanity of it. There's so much magic to flight, it's such an amazing piece of engineering, that we need to find ways to celebrate that part of it.
"You have so many people who find flying laborious as it is a regularity for them, mixed with customers who have never flown before. We need to reinvent what flying should be. I think most passengers, in a way, are just looking for equality. They want comfort which is at least comparable to other forms of transport. Subtle redesigns will be essential. Air New Zealand, for example, is completely rethinking what it does with seating and layout. There hadn't been an innovation like that at Economy level for a long, long time. Porter of North America is also making good effort to change low cost travel comfort."
Money is, of course, a factor when discussing upgrades that would affect entire fleets of commercial aircraft. "There has been a trend of implementing upgrades within the first, business and premium economy classes," Miller explains, "That is because, typically, that is where airlines find the financial space to spend. However, nowadays the best-received airlines tend to be the innovators. It is the services and the clean simplicity of their economy class which can prove the decisive factor. There is just simply not always room for innovation". Teague themselves have said in the past that a risk averse culture leads to decisions based on known entities. The aforementioned incredibly thin profit margins mean that a decision as difficult as a redesign or technical innovation within the cabins is often forced to go unmade.
Sustainability
Teague's exclusive contract and involvement with Boeing plays a part, too. Can the cabin of the future make more financial sense than the current generation as well? "We at Teague want a special flight experience regardless of duration or class," says Miller, "We're designing to give airlines the ability to meet the demands of providing that. If we don't, a whole generation of passengers could miss out. Aircraft have a lifespan of some 30 years – that same plane must provide an income to airlines. The interiors must enable them to do that."