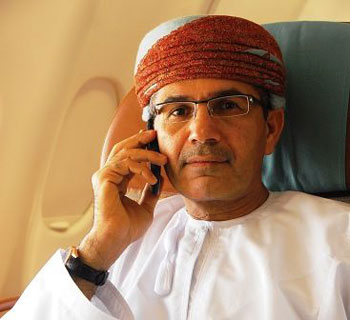 Passengers flying with Oman Air have demonstrated a heightened demand for in-flight connectivity, with uptake of its onboard mobile and WiFi services increasing significantly over the last year.
Oman's national carrier has experienced major growth in usage of its in-flight services, with a +130% increase in internet package sales and a +180% rise in connectivity revenues between January 2012 and January 2013.
Oman Air's Muscat to London Heathrow service saw the greatest use of onboard mobile and WiFi services, with the most popular method of accessing the internet being via smart phones.
"Oman Air was the first airline in the world to offer both mobile phone and WiFi connectivity in-flight and I am delighted that our customers value this service so much," said Oman Air's Chief Executive Officer, Wayne Pearce. "The increase in passengers' use of the service in 2012 underlines their growing expectation that similar levels of connectivity should be available in the air as they are on the ground. I am pleased that the continued increase in uptake since we introduced the service in 2010 shows that Oman Air still leads the field in this area."
Oman Air now offers WiFi connectivity in a range of packages, designed to suit customers' differing requirements, aboard its Airbus A330 long haul fleet.
"Digital communications are playing an increasingly important role in all our lives and, in addition to onboard connectivity and services such as online booking and web check-in, Oman Air is rapidly expanding its online customer engagement. Our social media presence is growing daily and we are offering many more online-only special offers than ever before. Having pioneered onboard connectivity, we are committed to remaining in the vanguard of 21st Century communications," Pearce concluded.