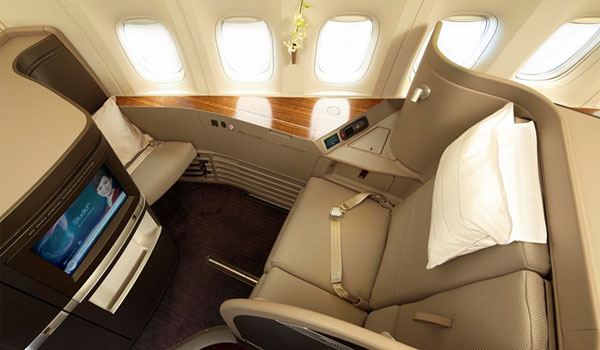 Cathay Pacific has unveiled its newly refreshed First Class product, which has been designed by London-based architects Foster + Partners, the same designer of the First Class Lounge of The Wing at Hong Kong International Airport.
For the seats themselves, soft leather and custom-made fabric has been used, while a new 4.3-inch LCD touch-screen control has been introduced, allowing the passengers to adjust the seat and lighting. BOSE QuietComfort 15 Acoustic Noise Cancelling headphones are also available in every First Class seat, along with a multi-port connector for personal electronic devices.
The airline invited input from Marco Polo Club members, its frequent flier club. As a result of this input, the refreshed First Class product includes a more adjustable meal table, more room in the personal closet and additional space inside the console department for personal items.
Toby Smith, Cathay Pacific's General Manager Product, said: "Our award-winning First Class suite has been very popular with passengers since it was introduced in 2007. Given its popularity, we saw no pressing need to completely replace the product. However, we decided it was appropriate to give the suites a fresh new look and make a few changes that will enhance the overall experience for our premium passengers. This underlines our commitment to excellence in providing an exceptional travel experience for our customers."