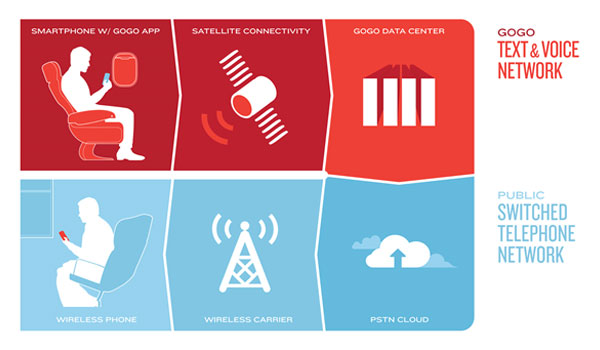 Gogo has launched its Text & Talk technology, which enables passengers to use their smartphone onboard just as they would on the ground. The technology makes use of Gogo's in-flight Wi-Fi service to allow passengers to send SMS messages and make phone calls using their own smartphone. To use the service, passengers must download an app from the Apple App Store or Google Play.
The introduction of a technology that allows phone calls to be made onboard could be met with caution by airlines and passengers, who may be wary of the impact that in-flight phone calls will have on the up in the air experience of fellow passengers. With this in mind, Gogo's Chief Marketing Officer Ash ElDifrawi explained that the service should be seen more as an in-flight SMS service.
He said: "Gogo Text & Talk is just one more way Gogo is keeping airline passengers connected to their lives on the ground. While we see this as more of a text messaging product for commercial airlines in the United States, the phone functionality is something that some international air carriers and our business aviation customers are asking for.
"The great part about this technology is that it doesn't require us to install anything new to an aircraft and we can bundle it with or without connectivity. We have already launched the service with some of our business aviation customers and we are talking with our commercial airline partners about launching the service for their passengers."
What do you think of Gogo's new Text & Talk application? Would you use it to send SMS messages and make calls onboard? Leave your comment below.