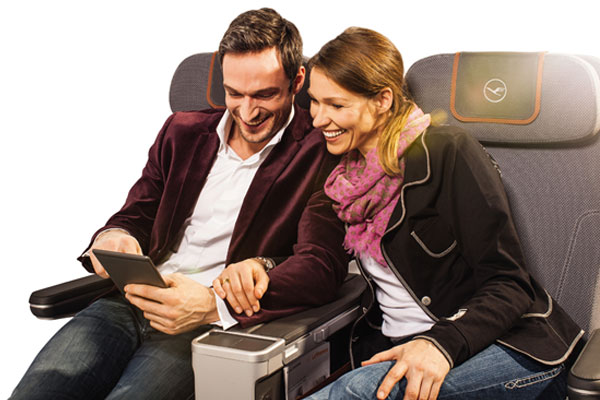 Lufthansa has released details of how it plans to enhance its onboard offering across all classes. "We have set ourselves a number of objectives for 2014 – it will be Lufthansa's biggest service initiative in recent years," said Jens Bischof, the airline's Vice President of Sales, Product and Marketing.
"As well as installing the latest cabins in all classes of our aircraft, which is already proceeding apace, we will also be demonstrating to an even greater degree our qualities as a dedicated host with a keen understanding of service and hospitality."
Lufthansa will for the first time introduce a Premium Economy Class, and installation of new in-house designed seats will increase passenger comfort. The airline says they will offer up to 50% more room compared to the Economy offer. Premium Economy ticket holders will also be able to take a second piece of hand luggage onboard. The first flight to include the new class is scheduled for October 2014.
From 1 April, the in-flight entertainment offer will also be expanded on long-haul flights. The number of movies offered will be doubled and they will be available in eight languages.
On the airline's medium-haul routes, as reported by FTE in September, Lufthansa Systems' BoardConnect system will be added, allowing passengers to stream content to their devices. The system will be introduced from the summer season and will be installed on 20 A321s.
7,000 full-flat seats to be added in Business Class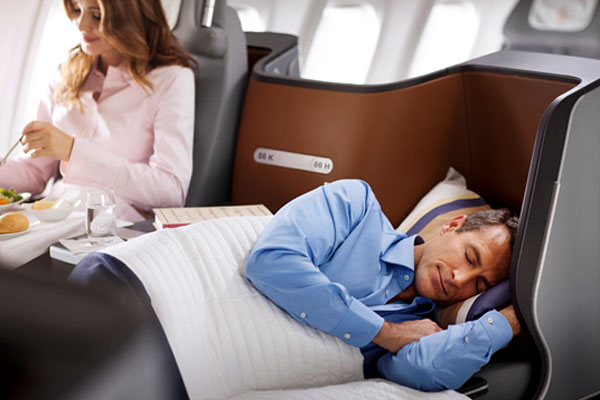 Meanwhile, in Business Class, a signature service is being introduced, part of which is focused on "reminding passengers of being in a top restaurant". New amenity kits, developed alongside Samsonite, will also be introduced later in 2014, while 7,000 full-flat seats are being installed on more than 100 long-haul aircraft.
Bischof also explained that cabin crew service will have an important part to play in improving the in-flight passenger experience. "As well as the service enhancement and the improvement in how our product is actually experienced, our staff members will clearly play a key role in the quality of our passengers' travel experience," he said.
"To further improve the quality of our service and hospitality, we are building on the skill, creativity and good ideas of all our staff members. This will ensure that our passengers have an even more enjoyable travel experience."