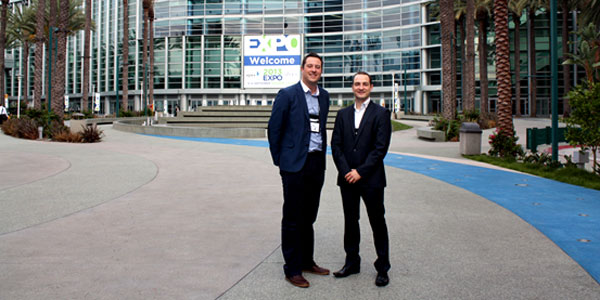 Last week, after FTE Global 2013, Future Travel Experience paid a visit to Anaheim, California, where the Airline Passenger Experience Association (APEX) EXPO was taking place. After judging the 'Best Single Achievement in Passenger Experience' category for the Avion Awards (congratulations to Delta Air Lines for the award-winning 'The Sky Deck'), sitting through an eyebrow-raising performance from comedienne Pam Ann at the awards ceremony, and listening in on a brief set of conference sessions, we took a tour of the exhibition, in which a number of the next-generation, passenger-focused onboard products and services were on show. Here, you can read our reviews of some of our favourites, along with our conclusions at the end of the report.
Embedded In-flight Entertainment and Connectivity
Thales
While we were lucky enough to see a number of impressive products at the APEX EXPO, it was our visit to the Thales booth that left the most lasting impression. As soon as we were told about the gesture- and eye-controlled IFE system, we were looking forward to experiencing it for ourselves and it didn't disappoint. Thales' Giaime Porcu told us that "all of our products are aimed at improving the customers' experience" and if this innovative system is anything to go by, they will achieve just that.
After FTE Founder Daniel Coleman successfully navigated his way through the system using hand gestures, Ryan Ghee managed exactly the same using only his eyes. And it gets better. Porcu explained to us that through the use of directional, overhead audio and sound-absorbing fabric, the IFE system, which is still in development, could even allow passengers to watch movies without having to wear headphones. We can't imagine this in Economy class, but it could be a great differentiator for the front of the plane when it's eventually ready for market.
Panasonic Avionics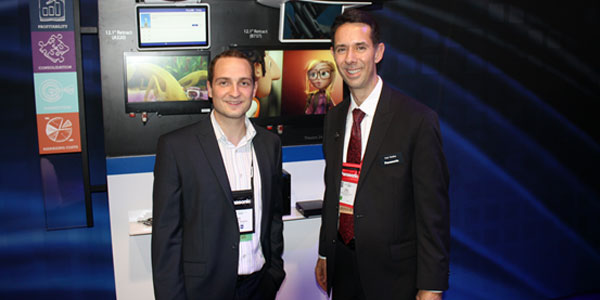 The Panasonic Avionics booth was a mini-exhibition all of its own and after a tour of the seatback IFE systems, new gaming options and second screen handsets, we were introduced to Paul Findlay, Product Line Manager, Product Management, who talked us through the brand new eXO overhead IFE system. The 12.1-inch HD monitors have been designed for both Boeing and Airbus aircraft and feature all digital audio. Findlay explained that Panasonic Avionics is trying to "re-energise" the overhead systems of old. He also outlined the potential for the eXO system to be used for in-flight games (including bingo!), airline surveys and retail opportunities. Particularly in Asia, passengers like interactive engagements and this new system can certainly facilitate that.
Lumexis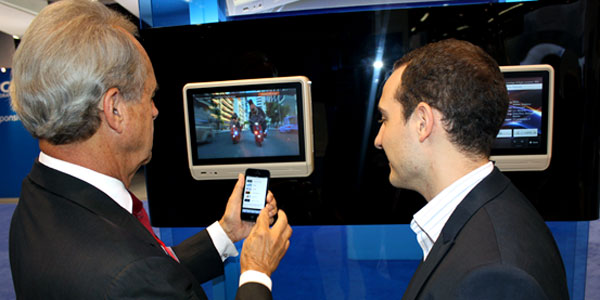 FTE met Lumexis CEO Doug Cline, who gave us a run-through of the impressive 'Second Screen' technology, which allows passengers to use their own smartphone as a secondary screen for the embedded IFE system. So, if you're watching a movie, you can use your own device to check flight progress, order food and beverages or duty free products, play games, or even use it as a remote control for the IFE screen. In a society that is used to watching TV while browsing the Internet on a tablet or smartphone, this solution takes passengers a step closer to being able to have the on the ground experience while up in the air.
Rockwell Collins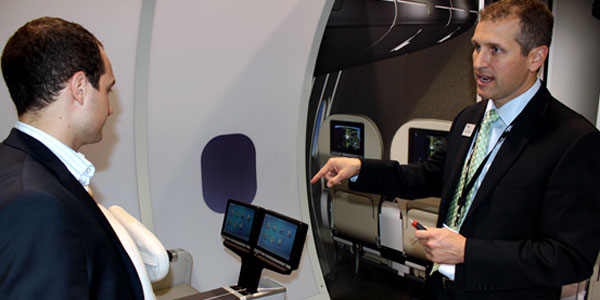 FTE paid a visit to the Rockwell Collins booth, where a new single-aisle seatback IFE system was being showcased, along with the new Airshow 3D Moving Map solution. Jerry Thomas, Principal Marketing Manager, explained that the new seatback IFE system removes the risk of screens being out of service for a prolonged period of time. "Unfortunately, things do break," he said, "so we have developed something that can be fixed quickly. If one of the screens stops working during the flight, the screen can be removed in a matter of seconds and replaced with a spare." To prove this claim to FTE, Thomas removed and replaced the screen in no more than five seconds. We'll be keeping a close eye on Rockwell Collins as we feel it could be a major new force in the passenger experience field given the recent acquisition of ARINC.
IFE Services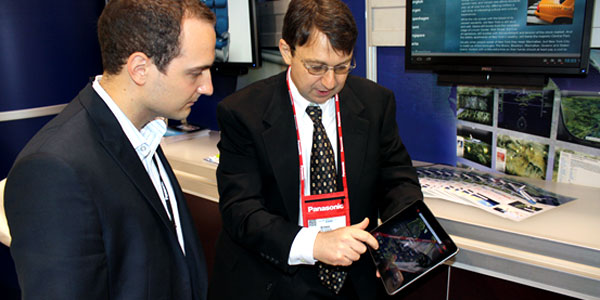 IFE Services provides an array of solutions, ranging from in-flight movies and dynamic gaming, to audio channels and entertainment guides, but it was the new partnership with Betria Interactive to bring its new FlightPath 3D moving map to the portfolio that grabbed our attention. Boris Veksler from FlightPath 3D gave FTE Editor Ryan Ghee a demonstration of the interactive three-dimensional map, which also includes integrated street maps, points of interest and information on destination cities. The first airline to provide the service as part of its IFE offering will be Norwegian on its Boeing 787s.
Tablet-based In-flight Entertainment and Connectivity
Lufthansa Systems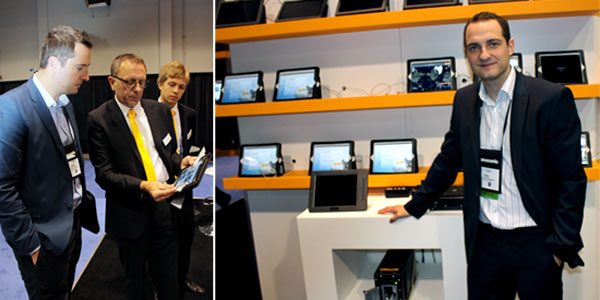 Lufthansa Systems' Kieron O'Reilly, Product Consultant, showed FTE the company's innovative BoardConnect solution, which is a wireless infotainment system. Passengers can use their own tablet or smartphone, or carrier-owned devices, to access movies, menus, duty free shopping, destination information and audio playlists. BoardConnect runs from a single onboard server, which is connected to individual access points, therefore granting wireless access to the platform via crew and passenger devices. "This is an ideal solution for short- and medium-haul flights," O'Reilly told FTE. "Lufthansa has just confirmed that it will be the first mainline carrier in Europe to offer the Board Connect on 20 of its A321s from next summer."
IFP/DTI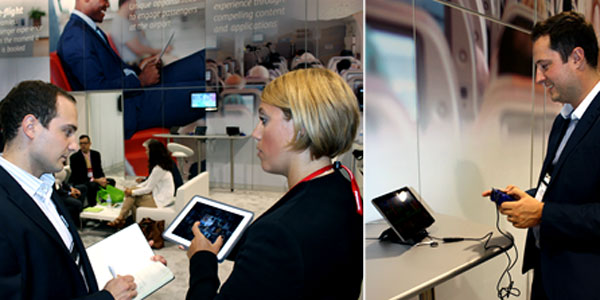 At the IFP/DTI booth (two companies that are part of the fast-growing Advanced Inflight Alliance), Melissa Pauléat, Director of Marketing and Communications, DTI, explained to FTE that the focus is very much on the end-to-end passenger experience – from pre-flight right through to arrival at the hotel. With this in mind, IFP offers an innovative new app that allows passengers to start watching a movie while they are in the lounge or at the gate, then continue watching the movie in-flight and even finish watching it at the hotel.
Pauléat also explained that DTI has recently signed a deal with Sega to offer more than 20 of their most popular games in-flight, including the likes of Sonic the Hedgehog and Virtua Fighter. Naturally, FTE Founder Daniel Coleman couldn't resist reliving his youth by having a quick game of Sonic.
Allegiant Systems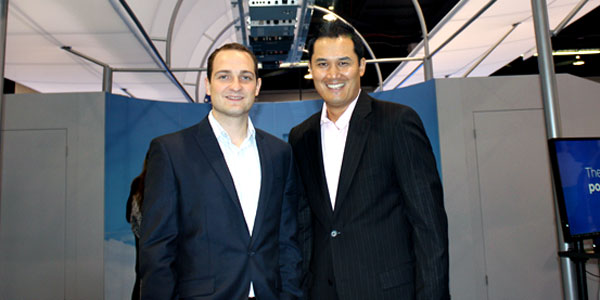 Joe Ayson, Director Product Development Operations at Allegiant Systems, outlined the benefits of the FlyDesk platform on the Row 44 booth, which is an investor in the company. The multi-modular, cloud-based system includes FlyDesk Cabin, which is designed to automate cabin operations through the use of iPad, Android or Windows-based tablets. As well as allowing for paperless operations, FlyDeck allows cabin crew to manage passenger information, which allows for more personal engagement between the attendant and the passenger. The crew can also communicate internally via the platform.
Ayson told FTE Editor Ryan Ghee: "We're different to others in the marketplace, as we're not just providing the hardware or the software. We're providing everything through a lease model, including the complete management of the services. I think I'm right in saying we're the only company doing this and willing to take on the capital expenditure costs for the airlines." Ayson also explained that Allegiant Systems should soon be in a position to announce a new partnership with a North American airline.
SkyCast Solutions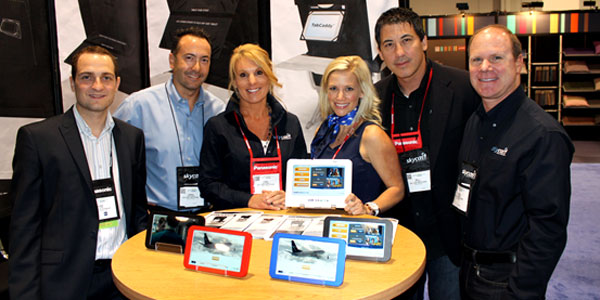 SkyCast Solutions was showing off the new TabCaddy personal device holder, which has been developed specifically for airline seatback trays, and TrayVu7, a 7-inch tablet that can be pre-loaded with content and offered to passengers in-flight. TrayVu7 utilises the Samsung Galaxy Tab 7" tablet and can hold up to 64GB of content.
Greg Latimer, SkyCast's President, said: "The key is that these tablets can be pre-loaded with as many as 15 early-window movies at any one time and they can be customised for each airline. WestJet already has 600 of these and that will rise to 1,400 by November. For just $10, passengers can rent the tablet – we think that's a very reasonable price. WestJet wants to use these because they really believe in the value of the customer experience."
SmartTray International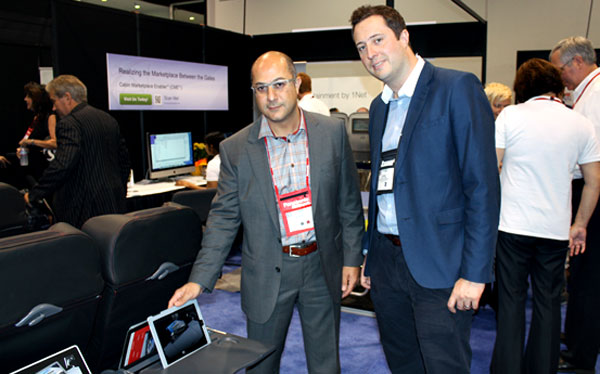 The SmartTray product for holding tablets in airline trays was among the winners at the Avion Awards and FTE stopped by the company's booth to check it out first-hand. There are three options – X1, X2 and X3 – one that is designed to hold passengers' own devices, one aimed at airlines with no IFE that can accommodate tablets pre-loaded with content, and one that can be integrated with existing onboard servers to stream content. We were impressed by the fact that these solutions can be installed in just a few minutes.
OnAir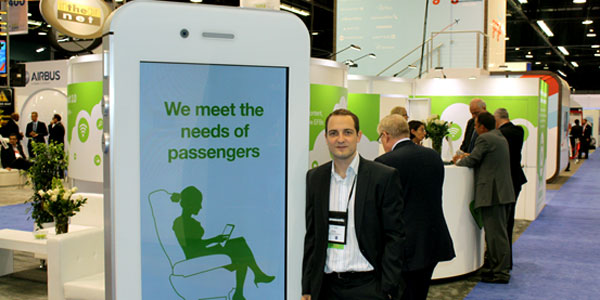 Just like FTE, OnAir's prime concern is the passenger and at the APEX EXPO, it announced the launch of OnAir Play, which is designed to combine in-flight connectivity with movies, TV, live news, music, games, magazines and newspapers. Richard Nordstrum, the company's Managing Director North America, explained that OnAir Play allows airlines to provide IFE content directly to passengers' own personal electronic devices through an onboard wireless network. Passengers simply need to connect to the Wi-Fi hotspot to access the content via a customisable interface, which is compatible with all devices.
At the show, OnAir also announced deals with Etihad to provide Wi-Fi and GSM connectivity on its A320s and with Saudia to provide Mobile OnAir and Internet OnAir on the new B777-300ERs, allowing passengers to email, browse, text and talk on flights between the Kingdom of Saudi Arabia, the UK and the US.
Lock 'n' Charge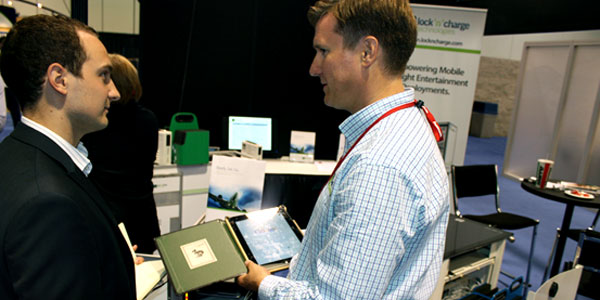 With an increasing number of airlines now offering tablets to passengers, FTE wondered how they can ensure the devices are constantly charged up and we found the answer at the Lock 'n' Charge booth. Kevin Kuluvar, VP Business Development, showed us the iQ 64A Airline Cart, which provides everything an airline might need to manage their iPads. A total of 64 iPads can be secured in the cart, which then charges and syncs them simultaneously. The industry standard galley cart fits within airline infrastructure and 76 of them have already been developed for Qantas, which offers iPads onboard.
Cabin Interior Solutions
Airbus
Airbus' Head of Aircraft Interiors Marketing, Zuzana Hrnkova, highlighted the manufacturer's latest innovations in a presentation entitled 'Airbus cabins. A world of opportunities'. She explained that Airbus' philosophy is 'Passenger at heart, airline in mind' and said that the standard 18-inch seat-width in Economy portrays this dedication to the passenger. "Seat width is directly related to comfort," she said. "Airlines are becoming more focused on Economy class because they want to improve the overall passenger experience. Research shows that an 18-inch seat width works for 95% of US males, so we offer it consistently across Economy."
Airbus also showed its plans for the A350 XWB, which is scheduled to enter service in mid-2014. The 221-inch cross section cabin will include larger windows, window shades enabling full darkness, a unique fully flat floor with all cables below the carpet, enough stowage space for more than one roller bag per passenger and full LED lighting. Due to pressure from airlines, Airbus commented that they are working harder than ever to use every centimetre available to provide more comfort for the passenger.
The FTE view
The pace of innovation in this sector is quite astounding and we were delighted to see that the vast majority of products in the exhibition have been designed with the passenger in mind. It's no secret that connectivity and the rise of 'bring your own device' is revolutionising the in-flight experience, but it was refreshing to see such a wide selection of solutions for airlines to choose from. Lufthansa Systems' BoardConnect was one of the standout products in this area and the fact that Lufthansa has already confirmed an order for 20 A321s proves its viability. Entertainment on short- and medium-haul services has been lacking for many years and this solution seems to provide a great solution to that problem. Lumexis' 'Second Screen' also grabbed our attention, largely because it allows the passenger to embrace an 'on the ground' mentality to multi-tasking while they are flying.
We were also impressed with the vision displayed on the IFP/DTI booth, because to achieve true enhancement to the passenger experience, you must consider the wider, end-to-end journey – something that these companies clearly understand. And Thales' gesture- and eye-controlled IFE system is deserving of another mention. It may not yet be ready for installation by an airline, but there can be no doubting that once it is perfected, it has the potential to be a real differentiator in the IFE realm and could provide a truly memorable experience for the passenger.
We also witnessed impressive improvements in maps and gaming, which we welcome, as when travelling with children, it is a big help if they are entertained and occupied. Onboard games have generally been very poor compared to what we can experience on consoles at home, so this development is overdue.
Airlines must provide more to get more
Here at FTE, we stepped into the onboard realm this year because we felt it was the area of the passenger experience that has evolved the least and we wanted to try to help change that by starting engaging discussions on this and championing those who are innovating and driving change. It is clear to us from our visit to Anaheim, and the debate at FTE Global 2013 the week before, that the lack of change is not from lack of innovation from industry vendors, but perhaps from too much focus by too many airlines on revenues rather than passenger experience.
But, as Devin Liddell of Teague said in his conference presentation at APEX, we can't keep giving passengers less and expecting more business from them. Of course, we understand profitability is key, but surely it is simple – if passengers enjoy the flying experience, they will fly more and, in turn, airlines' business will grow.
Let's hope a lot of what we saw in Anaheim gets onboard aircraft soon. If it does, the long overdue onboard revolution will really begin.

Look out for the dedicated FTE 'Up in the Air' newsletter, which will be launched soon, providing the latest news and features on how airlines are embracing new technology to enhance the onboard passenger experience.
In addition, the next FTE Up in the Air conference will take place at FTE Global 2014 at the Mandalay Bay Resort in Las Vegas, 24-26 September.