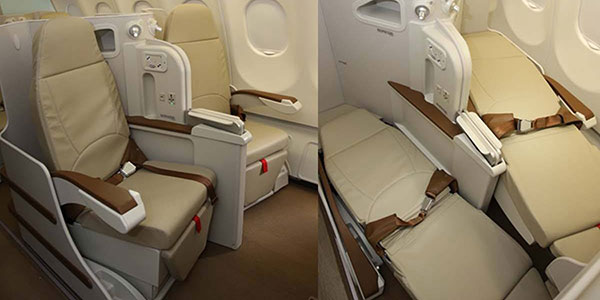 Philippine Airlines (PAL) has launched its all-new Business Class cabin on its new A330-300 HGW – the first aircraft of its type in the carrier's fleet to feature both Economy and Business classes.
The Business Class cabin features 18 Sogerma Equinox 3D flat-bed seats, and each premium passenger has access to their own retractable privacy divider, in-seat power supply, USB port and electrical leg rest with ottoman.
The new A330-300 HGW is also the first Philippine Airlines aircraft to include wireless in-flight entertainment (IFE), which allows passengers to stream content directly to their own laptops, smartphones and tablets. GSM and Wi-Fi connectivity is also available onboard.
Ramon S. Ang, President of Philippine Airlines, said: "The advent of the bi-class A330 HGW completes our menu of new product offerings. This sophisticated aircraft is aimed at the discriminating business segment of the market, an important part of PAL's customer base.
"Once again, PAL is pioneering the way entertainment is experienced at 30,000 feet. Through wireless technology, we are able to enhance and personalise our IFE offerings, and deliver these straight to the passenger's own gadget."