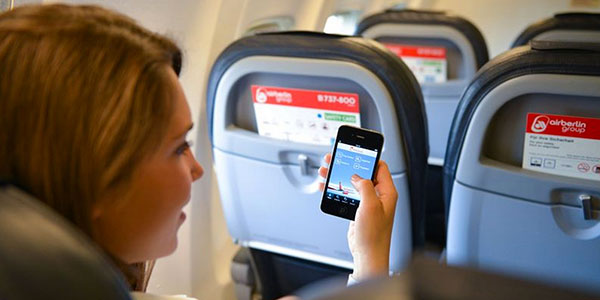 Swiss International Air Lines and airberlin are the latest European carriers to have updated their rules on the use of personal electronic devices (PEDs) in-flight.
Up until now, both carriers only allowed passengers to use their smartphones and tablets in 'airplane' mode once the aircraft reached cruising altitude, but the update to the rules means passengers can now use their devices during all stages of the flight from gate-to-gate.
Oliver Lackmann, Head of Flight Operations at airberlin, said: "Modern flight guests want uninterrupted access to their personal electronic devices, even while onboard, rather than having to switch them on and off again several times. airberlin is now making this possible." He also stated that the airline has obtained the necessary technical certifications and permits from the Federal Aviation Office to allow the use of PEDs during all stages of the flight.
The announcements by airberlin and Swiss follow last December's revision of the regulations concerning the use of electronic devices onboard by the European Aviation Safety Agency (EASA).