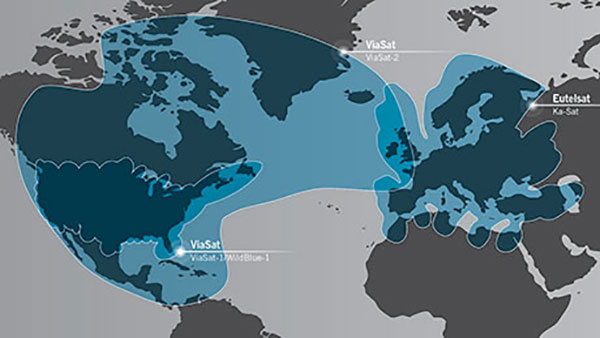 ViaSat and Eutelsat have announced a unique agreement to link their high-capacity Ka-band satellite networks, improving connectivity options for customers both in North America and Europe.
Both Ka-band networks – KA-SAT for Eutelsat and ViaSat-1 for ViaSat – share the same high-capacity satellite ecosystem, along with other ground infrastructure owned and operated by the two companies. According to the joint announcement, "the resulting high-capacity service area will span North America, Europe and the Mediterranean Basin".
The agreement between the two also includes "provisions for future satellites and follow-on technologies", including ViaSat-2, which is scheduled for launch in 2016, and which, significantly, should provide full coverage for aircraft flying between Europe and the United States.
Mark Dankberg, Chairman and CEO of ViaSat, said: "This formalises another step towards covering the high traffic areas of the world with the fastest, most affordable mobile broadband satellite connectivity. Extending our long-standing relationship with Eutelsat enables us to provide the fastest in-flight Wi-Fi available on both sides of the Atlantic."
Eutelsat's Chairman and CEO, Michel de Rosen, added: "Working with ViaSat, we can extend to North America the high quality of service we already provide clients in Europe through KA-SAT, and bridge the two satellite systems with the addition of ViaSat-2. We believe this feature will be a real plus for companies providing mobile services and who need to move around user equipment from region to region."
The 'Up in the Air' conference at FTE Global 2014 will include a session entitled: 'What are the long-term future possibilities that can be leveraged onboard through connectivity and other new technologies?' Senior figures from the likes of Turkish Airlines, Thales, GuestLogix and Fast Future Research are confirmed to take part in this session.
» View the FTE 'Up in the Air' conference agenda
» Register to attend FTE Global 2014