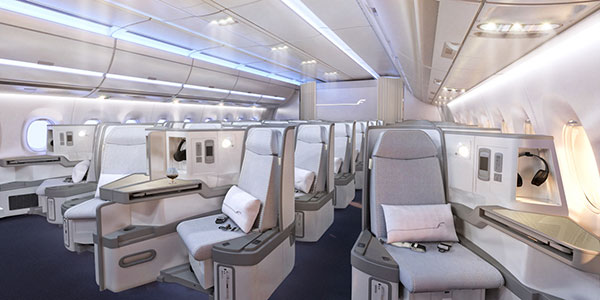 Finnair, the European launch customer for the Airbus A350 XWB, has revealed its cabin design for the aircraft, which will help the carrier "create a special customer experience".
The 297-seat configuration includes 46 Business Class seats in a 1-2-1 layout, 43 Economy Comfort seats and 208 slimline seats in Economy. The Zodiac Cirrus III seats in Business Class convert into fully flat beds, and each premium passenger will have a personal 16-inch in-flight entertainment (IFE) monitor, plus access to AC and USB power outlets.
The Zodiac Z300 slimline seats in Economy Class offer a 31-inch seat pitch, and each passenger will have an 11-inch monitor and access to a USB power outlet. The Economy Comfort seats offer four inches more legroom, comfier headrests and high-quality headphones. All of Finnair's A350 XWBs will also be equipped with onboard Wi-Fi connectivity.
Vertti Kivi of dSign Vertti Kivi & Co., the company that designed the cabin interior for Finnair, said: "We have worked hard to create a special customer experience onboard the new A350 XWB aircraft and are proud to bring Finnish design to Finnair's passengers.
"Our Space Alive concept means dynamic lighting, colours and moods to suit the time of day, destination or season. For example, when descending in the East, the aircraft can be awash with warm orange tones, or surface interiors may glow in fresh blue hues when arriving in Helsinki."
In addition to advanced LED lighting, the A350 XWB cabin will also feature larger windows, an advanced pure air filtration system and a lower cabin pressure to help improve in-flight wellbeing.
Airbus to share future passenger experience vision at FTE Global 2014

At FTE Global 2014, which will take place in Las Vegas from 24-26 September, Ingo Gäthje, Head of Cabin Design Office at Airbus, will take part in a conference session entitled: 'What are the next steps that are necessary to achieve an onboard passenger experience transformation?'
Ingo will also participate in the Cabin Integration Symposium, which is being delivered in partnership with Runway Girl Network, and will also include speakers from the likes of Zodiac Aerospace, Panasonic, Acro, Lumexis, Thales, Inmarsat, Recaro, Honeywell, Gogo, Global Eagle Entertainment and OnAir.
» More information on FTE Global 2014