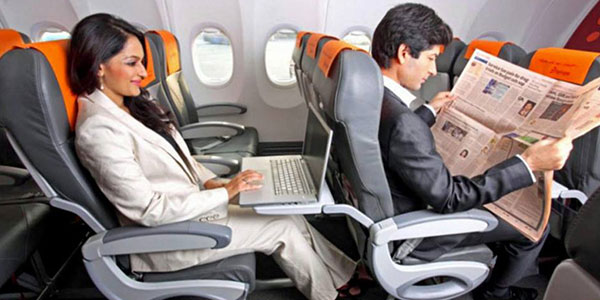 Indian budget carrier SpiceJet has launched a new product called 'SpiceMAX', which provides passengers with more legroom and personal space. According to the carrier, the new product has been developed in response to demand from customers who want more comfort than Economy Class, but are not willing to pay to fly Business Class with legacy carriers.
Five rows of SpiceMAX seats have been installed on its Boeing 737s, and four rows are also available on the carrier's Bombardier Q400s. As well as getting six inches more legroom, for an additional 500 Rupees (approximately $8), passengers will be able to make use of priority airport check-in at dedicated SpiceMAX counters.
Sanjiv Kapoor, Chief Operating Officer, SpiceJet Ltd., said: "We have repeatedly heard from many of our customers, including our corporate customers, that while they are not always willing to pay the huge premium for Business Class, they would be happy to pay a little more for greater comfort and convenience in economy class so that they have more personal space, legroom, and greater freedom to work and relax during their frequent travels.
"They have also said that they would like to speed up the airport check-in process and avoid long queues. It is for these customers that we have designed and launched the all-new SpiceMax, yet another industry-leading innovation in India from SpiceJet, the airline that is rapidly emerging as India's most innovative airline."