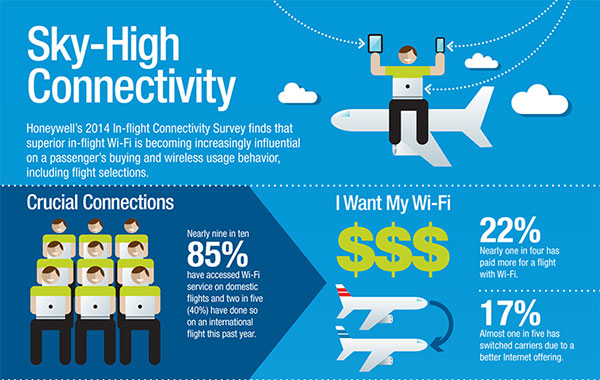 Honeywell Aerospace has released its second annual report exploring the importance of in-flight connectivity to travellers, and the findings suggest that having access to onboard Wi-Fi is not only affecting to what extent passengers enjoy their flying experience, but airlines even risk losing their loyal customers if they fail to provide a high quality Wi-Fi service.
The 2014 Wireless Connectivity Survey, which assessed the views of more than 1,000 adult flyers in the United States, found that in-flight Wi-Fi availability influences flight selection for 66% of travellers, while 22% of respondents said they have paid more for their ticket in order to fly on a Wi-Fi equipped aircraft.
Perhaps most concerning for those airlines that do not yet offer onboard Wi-Fi is the fact that 17% of those surveyed admitted to switching from their preferred airline because another carrier had a better in-flight connectivity offering. Unsurprisingly, the vast majority, 85%, said they would use Wi-Fi on most or all flights if it was offered for free.
Travellers would go through airport security twice to guarantee onboard Wi-Fi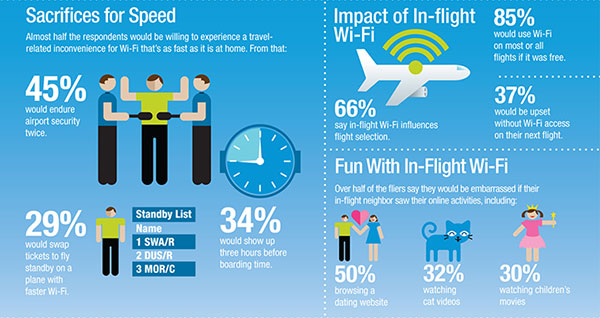 Commenting on the findings of the report, Jack Jacobs, Vice President, Marketing and Product Management, Honeywell Aerospace, said: "The commercial aviation industry has to pay attention to meet the demands of passengers, giving them the freedom to stay connected whenever and wherever they want.
"Honeywell's survey affirms that consumers are accustomed to easy access to Wi-Fi, and they expect it to be fast and consistent like at home or work. Those expectations are expanding up into the sky."
The survey also asked respondents what they would be willing to sacrifice in order to access home-style Wi-Fi onboard. 45% said they would be willing to endure airport security twice, 34% would show up three hours before their boarding time, and 29% would even swap their ticket to fly standby on an aircraft equipped with high-speed Wi-Fi.
American Airlines, BA, Boeing, Turkish Airlines, Thales and GuestLogix to share in-flight connectivity visions at FTE Global 2014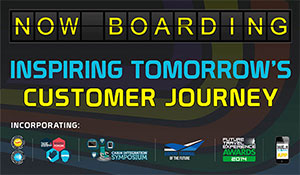 This survey clearly consolidates the view that offering in-flight Wi-Fi is a vital part of providing passengers with a high quality passenger experience. Airlines are often hesitant to invest significantly in providing high-speed onboard Wi-Fi, but if passengers are willing to switch their allegiance to an airline that does offer such a product, the potential financial impact of ignoring passengers' demands for in-flight connectivity appear to be far worse.
With so many solutions on the market, choosing the right one can be difficult, which is why in-flight connectivity will be a key theme in the 'Up in the Air' conference at FTE Global 2014, where senior figures from the likes of British Airways, American Airlines, Turkish Airlines, Thales, Boeing and GuestLogix will share their experiences in this area, and reveal their visions for the future of in-flight connectivity.