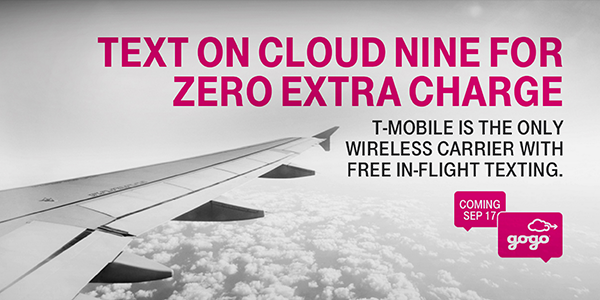 FTE Global 2014 exhibitor Gogo has teamed up with T-Mobile to allow the latter's customers to make use of free in-flight texting and T-Mobile's Visual Voicemail service on Gogo-equipped aircraft in the United States.
To access the free services, T-Mobile customers will need to have their Wi-Fi calling-enabled smartphone in airplane mode and connected to Gogo Wi-Fi. From there, they simply launch their browser, verify they are a T-Mobile customer and follow the on-screen instructions.
Commenting on the partnership, Gogo's President and CEO, Michael Small, said: "One of our goals is to engage the entire plane with our connectivity enabled products and services, whether that's by helping to keep passengers productive, entertained or simply connected to friends and family on the ground.
"By offering T-Mobile customers the ability to freely text and receive voicemail in flight, we are engaging a certain segment of the plane who might not want a full connectivity session, but still wants to reach out to their network on the ground."
Mike Sievert, T-Mobile's Chief Marketing Officer, highlighted the fact that the company's deal with Gogo makes it the first telecommunications company to extend coverage "all the way up to 30,000 feet and well beyond the reach of any carrier network".
Gogo to take part in Cabin Integration Symposium at FTE Global 2014

Gogo's Chief Technology Officer, Anand Chari, will take part in the Connectivity Panel in the Cabin Integration Symposium at FTE Global 2014, 24-26 September, Las Vegas. Led by Mary Kirby, Founder and Editor of Runway Girl Network, this session will look at what can be done – from an operational, passenger and safety standpoint – when airlines view connected aircraft as a node on their networks. And it will paint a clear picture of what the connectivity linefit/retrofit market looks like so that airlines understand their options now and in the coming years.
Senior speakers from the likes of Panasonic, United Airlines, Inmarsat, Thales, Airbus, OnAir, Global Eagle Entertainment and Honeywell will also take part in the Connectivity Panel.
» More information on the Cabin Integration Symposium
» Register to attend the Cabin Integration Symposium