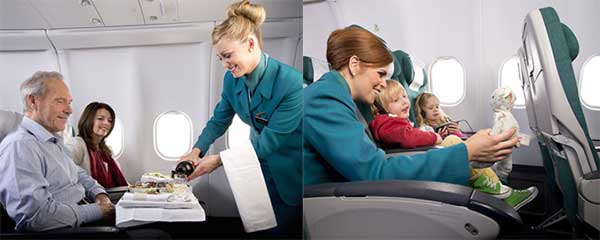 "When you look at Aer Lingus over the last decade or so, we went on a bit of a rollercoaster journey." That's the way Marc Giles, the airline's Guest Engagement Manager, views the Irish carrier's transition from a full-service airline pre-9/11, to a low cost carrier (LCC) shortly after, and now to a "value carrier", which seems to be where Aer Lingus plans to stay for the foreseeable future.
The fact that it has now found its long-term position in the market is good news for both the airline and its passengers, but Aer Lingus is now looking to raise the bar even further on service standards and delivery of a consistently reliable customer experience, as Giles explained to FTE.
"During our LCC days, service training took a slight back-seat, so there is a lot of work to be done in getting consistency in the service. Our staff, depending on how long they've been working for the airline, will have different interpretations of what great service looks like. We're now back on track to getting everyone singing off the same hymn sheet," he stated. "Staff who are very experienced and have been working here for upwards of 30 years, will be reminiscent of our days as a full service carrier, and for them that's still what the standard of service should be. But then the downside is when a customer gets someone else on the return journey, who may have started in the last five to ten years, there's a chance they could get a somewhat different style of service."
To tackle this, Giles and his colleagues have been working on developing a set of service standards for all customer-facing employees. In his own words, "basically that involves mapping out the entire customer journey from start to end," and one of the core focuses to start with is on creating a consistent, high level of service onboard, as well as at the airport.
'We don't want our staff to be like robots'
So, how exactly do you go about creating a single set of service standards when one employee may have worked for Aer Lingus for 30 years, and another for just 30 days? "For us, this journey commenced with engaging with our staff, because the critical thing is that they don't feel that the service standards are written by a management team that is sitting in an office, not out there on the line and who are not in touch with what our customers want and the practicalities of actually delivering service every day. So it was a very consultative approach that we took where we had workshop sessions with our staff. The next stage is documenting all of that, which is a lengthy process. The fact that it's been a really consultative approach means the staff feel they have real ownership over it, and that gives them the tools to do a better job."
The new service standards are yet to be published, but Giles revealed that he is hoping the programme will be launched with Aer Lingus' staff through the winter season and then carry through to 2015. The first challenge will be creating awareness among staff, and Giles explained it is not as easy as "merely giving out a manual and expecting everyone to understand it".
"There has to be a real communication and engagement plan," he continued, "so they understand why we're bringing this in. This isn't something where we're trying to restrict what they do…there's a danger that staff can feel that you're trying to be very prescriptive and then you risk going into the realm of very stiff textbook kind of service. That's not what we want, that's not what we're about.
"Our tagline is 'Great Care, Great Fare'. Great care for us isn't when staff are robotically doing the same thing. For us what great care is, is when we get those fundamental service elements right, but then the way in which they deliver that service is important; with a personalised style, personality and a flair for service, and that's where they'll make the interaction unique. This is what customers consistently tell us they like about Aer Lingus. They value the warmth and the personality that our team members bring to delivering service."
Mystery shopper programme
Of course, implementing such a programme is one thing, but making sure it is having the desired effect is another challenge altogether. On this front, Giles explained that once team members have got to grips with the new standards a "comprehensive mystery shopper programme" will get underway. As well as Aer Lingus management, frequent flyers are likely to be called upon to review the level of service they receive and feed back to those in charge.
"Our frequent flyers are the ones that know what great service looks like," Giles stated. "We also need to do our own internal programme to see which areas we're doing really well on and which areas we need to focus on. You can put so much energy and effort into something, but the danger is that the energy will start to fizzle out over time and you'll lose that momentum."
'78 years experience gives us a head-start over the competition'
Of course, Aer Lingus isn't the only Irish airline to be putting an emphasis on enhancing customer service at the moment, and we couldn't help but ask if the development of new customer service guidelines has been inspired, in part, by Ryanair's recent drive to be seen as a more customer-friendly carrier.
Giles responded: "Awareness of what your competitors are doing is important, but we're of the opinion that we are well established as a carrier that has provided excellent service for customers for the last 78 years. We're not in any way sitting on our laurels but we believe that almost eight decades of real customer focus gives us the first mover advantage. Our main focus is on what our customers are telling us they want from Aer Lingus. Of course, we're looking at all these programmes from two perspectives. We want to improve the customer experience, both from a product and from a service point of view. A fantastic product on its own needs to be complemented by fantastic customer service. That's what we intend to achieve."
It's clear from speaking to Giles that creating these customer service guidelines is not just a box-ticking exercise; the desire to create a consistent level of service that will impress customers is very real. The rollercoaster ride of recent years may have come to a halt, but Aer Lingus is continuing to move forward with its efforts to create a passenger experience to be proud of.