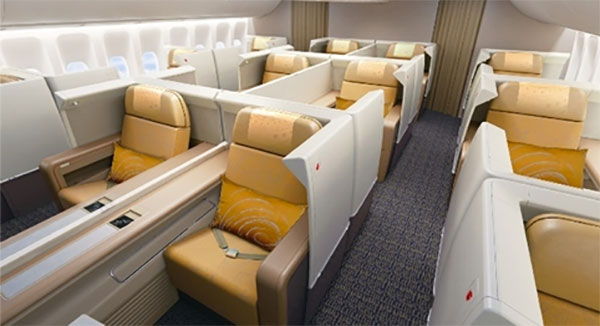 Air China has taken delivery of its first Boeing 747-8 Intercontinental, which is configured in a four-class layout and has a cabin interior designed collaboratively by JPA Design and famous Chinese artist Han Meilin.
The aircraft features 233 economy class seats, 66 premium economy seats (with an extra five to six-inch seat pitch compared to economy), 54 business class seats and 12 first class lie flat seats. Interestingly, the first class cabin is positioned behind business class, and just ahead of premium economy, while the remainder of the business class seats are located on the upper deck.
The bespoke artwork for the cabin interior is said to be inspired by 'Phoenix in Flight and Clouds', and is designed to help create the feeling among passengers that they are being "carried on the wings of a Phoenix", which is the emblem of the airline. This artwork is featured throughout the cabin, including on the seat covers, wall laminates and in-flight amenities, including the pillows and duvets.
In a statement released to mark the delivery of the new aircraft, Song Zhiyong, President of Air China, said: "Air China has been operating 747s since the 1980s. This iconic airplane has played an important role in Air China's international development and has also witnessed many milestones of the reform and opening-up of China. We are very proud to introduce the new 747-8 into our fleet to continue its tradition into the future."
The interior of the 747-8 Intercontinental has been inspired by the 787 Dreamliner, and features a curved, upswept architecture to give passengers a greater feeling of space and comfort, while there is also additional storage space for personal belongings.