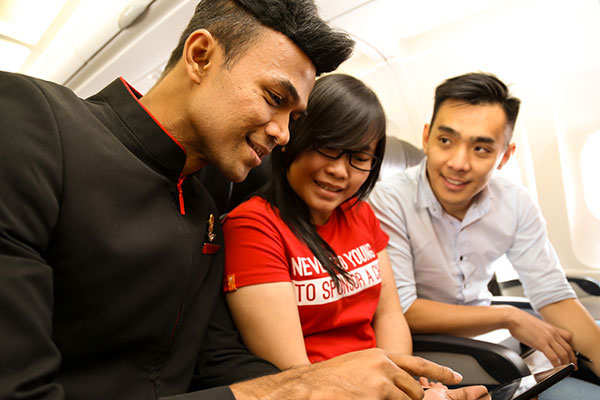 As passenger numbers have steadily increased throughout 2014, a welcome trend has emerged among many of the world's airlines: a desire to improve the in-flight experience for travellers. While this trend is apparent on a global basis, Asian carriers aptly highlight the industry's renewed dedication to making things easier, and more enjoyable, for travellers while they are in the air. Here we explore some of the key developments from the last nine months, ranging from investment in wireless in-flight entertainment (IFE) to an onboard trial of Google Glass.
Onboard Wi-Fi is now a 'must-have'
Travellers have nowadays come to expect access to the Internet at every stage of their journey, including while they are in the air, and this trend is well reflected among carriers across Asia. Japan Airlines has invested heavily in onboard Wi-Fi and through its partnership with Gogo, plans to have 77 domestic aircraft Wi-Fi enabled by 2016.
Air China has partnered with another provider, Global Eagle Entertainment (GEE), to together trial Ku-band satellite connectivity via GEE's Row 44 subsidiary, while another Chinese airline, China Eastern, has also made its intentions clear in terms of onboard connectivity.
The carrier announced this summer that it was piloting a high-speed connectivity solution – said to offer speeds up to 32 megabits per second (Mbps) – on two of its A330s, thanks to a partnership with Panasonic Avionics, which has itself penned an agreement with China Telecom Satellite to jointly develop, implement and support in-flight connectivity solutions for Chinese airlines.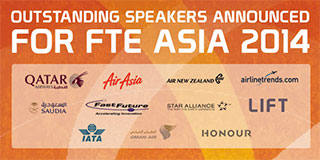 Elsewhere, Garuda Indonesia has this year teamed up with OnAir to offer Wi-Fi on its A330s. Faik Fahmi, the airline's Director of Service, commented: "There is no question that the very best modern flying experience must include in-flight connectivity, and that connectivity, like all our services, needs to be the same high level wherever we fly."
Low cost carriers Nok Air and Skymark Airlines have also made moves in this market and both now offer Wi-Fi on selected aircraft, while AirAsia has partnered with Tune Box-owned roKKi to trial a "light" connectivity service, which is more focused on allowing passengers to send and receive messages via WhatsApp, WeChat and LINE while they are flying.
Commenting on the service offered by AirAsia, roKKi's Executive Director, Sami El Hadery, said: "Our connectivity service is lightweight yet robust. It has the capacity to support multiple concurrent users, as proven in our successful user acceptance test that had 120 passengers using the system." Tune Box's CFO, Jonathan Tai, will share more details on this project at FTE Asia 2014, which will take place in Kuala Lumpur from 1-3 December, while the event will also include a keynote address by Azran Osman Rani, CEO of AirAsia X.
The emergence of wireless IFE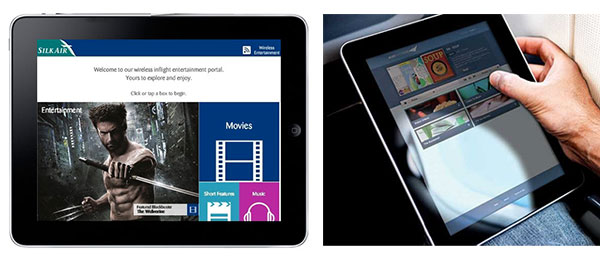 An enjoyable onboard experience often centres on the IFE, and taking advantage of the latest connectivity advancements, a number of Asian carriers have embraced 'Bring Your Own Device' and now offer IFE streaming either to complement, or as an alternative to, traditional embedded systems.
Philippine Airlines is the best example of this trend. The full service carrier has opted for a complete wireless IFE offer in place of embedded screens on its A330s, meaning passengers can stream movies, music and other content to their own laptops, smartphones and tablets. Philippine Airlines is not the only Asian carrier to take the plunge on wireless IFE, though; in fact, its national competitor, Cebu Pacific, has recently rolled out the SKYfi club wireless IFE service, albeit on a trial basis.
Wireless IFE has also gained traction outside of the Phillipines. SilkAir launched 'SilkAir Studio' permanently this summer following a successful trial, with the carrier's Chief Executive, Leslie Thng, lauding it as a "service that will give passengers an innovative new way to enjoy entertainment content in the air". Elsewhere, a slightly different approach to wireless content has been adopted by Bangkok Airways, which has been trialling iPad minis pre-loaded with content, although this is exclusive to its Business Class customers.
Will embedded IFE be phased out?
Naturally, the rise of wireless IFE has led to questions about the future of embedded systems, but for anyone wondering whether wireless products will completely replace the traditional seatback screens, China Southern's investment in the TopSeries AVANT IFEC system from Thales would seem to suggest that embedded IFE still has an important role to play.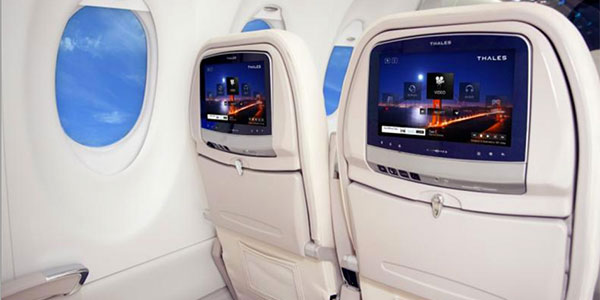 Speaking after the carrier announced that it would include the next-generation IFE product on its Boeing 777-300ERs earlier this year, China Southern's Chief Operating Officer, Zhang Zifang, stated: "These aircraft play a crucial role in our international growth strategy and being the launch customer for the AVANT system is an important move for us to offer an advanced experience to our passengers."
Inventive cabin design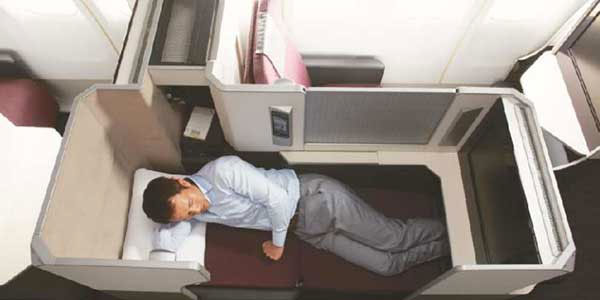 There can be no doubting the importance of providing onboard Wi-Fi and a varied IFE offer, but Asian airlines' dedication to improving the onboard experience extends beyond these two areas of focus. In fact, new products designed to improve passenger comfort and extensive cabin retrofits are making a significant impression.
Japan Airlines has again been active in this area, and the best example of its investment in enhancing passenger comfort is highlighted by its new-look 787 SKY SUITE, which is included on its new Dreamliner, which entered service in September. In Business Class, JAL SKY SUITE offers lie flat seats, luxurious bedding and a 23-inch personal IFE monitor, while Premium Economy offers a generous 42-inch seat pitch and a 12.1-inch embedded IFE screen. The increased comfort even extends to Economy, where the JAL SKY WIDER II seats are pitched at 33 inches and offer a 19-inch width.
Indian budget carrier SpiceJet has also recently introduced a new premium economy offering, labelled SpiceMAX. Sanjiv Kapoor, Chief Operating Officer, SpiceJet Ltd., said: "We have repeatedly heard from many of our customers, including our corporate customers, that while they are not always willing to pay the huge premium for Business Class, they would be happy to pay a little more for greater comfort and convenience in economy class so that they have more personal space, legroom, and greater freedom to work and relax during their frequent travels."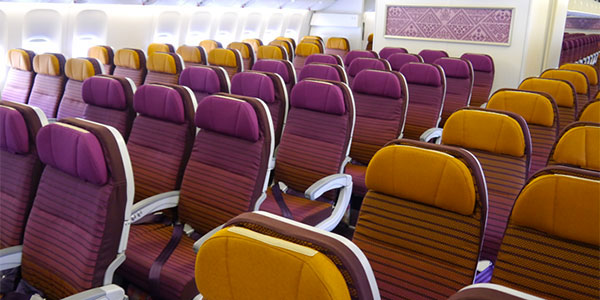 Other eye-catching developments include Thai Airways' new-look business and economy class cabins, which have been designed to reflect Thai culture and traditions through the use of materials, lighting, artwork and branding, while China Airlines has followed in Air New Zealand's footsteps by introducing the spacious 'Skycouch' on its new Boeing 777s.
Wearable technology presents new opportunities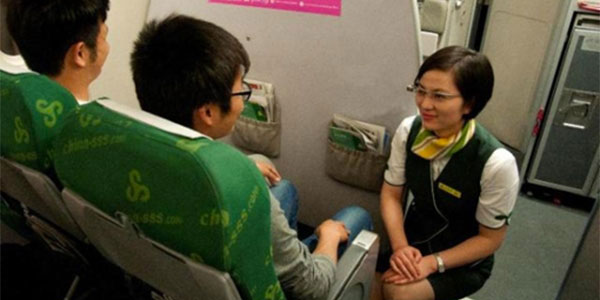 As passenger-focused developments continue apace, there are always new technologies emerging that can help to further improve the onboard experience, and one airline that appears to be keeping on top of the very latest trend is Chinese low cost carrier Spring Airlines. Having seen carriers such as Virgin Atlantic, airberlin, Vueling and Iberia embrace wearable technology outside of Asia, Spring Airlines was the first carrier to equip its flight attendants with Google Glass to help improve in-flight customer service.
The initial trial was carried out on a flight between Shanghai Hongqiao and Chengdu, but it would not be a surprise to see more airlines make use of Google Glass and other wearable devices in the coming months as part of their ongoing strategies to improve the passenger experience and differentiate themselves in an intensely competitive market.