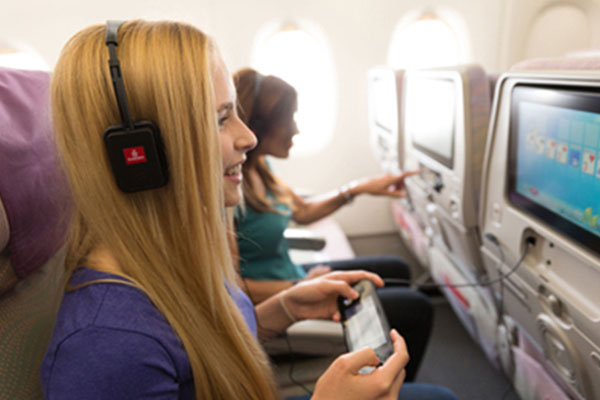 Emirates is well known for its enviable in-flight entertainment (IFE) offering, and the carrier has now turned its attention to improving audio quality for Economy Class passengers. The airline has unveiled new, redesigned headsets, which will be introduced from the end of June on all Airbus A380s and Boeing 777s.
The rectangular headsets will improve sound quality, reduce ambient cabin noise and improve comfort, with the new shape making the headset more ergonomic for the wearer. New headsets for children are also being introduced.
"Emirates Economy Class headsets are amongst the best in class for commercial airlines, and we've always recognised that sound quality is vitally important in creating an enjoyable entertainment experience," said Patrick Brannelly – Divisional Vice President, Customer Experience (IFE & Connectivity).
"This new design will lift the audio quality to a new level, and now customers can completely immerse themselves in the broad variety of entertainment choices offered onboard."
The introduction of the new audio headsets is the latest of many recent IFE-related upgrades, which include the FTE Award-winning introduction of Audio Description soundtracks for visually impaired passengers.