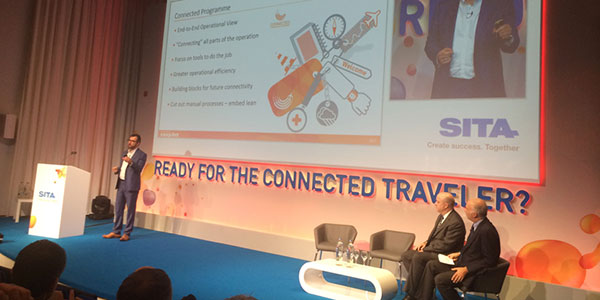 As airlines' appetite for onboard connectivity continues to increase, one carrier that won't be rushed into investing in a connectivity solution is easyJet, according to Simon Lamkin, the carrier's Head of Operations Systems.
Speaking at the SITA Air Transport IT Summit in Brussels, Lamkin said while there is no doubt that "Wi-Fi will be ubiquitous", easyJet is happy to bide its time to ensure it makes the right long-term decision.
"I'm not sure that the right product is out there for us right now, and certainly not at the right cost," he explained. "From an easyJet perspective, we have an average flight time of an hour and a half…so you have to look for the value proposition." Given the expectation among today's consumers that they should not have to pay for Wi-Fi access, Lamkin made it clear that easyJet is "looking for a solution that will be free" for passengers.
Further operational benefits beyond offering passengers access to Wi-Fi have been identified by Lamkin and his colleagues, but a decision will not necessarily be fast-tracked to coincide with the forthcoming delivery of its new A320neos, the first of which be delivered in 2017.
Finding the right product will be a difficult task, and with satellite-based connectivity all but ruled out for now, it seems easyJet could wait for an air-to-ground solution to come to market.
Such a solution is in the works – Inmarsat announced last year that it has ordered a new S-band satellite and plans to develop a fully integrated air-to-ground connectivity network across the European Union – but the timeframe remains vague and a launch of the service is certainly years, not months, away.
That timeframe is not of concern to Lamkin and easyJet, though: "It's not one of our top priorities; it's further down the wish list".