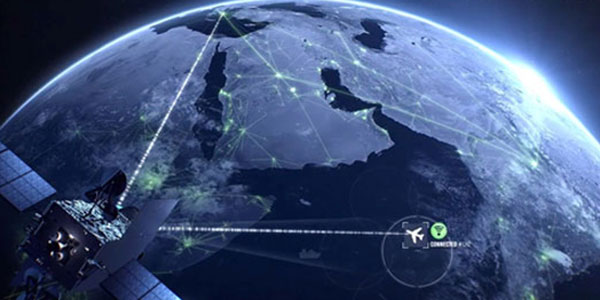 Inmarsat has announced an order for a new S-band satellite and outlined plans to develop a fully integrated air-to-ground (ATG) connectivity network across the European Union (EU). The new network will deliver high-speed broadband services to airlines, with British Airways already in "advanced discussions" to be a launch customer.
Plans are in place for the new S-band satellite, to be called Europasat, to be launched by the end of 2016, and the new capabilities will be offered alongside Inmarsat's Global Xpress service.
Pointing to the success of Gogo's ATG network in the US and the recent announcement of a new, competing AT&T network, Rupert Pearce, CEO of Inmarsat, stated that "North America has seen rapid take-up of in-flight passenger connectivity services, with installation and usage both growing very quickly", adding "we believe that the same in-flight connectivity opportunity exists in Europe".
He continued: "With the support of EU telecoms regulators, Inmarsat can rapidly bring to market unique, high-speed aviation passenger connectivity services to meet this market demand on an EU-wide basis."
Pearce also announced that detailed discussions have been held with British Airways, paving the way for the carrier "to be a launch customer on our new aviation network".
Kate Thornton, British Airways' Head of Product and Service, who will address delegates at FTE Global 2014, confirmed: "British Airways is in discussions with Inmarsat about leading Europe in a new era of broadband in the air. Starting with UK domestic routes, Inmarsat intends to deploy Europe's first ground-based 4G broadband network, giving our customers the Internet access they expect on the ground while in the air."
Inmarsat also stated that it has received "strong support" for its application from many EU telecoms regulators and is confident that "a consistent EU regulatory foundation ca quickly be completed to support the deployment of these services for the benefit of EU business and consumers".