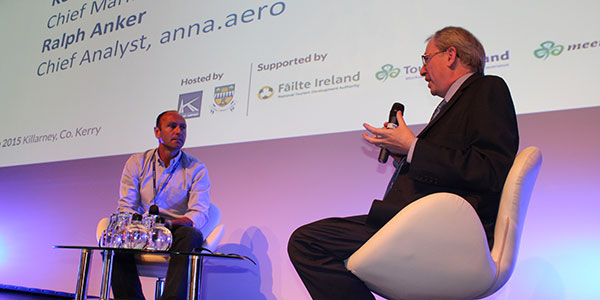 As Ryanair continues to focus on the delivery of its "Always Getting Better" customer service improvement programme, it is also exploring how to meet the demands of the growing number of passengers who now expect an always-connected experience, even when they are 30,000 feet in the air.
At FTE Europe 2015 earlier this year, the carrier's Chief Technology Officer and Head of Ryanair Labs, John Hurley, confirmed that onboard Wi-Fi is being given serious consideration, and last week at Connect 2015 in Kerry, Ireland, Ryanair Chief Marketing Officer Kenny Jacobs echoed this sentiment and elaborated on the connectivity plans.
Speaking during an on-stage Q&A with Ralph Anker, Chief Analyst at FTE sister publication anna.aero, Jacobs said Ryanair hopes to offer a permanent onboard Wi-Fi service within two years, and suggested that the low-cost carrier could pursue a sponsored model to help ensure the solution is "revenue generating".
It seems all options are being explored and having conceded that "we have not decided on what model" such a sponsorship would take, Jacobs jokingly added: "It could be P&G or Unilever sponsored – I am sure they would love to present Pampers to our customers!"
A more likely sponsorship model – considering also Ryanair's plans to trial wireless IFE – could be something along the lines of the JetBlue/Amazon Prime tie-up, which was announced last month. This deal allows JetBlue passengers to stream movies via Amazon Prime (and other streaming services), and purchase and download content via the Amazon Instant Store. Amazon is paying for the partnership and gets preferred placement on the Fly-Fi portal, which, in turn, helps to fund JetBlue's highly regarded, complimentary Fly-Fi onboard connectivity service.
Online personalisation gathering pace
Jacobs also explained more about Ryanair's online personalisation plans. Ryanair Labs is working hard to create a more personalised online experience that reacts to the demographics and location of the user, and Jacobs said 25 customer segments have now been defined, based on where the customer flies, their age, their postcode, when they fly, their digital behaviour and ancillary revenue penetration.
"We were not good at this before – we have been harvesting it for three years now," Jacobs explained. "Soon our ABC1 customers in West London will get a very different website than a price conscious customer in Bucharest."
Jacobs also pointed out the fact that the "Always Getting Programme" is not only helping to improve customers' perception of the airline, but is also helping to boost profits. He said Ryanair is now attracting some ABC1 customers from the likes of easyJet and British Airways, and the digital investments should help this trend continue.
"These digital innovations and use of data are the most exciting things influencing our model in the next few years," he stated.