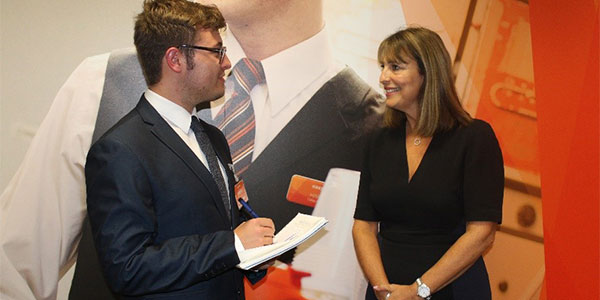 On Wednesday 14 October, FTE paid a visit to Gatwick Airport, where easyJet CEO Carolyn McCall and the Rt. Hon Patrick McLoughlin MP, Secretary of State for Transport in the UK, officially opened the carrier's brand new £2.7 million crew training facility.
The new Academy has been built to accommodate easyJet's continued growth and houses a world-class training facility comprising classrooms, cabin simulator, evacuation slide and fire training rig. The Academy is located within Concorde House at London Gatwick Airport and will train easyJet pilots and crew from bases across Europe.
Commenting at the opening of the new facility, McCall addressed the media, saying: "Along with this base opening, we are also announcing that easyJet will recruit 1,140 crew over the next year with a split of approximately 830 cabin crew and 310 pilots. This is really fantastic news for us today, as I believe that the strength of our staff correlates to the strength and growth of easyJet, so by employing over 1,000 new people, it confirms that the airline will also grow in strength."
The new facility will not be dedicated to just UK crew, but will bring together new recruits from all over Europe. Not only will new crew be trained at this facility, but over 6,000 crew per year will undergo annual recurrent training. 60% of this training will take place at Gatwick, with the remaining 40% taking place at London Luton.
Creating opportunities for female pilots
McCall also highlighted the fact that she wants to increase the ration of female pilots at easyJet: "Currently, only 7% of our pilots are women, and in two years easyJet is targeting to grow this figure to 14%, and we believe that this is realistically achievable.
"Along with our training partners, we already offer 10 cadet places each year for women who want to become pilots, and we also want to promote the STEM subjects (Science, Technology, Engineering and Maths) to younger women to show that it is a fantastic career opportunity and not just a male role."
Wi-Fi plans on hold…for now
After the unveiling of the new crew facility, Jonathan Ford, reporting for FTE, questioned McCall on the low-cost carrier's onboard Wi-Fi plans, and asked whether the increasing demand for Wi-Fi from travellers is putting additional pressure on easyJet to offer an in-flight connectivity service of its own.
"Eventually we will see Wi-Fi become the norm across air travel within the next 10 years or so," McCalled started. "However, until it is cheaper and more reliable, easyJet will not introduce it. Also, easyJet's average sector length time is only 1 hour 10 minutes, and from responses I have had from people, they like being switched off from the outside world for that period of time. So yes it will come eventually, but not until it is consistently good."