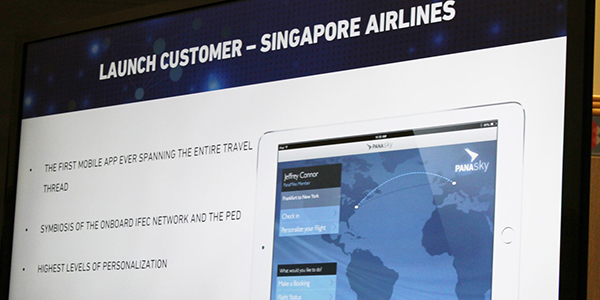 Singapore Airlines and Panasonic Avionics Corporation have teamed up to launch the industry's first companion mobile application, which will help to enhance the end-to-end passenger experience.
Using the software development kits and APIs available through Panasonic's Open Platform IFE strategy, Singapore Airlines' Companion App will enable passengers to start their in-flight entertainment (IFE) experience while they are on the ground. Passengers will be able to enter their flight details and browse the entertainment choices that will be available on their flight.
They can watch movie trailers, read reviews and identify and queue the movies they plan to watch in-flight. Once onboard, the passenger's mobile device can be synchronised with the seatback screen, which will then call up their bespoke queue of entertainment choices. The app, integrated with the airline's existing app, also offers access to the in-flight magazine and destination information.
The Companion App can also be used as a second screen, so passengers can use their own device to browse the IFE library, read the in-flight magazine or view the moving map without interrupting what they are watching on the seatback screen.
Panasonic Avionics has also signed a new deal with IMG, which will see the former continue to provide the technology for the Sport 24 live TV channel. The deal means Sport 24 will be available to airlines exclusively through Panasonic Avionics' eXTV television network for the next five years. In addition, a second live sport channel will be launched.