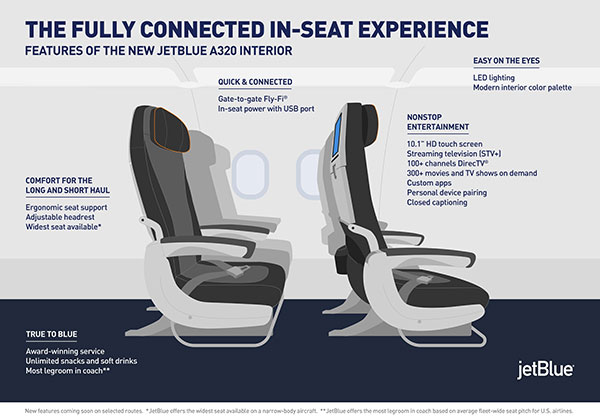 JetBlue Airways has announced a major A320 cabin restyling, which will include the introduction of what it calls a "fully connected in-seat experience". New 10-inch, high-definition, Internet-enabled in-flight entertainment (IFE) screens, more than 100 live television channels and in-seat power outlets and USB ports are among the key features.
JetBlue becomes the first airline to sign up for the new streaming television IFE system from Thales – STV+ – which is built on the Google Android platform. The carrier said in a release this opens "unlimited possibilities for custom app and widget development, live content streaming, audio-and-video-on-demand, and personal device pairing". In addition, the IFE system offers access to content stored locally on the aircraft.
The new IFE experience represents a major upgrade to the existing standard-definition, 5.6-inch screens and 36 channels of live DirecTV that can currently be found on JetBlue's A320s.
Passengers will also have gate-to-gate access to the FlyFi connectivity service, meaning they can browse the Web and even stream movies on Amazon Prime before and during take-off and after landing.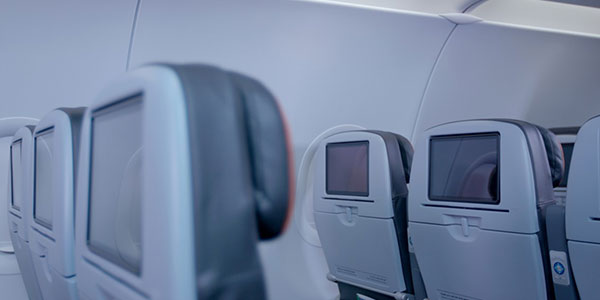 The cabin redesign will also incorporate a number of features introduced on the A321s in 2014, including the B/E Aerospace Pinnacle seats with moveable headrests and LED cabin lighting. The reconfigured A320s will feature 162 seats – 12 more than at present – but the carrier will maintain a 33-inch pitch. Airbus' Space-Flex v2 galley and lavatory module will also be introduced on the A320 and A321 all-core aircraft.
"We launched JetBlue with a customer-focused experience that no one expected from an airline," said Jamie Perry, Vice President Brand and Product Development. "Travel preferences have changed in the last 15 years, and we're investing in what customers want today. Our new cabin, combined with our award-winning customer service, is a powerful way for us to once again challenge the status quo.
"Our customers don't want to switch off when they take off, so we are continuing to build on our investment in Fly-Fi," Perry added. "Flying JetBlue is more and more like being in your own home – with access to live television and high-speed Internet across multiple screens while relaxing in a comfortable seat with lots of space and all the snacks and soft drinks you want. What you can't get at home is the award-winning service from our friendly crew members."