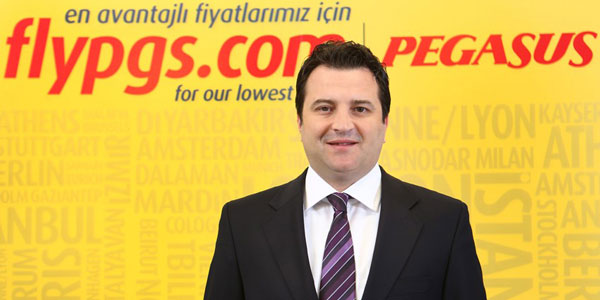 Following another year of double-digit growth, and with 100 new Airbus aircraft on order, Turkish low-cost carrier Pegasus continues to find itself among the world's fastest growing airlines. A +12.1% year-on-year increase in passenger numbers during the first nine months of 2015 and a +14% rise in revenues during the same period makes for pretty reading for the carrier, but FTE was keen to find out what Pegasus is doing to make the air travel experience better for its ever-growing customer base.
In the second half of 2016, the first seven of those 100 A320neo family aircraft will be delivered, and Boğaç Uğurluteğin, Pegasus Airlines' Senior Vice President, Ground Operations & In-Flight Services, explained to FTE that the introduction of the new aircraft will help to bring about improvements from a passenger comfort perspective. "As you know, many low cost carriers don't have very wide leg room," he started. "As Pegasus, when selecting the seats for our new aircraft we will be choosing seats that maximise guest comfort with the legroom they offer." The proof of the pudding, as they say, is in the eating, so increased legroom will rely on the airline not giving in to a temptation to squeeze in more seats.
Passengers hoping that the low-cost carrier, which has traditionally been a Boeing customer, might be planning to introduce in-fight entertainment (IFE) or connectivity products aren't in luck, though, as Uğurluteğin explained that while Pegasus is paying close attention to developments in this space, there are no plans in place just yet to invest in such solutions. The overhead screens on the new aircraft will only show advertisements and safety videos, while "the Wi-Fi service provision is dependent on the infrastructure on the ground".
It seems the door has been left often to potentially changing this IFEC strategy in the future, but if Pegasus does decide to introduce a connectivity service further down the line, it appears that the aircraft already in service won't be in line for a retrofit. "We believe the Wi-Fi service must be set up when the new aircraft is being purchased as opposed to after the order is made as it is a difficult system to set up afterwards," Uğurluteğin stated.
He is, however, very clear on the benefits of in-flight connectivity. "While there still is a long way to go before Wi-Fi service provision on board becomes commonplace, it certainly provides comfort for guests and we believe it's a great service to give guests the opportunity to stay connected during their flight. The service not only increases the quality of flight comfort, but it also helps guests be more productive and make the most of their time on board."
Low-cost carrier, high-class connectivity
Pioneering in-flight innovations may be on the back burner for now, but one of Pegasus' most striking passenger experience selling points is a different kind of connectivity – that which is offered to transfer passengers on the ground – and Uğurluteğin told FTE that this will remain a key focus as the carrier looks to strengthen its low-cost strategy. Unlike most other LCCs (with Vueling being another notable exception), Pegasus offers a genuine transfer/connecting product through its Istanbul Sabiha Gökçen International Airport hub. In fact, more than a quarter of all Pegasus passengers transited through Sabiha Gökçen in 2015.
"Due to Istanbul's unique geographical positioning, Istanbul Sabiha Gökçen International Airport is advantageous for flying transfer guests," Uğurluteğin said. "We currently fly to 40 countries and carry an increasing number of transfer guests. Owing to the convenience of the terminal, we have reduced the transit time for guests flying an international route and connecting to another international destination to just 20 minutes. Additionally, we offer fast processing options at our kiosks alongside the transfer check-in desks located at Istanbul Sabiha Gökçen Airport for guests who are unable to check-in to their connecting flight at their departure point. Furthermore, with Turkey's new e-visa system, we now provide our guests an easier option than ever to enter Turkey at the airport."
He continued: "Our supervisors on-site swiftly assist our transfer guests to locate and go to their respective gates. Transit baggage is transferred from the airport of departure to the airport of arrival without having to be picked up by the guests at Istanbul Sabiha Gökçen Airport. For any longer waiting times in between flights we make this wait much smoother through our lounge access agreement with the terminal that offers special rates for our guests."
Furthermore, if a connecting flight is missed, passengers are offered complimentary food and drink, and booked onto the next available flight through the Pegasus Hotel Desk service. If a flight is not immediately available, they are offered complimentary accommodation. Not bad for a low-cost carrier.
With growth again on the agenda for 2016, Pegasus Airlines is determined to prove that it can raise its passenger experience standards both in-flight and on the ground.