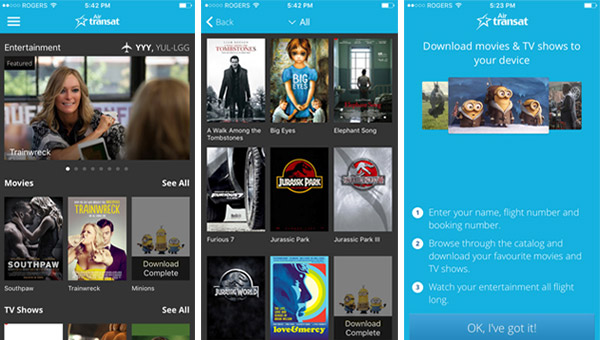 Passengers flying on Air Transat's Boeing 737-operated services now have access to an app-based in-flight entertainment (IFE) service, which enables them to download content to their personal device ahead of their flight.
The carrier is using a version of Global Eagle Entertainment's Airtime Content-to-Go product, which it has branded the CinePlus B app. Passengers can download the app, select and download movies, and then watch the content once they are on board the aircraft. Another app, called CinePlus A, was already available for passengers flying on the carrier's Airbus A310 aircraft.
The solution features Hollywood-approved Digital Rights Management (DRM) technology and is integrated with the airline's reservations system to manage content viewing windows and ensure passengers can only watch the content in-flight.
Jean-Francois Lemay, General Manager, Air Transat, said the IFE solution "enables us to effectively offer a great customisable passenger entertainment experience across a portion of our global fleet that until now had no IFE platform".
"GEE's IFE service fulfils a real need in our global IFE strategy," he added. "This clever IFE app has enabled us to take our overall passenger experience to a whole new level virtually overnight."
As FTE reported last year, pre-flight downloads have emerged as a viable option to provide IFE to passengers flying on aircraft lacking IFE or connectivity hardware.