One thing that was abundantly clear at Aircraft Interiors Expo in Hamburg was that airlines are now facing more choice than ever before when it comes to in-flight entertainment options, with embedded, wireless and BYOD solutions showcased alongside inventive immersive cinema and virtual reality solutions. FTE takes a close-up look at the different sectors of this dynamic market, from high-end seatback solutions through to portable, BYOD-focused alternatives.
Panasonic makes waves with Waterfront concept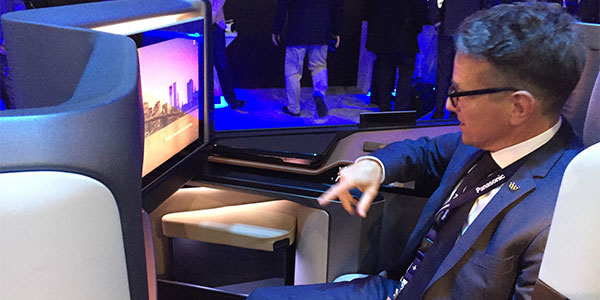 On the Panasonic Avionics booth, FTE was given a guided tour of the Waterfront Seat, the premium seat concept developed in collaboration with B/E Aerospace and Teague. Behind the sliding door we found a truly next-generation business class experience. A 24-inch touchscreen 4K monitor, heated seat, inductive charging and smartphone synchronisation – which allows for the user to control anything from the IFE system to the lighting and temperature with their own device – are among the numerous eye-catching features.
As Matthias Walther, Senior Manager, Integrated Marketing Communication, Panasonic Avionics Corporation, explained, personalisation and contextualisation are two key themes that run throughout the Waterfront concept. On this front, the Waterfront system can remember what movies you have watched and what drinks you have ordered on previous flights in order to provide a bespoke experience each time you fly. In additional, passengers can create customised settings – such as "sleep" or "wind down" – so at the touch of a button the seat and the surroundings can be transformed to suit their mood and preferences. Waterfront is an impressive example of what can be achieved through close collaboration and a pioneering spirit.
Thales pushes IFE boundaries with 'Digital Sky' concept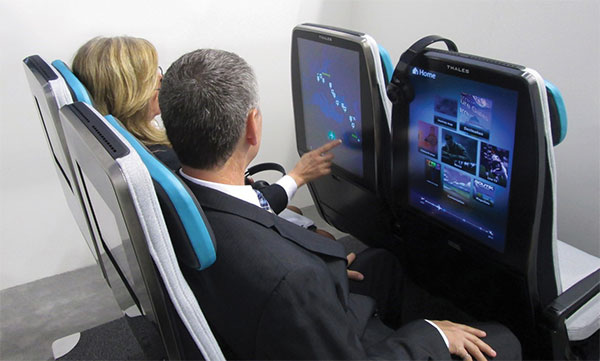 Also highlighting what is possible when you push the boundaries – and embrace collaboration – Thales was showcasing its Digital Sky concept, which boasts either a 21.3-inch or 26.5-inch portrait-orientation touchscreen display for watching movies, playing games, ordering F&B and exploring location-based activities, for instance. When FTE was on the Thales booth, airline interest in the concept was clearly high, with the Digital Sky viewing room in high demand. If anything, Digital Sky – developed by Thales in partnership with B/E Aerospace and Tangerine – highlights what can be achieved when a collaborative approach is taken.
Sky-high cinema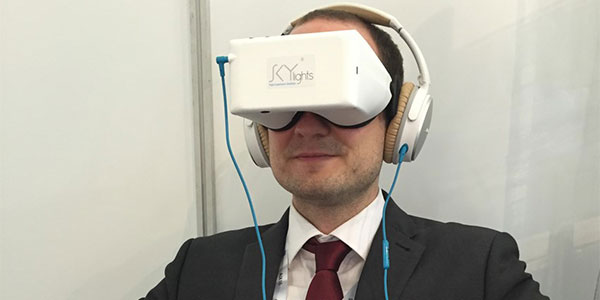 Among the inventive solutions was the Skylights Theater, an immersive headset that offers a fixed-screen theatre/cinema-style viewing experience in both 2D and 3D. As reported by FTE, XL Airways France recently became the first carrier to trial the Skylights Theater, and we caught up with David Dicko, Skylights' CEO, to find out what other airlines think of the product. "We're seeing two types of airlines," he said. "The first sees this as an opportunity to improve the passenger experience and also make more revenue, and the second sees this as an opportunity to offer something different to their first and business class passengers for free."
Dicko explained that XL Airways France has been "more than enthusiastic" about Skylights Theater since it was introduced earlier this year. Following the initial trial, the pre-deployment phase will now test passengers' willingness to pay to rent the device in-flight, and an A330 aircraft equipped with Skylight Theater devices will be followed closely for a one-month period to assess not just uptake, but also how the devices cope with frequent use. Following the testing period, the product will, in theory, be rolled out widely by the airline.
Having tried out the Skylights Theater in person, we can vouch for the fact that it offers an impressive viewing experience and genuinely helps you forget about the environment you are in (which is especially useful when you're flying in economy), and the agreements with 20th Century Fox and Dreamworks ensure passengers have access to decent content. Dicko explained that a number of other airlines have already expressed a solid interest in the Skylights Theater (we can't name them just yet), and he is now hopeful of gaining more customers in the coming months. "By the end of the year, our objective is to have at least two or three airline contracts that are permanent implementations, including at least one major carrier," he stated.
'Embedded IFE is here to stay'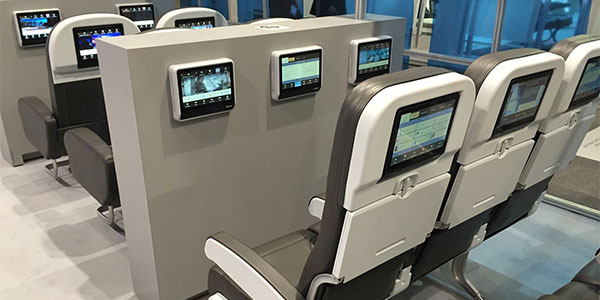 Lumexis' unwavering faith in the future of embedded IFE was laid bare in Hamburg, with both the Fiber-To-The-Screen (FTTS) Gen-4 and iPAX seatback systems on display. The fourth generation of the AVOD FTTS system is powered by the latest Android Lollipop 5.1.1 operating system, which as Jon Norris, Vice President of Sales, demonstrated enables the IFE screen to respond like a tablet, while enabling the inclusion of highly interactive features such as the Flightpath 3D moving map, which allows the user to zoom into detailed street level maps. Meanwhile, the iPAX system, launched last year as an alternative to overhead IFE monitors, now delivers entertainment, retail and advertising on a 6.8-inch screen. In Norris' words, choosing between overhead monitors and the iPAX system should be a "no-brainer" for airlines.
Amidst claims elsewhere in the exhibition that high-speed in-flight connectivity could threaten the future of embedded IFE systems, FTE sought Norris' thoughts on this subject. "We were told five years ago that connectivity was going to kill embedded. It hasn't," he said. "Connectivity can augment embedded IFE, but it will not replace it."
Air France "raves" about seatback IFE
Embedded IFE was also in focus on the Zodiac Inflight Innovations booth in Hamburg, where the company announced that Air France has selected its RAVE Centric IFE and Zodiac Seats for the upcoming retrofit of the Airbus A330 fleet. The deal covers a total of 15 aircraft. Larry Girard, Executive Vice President at Zodiac Inflight Innovations, explained that RAVE Centric IFE's reliability, cost savings and easy installation and maintenance appeal to airlines. This deal with Air France highlights the fact that there is still a strong appetite for seatback IFE.
BAE boosted by Vistara rollout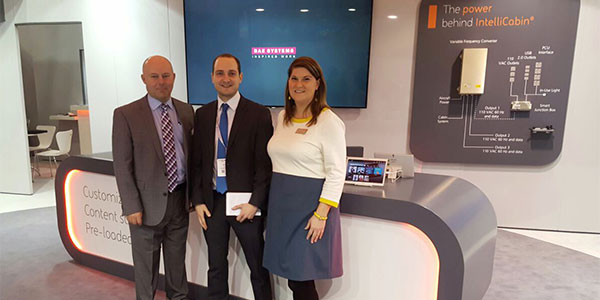 With one airline customer – Vistara – already flying with its IntelliCabin in-flight entertainment solution, BAE Systems is now seeking its next partner, and Paul Childs, Head of Business Development – Europe/Africa, highlighted some of the key features of the system to FTE. IntelliCabin has now achieved all-important Supplemental Type Certification and the solution will now be rolled out across the rest of the Vistara fleet. The first installation, he said, was completed in three overnight shifts with no interruption to service.
While IntelliCabin enables airlines to stream content to "an incredible number of different devices", a partnership with Samsung also allows carriers to offer IFE content, including Early Window Content, on customised Samsung tablets, which can be distributed to passengers for the duration of the flight. Echoing the thoughts of other providers in this space, Childs told FTE: "Airline interest is really high." He added: "Our top-end relationship with Samsung is paramount for us and it's also really important that we can stream to every type of device."
Agnostic approach
After recently landing a contract to introduce its wireless IFE solution on Tigerair Australia's Boeing 737-800-operated services from Melbourne, Adelaide and Perth to Bali, the Arconics team welcomed FTE on to their booth in Hamburg. Michael Reilly, the company's VP e-Enablement & Entertainment, explained that the company's "hardware agnostic" stance to IFE stands it in good stead.
An increasing number of airlines are now willing to "test the water" he said, with a vast array of solutions, from full blown wireless IFE systems to portable products, providing a great deal of choice to all airline types. The associated ancillary revenue benefits – the ability to market and sell products and services via wireless and portable IFE systems – are an important element of the offer to airlines, he said. This point, he suggested, will contribute to a "real shift to wireless IFE in the next two, three or four years", although he accepted that embedded IFE systems will "always have a place in premium classes on wide-bodies".
'Exciting times for wireless IFE'
In the wireless IFE space competition is fierce and another of the many players in this space is Bluebox Avionics. Speaking to FTE, Kevin Clark, Chief Operating Officer at Bluebox, explained that the company offers a solution for all needs, ranging from standalone portable IFE and connected portable IFE, to fitted wireless IFE and a scalable wireless IFE product.
Each of the Bluebox solutions has its own unique merits, he explained, from the Early Window Content available on the iPad-based Bluebox Ai solution, to the swappable battery and 800GB data capacity on the Bluebox Wow portable product. "We're in a really exciting phase and there's a lot of interest in wireless IFE and portable IFE," Clark stated.