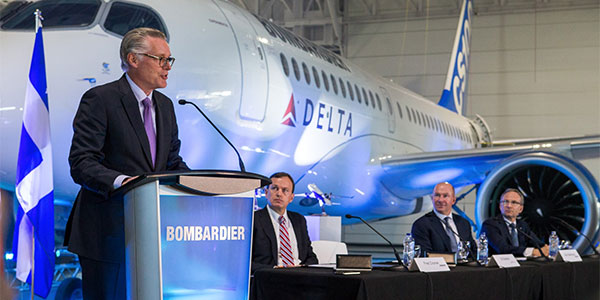 Delta Air Lines has become the first US airline to place an order for Bombardier's new C Series aircraft, in a deal that looks set to have positive implications for passengers on Delta's regional services.
The carrier has placed a firm order for 75 CS100 aircraft with options for 50 more, and has the flexibility to choose to convert a number of these aircraft into CS300 orders at a later date. Deliveries are scheduled to start in spring 2018.
Based on the list price of the CS100, the firm order is valued at approximately $5.6 billion and is a huge coup for Bombardier, which has been actively pursuing a major US-based customer since the launch of the C Series programme.
Ed Bastian, Delta's Chief Executive, commented: "As we reshape our fleet for the future, the innovative onboard experience of the C Series is a perfect complement for the top-notch service provided every day by Delta people. These new aircraft are a solid investment, allowing us to take advantage of superior operating economics, network flexibility and best-in-class fuel performance."
Fred Cromer, President of Bombardier Commercial Aircraft, described the deal with Delta as a "watershed moment" and stated that the order is a "resounding endorsement of the CS100". He added: "In addition, its widest aisle, widest seats and largest bins in its class will be attractive features for Delta's passengers."