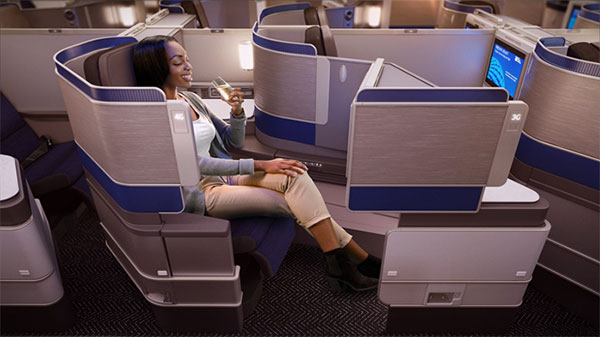 United Airlines has unveiled its all-new United Polaris business class, which the carrier says is its most significant product transformation in more than a decade.
At the heart of the new widebody business class product is the custom-designed, exclusive Polaris seat. Designed in partnership with Acumen Design Associates and PriestmanGoode and manufactured by Zodiac Seats United Kingdom, each United Polaris seat will offer direct aisle access, 180-degree flat-bed recline and up to 78 inches of bed space.
The individual, forward-facing, suite-like pods will feature a "do not disturb" sign, mood lighting, one-touch lumbar support, several storage areas, multiple surfaces for simultaneous working and dining, and a 16-inch high-definition in-flight entertainment screen. Seats in the centre of the cabin will have electronic privacy dividers. Complementing the new seats, United and PriestmanGoode have also conceived an all-new look for the United Polaris cabins.
United conducted more than 12,000 hours of research to ensure the new business class meets customers' demands, and sleep emerged as the single most important priority for international business class travellers.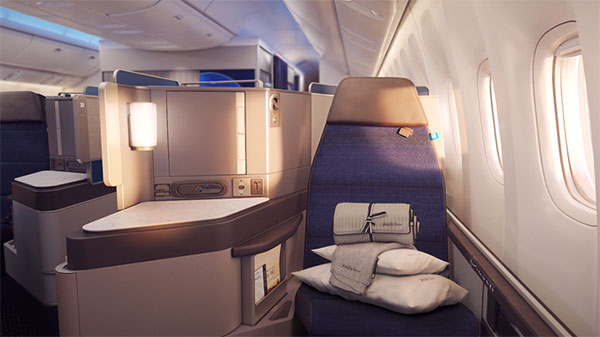 In a first-of-its-kind partnership, United has worked with leading luxury specialty store Saks Fifth Avenue for custom-designed bedding, including plush duvets, lightweight day-blankets and large and small pillows for each United Polaris customer. In addition, mattress cushions will be available upon request. Slippers will be available on all flights, and customised United Polaris pyjamas will be available by request on flights longer than 12 hours. Flyers will also be able to request a gel-cooled pillow, while new amenity kits will be provided.
Upon boarding their flight, each United Polaris customer will be welcomed with a pre-departure beverage of their choice and gourmet chocolate. While in the air, customers will enjoy regionally influenced in-flight menus updated seasonally, developed in partnership with The Trotter Project and its critically recognised chefs.
The new United Polaris business class will first take flight in December on Boeing 777-300ER aircraft and subsequently on Boeing 787-10 and Airbus A350-1000 aircraft, as well as on Boeing 767-300 and 777-200 retrofits.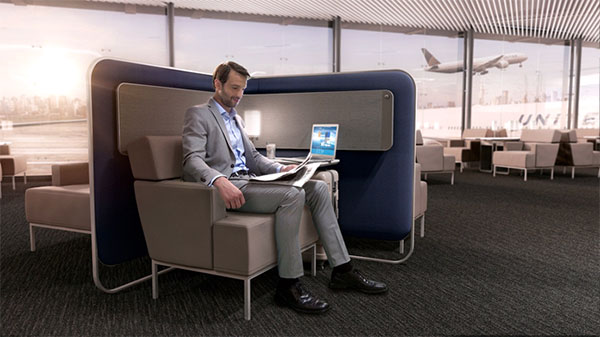 The all-new business class experience also extends to the airport. United will open an exclusive portfolio of United Polaris business class lounges in nine locations around the world. These will feature custom-designed chairs, private daybeds, spa-like showers and chef-inspired hot meals served in a boutique restaurant setting so customers can refresh and dine before flying. The first new United Polaris Lounge will open at Chicago O'Hare International Airport on 1 December 2016, while others will follow in Los Angeles, San Francisco, Houston, New York/Newark, Washington Dulles, Tokyo Narita, Hong Kong and London Heathrow in 2017.
Oscar Munoz, President and CEO of United, said: "United Polaris will change the game in international business travel with an exceptional level of relaxation and comfort throughout our customers' journeys. This completely reconceived experience exemplifies the new spirit of United and the innovation, excitement and operational momentum across our airline."