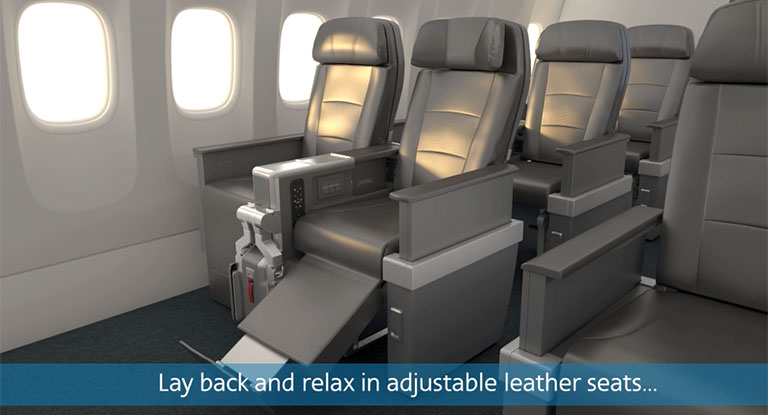 American Airlines will be introducing its new Premium Economy seating on its first Boeing 787-9 Dreamliner from November 2016.
The aircraft will make its first international flight between Dallas/Fort Worth (DFW) and Madrid-Barajas Airport on 4 November. It will also fly from DFW to São Paulo-Guarulhos International Airport. Travellers are able to book tickets for the 787-9 now.
The 787-9 has 30 fully flat Business Class seats, 21 Premium Economy, 27 Main Cabin Extra and 207 Main Cabin seats. The Premium Economy seats, pitched at 38 inches and configured in a 2-3-2 formation, have adjustable foot, leg and head rests. Travellers in this section will be offered noise-reducing headphones and an improved in-flight meal service with free wine, spirits and beer. They will also be able to check-in one bag for free.
All seats on the plane have touch-screen in-flight entertainment monitors. Users will be able to choose from almost 300 films, along with TV shows and games. Those in Premium Economy will have larger monitors, and Wi-Fi is also available on board.
These changes come as part of American Airlines' $3 billion push to improve all aspects of its customer experience.
Andrew Nocella, American Airlines' Chief Marketing Officer, said: "As the first US airline to introduce Premium Economy seating on international flights, we continue to innovate new ways to meet our customers' expectations with the products and service they value.
"The 787-9 is going to be a fantastic addition to our widebody fleet, with international Wi-Fi and an in-flight experience that's second to none. Our existing widebodies will offer Premium Economy as we retrofit our cabins and continue to elevate the entire travel experience with our $3 billion investment."