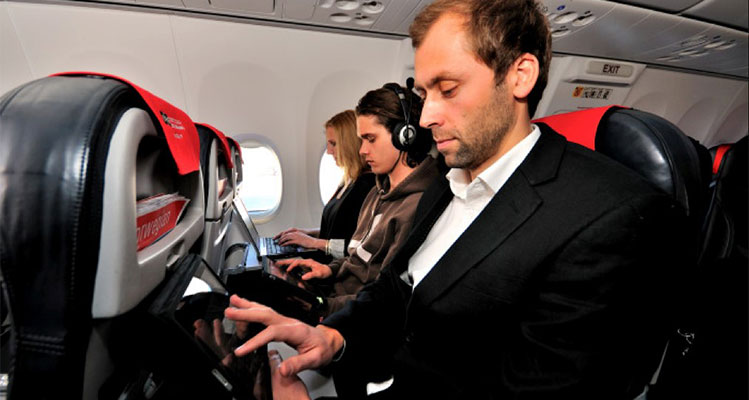 Several new technologies are improving the Wi-Fi connectivity service onboard aircraft. The improvements brought about by the likes of 2Ku, Global Xpress (GX) and the European Aviation Network are bringing the in-flight experience closer to what passengers have at home.
In the United States in particular, the availability of Wi-Fi in flight is almost expected. The Honeywell Aerospace Connectivity 2016 Survey revealed a number of interesting findings about American passengers and their Wi-Fi expectations. One of the key results was that 84% of the 1,008 respondents felt that the connectivity experience should be like what they get at home.
Gogo's new 2Ku service is currently available on selected Aeromexico aircraft, with many other carriers also committed to it, such as British Airways, Aer Lingus, Iberia, Delta and Virgin Atlantic. According to Gogo, the dual-antenna 2Ku system can hit speeds of over 70Mbps. Furthermore, in the future when the next generation high-throughput and Low Earth Orbit satellites launch, it will be able to reach over 200Mbps, according to the company.
Gogo Chief Commercial Officer, Ash ElDifrawi, emphasised the importance of offering a home-like experience in-flight: "I think that (the speed) is the wrong thing to focus on. The thing to focus on is can you do everything in the air that you can do on the ground? Can you stream, watch movies, do all the work, send email attachments that are large? Can you do that at the same rate as you can on the ground? The answer to that is with 2Ku, you can do all that. Every person on the plane can do whatever they want to do and have a ground-like experience."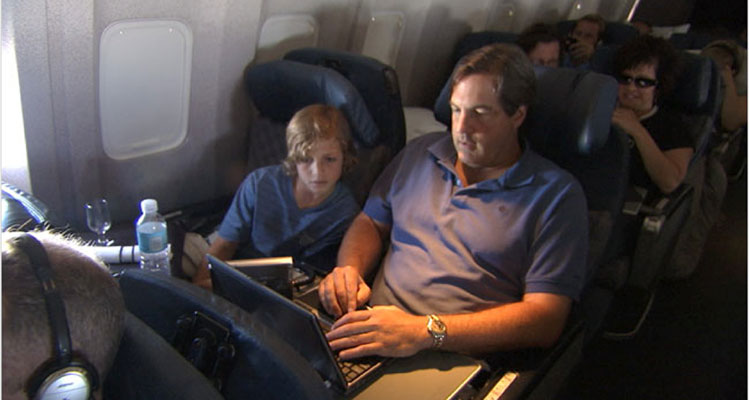 Similarly, Inmarsat has been investing in the in-flight connectivity experience with its Global Xpress network. A Ka-band antenna was installed on a Lufthansa A320 in June and will now be tested ahead of the onboard broadband service being made available to passengers in October. This service is expected to hit speeds of 60 to 70Mbps.
Rockwell Collins is a Value Added Reseller for the GX Aviation service and the company's Vice President of Air Transport Cabin Solutions Sales and Marketing, Jeff Sare, thinks it will have a big impact once it rolls out: "When Global Xpress goes live, there's going to be a big impact. I think you're seeing in the marketplace that there's huge uptake in interest in Global Xpress already. The Honeywell Inmarsat airplane is flying around and doing demos this month and next month. That's generating a lot of excitement."
The importance of reliability
The European Aviation Network will soon offer another option to airlines. This is Inmarsat's solution for European air travel, which combines an S-band satellite network with an LTE-based ground network. The company says this solution will provide connectivity speeds of 75Mbps. In theory, passengers will get an experience much like what they would get with their home broadband network.
The aforementioned Honeywell survey also found that 90% of the respondents felt the onboard Wi-Fi connection should be reliable no matter the destination. So if these new and emerging solutions are to be popular with customers, reliability will play a very important role.
Norwegian Air Shuttle already offers Wi-Fi on selected flights in Europe and for flights between the United States and the Caribbean. It first introduced the service in 2011 and it is still the only airline in Europe offering Wi-Fi on all short-haul flights. In late 2015, the carrier introduced the ability to stream live TV news through its Wi-Fi network. The reliability of the connection is key for them as well and any developments should not affect this, according to Thomas Ramdahl, Chief Commercial Officer: "Many customers choose Norwegian because they can stay connected and we believe that everyone should be connected in the air as they are on the ground.
"We launched live TV late last year so it's still too early to say what additional services we will introduce but an important consideration for any new Wi-Fi service will be to ensure the reliability of our inflight Wi-Fi connectivity throughout the aircraft cabin."
He did add though that Norwegian Air Shuttle is exploring the potential for Wi-Fi on its transatlantic flights, "once we identify the right equipment and service providers that can meet our high demands for a seamless user experience for our passengers".
Worldwide Wi-Fi
Although the quality and reliability of in-flight Wi-Fi is improving, there are still regions that lack connectivity coverage, such as Oceania, although efforts are being made to address this. Looking ahead, Rockwell Collins' Jeff Sare sees connectivity being available on the majority of aircraft within five years: "Within the next five years, I expect you'll have it reasonably ubiquitously. Every airline's a little different. Then the business models of the airlines and what they believe that they can afford or need from a competitive positioning obviously will determine how quickly they install this stuff. The Wi-Fi internet itself and the infrastructure on the airplane are relatively minimal, compared to a big IP system."
The widespread demand for fast, reliable in-flight Wi-Fi has driven the development of these new services such as 2Ku and GX, and now an increasing number of passengers are getting access to a home-like Wi-Fi experience in-flight. Faster speeds will not only improve the browsing experience but other areas too, including on-demand wireless IFE and real-time aircraft maintenance, which will form an increasingly important part of airlines' business plans when considering their next connectivity investments.