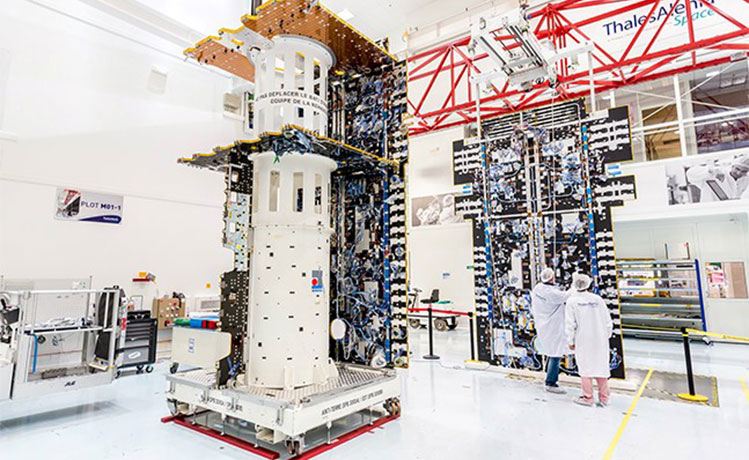 Inmarsat has announced that construction and associated sub-system tests of the satellite for the first-of-its-kind European Aviation Network (EAN) in-flight connectivity solution has been completed on schedule by Thales Alenia Space. The milestone was reached following an extensive two-year build process in France.
The completed S-band payload module was shipped in early July to Thales Alenia Space's testing centre in Cannes, where satellite integration was also successfully completed. The satellite is now undergoing rigorous system end-to-end testing before it is declared ready for flight in 2017.
The satellite has been custom-designed to provide mobile satellite services (MSS) to aircraft flying over the dense European routes. It will be integrated with an LTE-based ground network covering approximately 300 sites, operated by Inmarsat's partner Deutsche Telekom. Aircraft will switch automatically between satellite and terrestrial connectivity using an onboard network communicator for optimal service delivery.
Leo Mondale, President of Inmarsat Aviation, said: "The European Aviation Network has been specifically engineered to meet the connectivity needs of the aviation industry and is a cornerstone in our expanding worldwide mobile cellular network. It will offer unprecedented high-speed capacity at 75Mb/s with near zero latency while flying over Europe, so passengers can enjoy an easy-to-use true broadband experience for internet streaming, gaming and other online services direct to their personal smart devices. In addition, with no moving parts on the aircraft, the solution is not only lightweight, but also easy to install, very robust and low maintenance."
Mondale continued: "The on-time construction of our multi-beam satellite, as well as Deutsche Telekom's ground network of approximately 300 new LTE sites across Europe, highlights the rapid progress we are making with the European Aviation Network. The coming together of Inmarsat and market-leaders across Europe, including Thales, Deutsche Telekom, Nokia, Cobham SATCOM and OTE, on this ground-breaking development will strengthen Europe's position as a global technology innovator and support the continued growth of its aviation industry."
German flag carrier Lufthansa has already committed to a flight trial programme of the European Aviation Network.