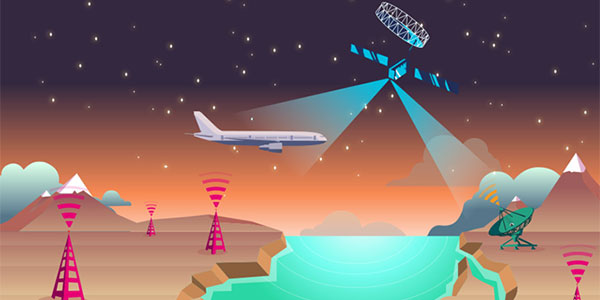 Lufthansa has confirmed that it will be the first network airline in Europe to offer broadband connectivity powered by Inmarsat's Global Xpress (GX) service. The first aircraft will be fitted with the new technology in "early summer 2016", marking the start of the rollout of high-speed onboard connectivity on Lufthansa's short- and medium-haul services. The announcement comes three weeks after the successful launch of the Inmarsat-5 F3 satellite, which is the third and final satellite in the GX constellation.
Meanwhile, Inmarsat and Deutsche Telekom have announced a strategic partnership to develop a hybrid LTE-based ground network and S-band satellite network across Europe. Lufthansa has also committed to a flight trial programme of this new so-called European Aviation Network, starting in 2017. FTE reported last year on Inmarsat's plans to develop a new S-band hybrid satellite/ATG connectivity network across the EU.
Referring to the commitment to develop the European Aviation Network, Andy Sukawaty, Chairman of Inmarsat, explained: "With this integrated network we can meet the need for capacity, flexibility and quality of service, including the ability to expand quickly to anticipate growth in demand.
"The integrated satellite and complementary LTE-based ground network will ensure that Inmarsat and Deutsche Telekom together deliver the fastest, best and most consistent in-flight broadband experience that meets the needs of airlines in this region. Combined with our global GX (Ka-band) and L-band services, we now have connectivity solutions for the cockpit and the cabin of any type of aircraft, flying in any geography."
Tim Höttges, CEO of Deutsche Telekom, added: "As a groundbreaking innovation we will roll out a powerful terrestrial network based on LTE within the European Aviation Network. This will be the first aviation connectivity network in Europe powered by both LTE and satellite combined. Our technology leadership provides a solid foundation for the best customer experience possible – be that on the ground or in the skies – and enables us to work with the finest partners in Europe and beyond."
As for Lufthansa, the carrier's Chairman and CEO, Carsten Spohr, said the commitment to roll out Global Xpress-powered connectivity next year and to trial the European Aviation Network service from 2017 "underlines once again that we are pioneers when it comes to digital services onboard".
"We continue to strive for excellence when it comes to our passengers' flying experience," he added, "and the provision of reliable, consistent broadband connectivity aboard our planes, which will match that of high-speed home broadband in terms of speed and quality, is of extreme importance to us."