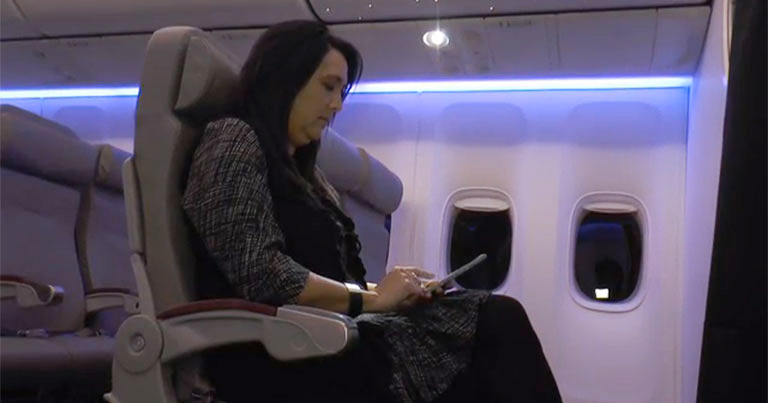 Boeing has announced the testing of its new technology demonstrator, 'vCabin', which could revolutionise the way passengers interact with their surroundings when onboard an aircraft.
Engineers in Boeing Commercial Airplanes' Product Development division have created an interior mock-up of an airplane cabin with an advanced, wireless network behind the scenes through which new technology concepts can be connected and made functional.
Engineers testing the concept have been able to control personal lighting, for example, using a smartphone. Other possibilities include ordering food and drinks, checking lavatory availability and accessing entertainment content using personal electronic devices. So far, vCabin has made use of small chips embedded near each feature so no Wi-Fi service is need.
Crew members could, in theory, also use the technology to monitor the cabin systems during the flight. If there is a problem, the device could automatically inform staff on the ground so it can be attended to after landing. Crew could also find out information about frequent travellers, including their preferences, so a more personalised experience could be offered. All of this information could be accessed on crew tablets, smartphones or smartwatches.
Deborah Regan, Principal Investigator in Product Development at Boeing, said: "The vCabin is a great tool to test the inventive ideas we come up with for future cabin improvements. We can get them working, put the ideas through their paces and get a real-world evaluation of the innovations in action."
Regan also added that the network is not connected to flight-critical airplane systems nor to the traditional in-flight entertainment system.
Dan Bittner, Product Development Lead Engineer, said: "We're really thinking about pushing the boundaries past what we know today. That's really what this vCabin tool is about – pushing that boundary and accelerating the technology through rapid demonstration and development."