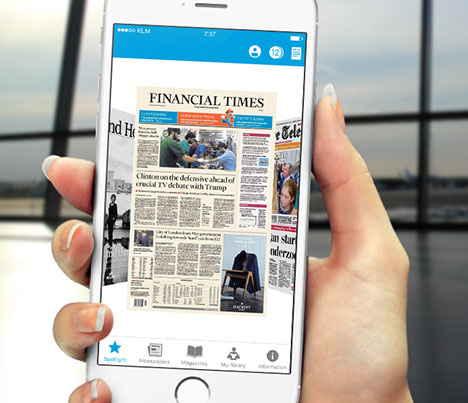 KLM has released a new mobile application, which allows passengers to download newspapers and magazines before they fly.
Travellers can download the publications from The KLM Media App from 24 hours prior to departure. In order to do so, they have to log in to the app with their Flying Blue account, KLM account or booking reference number.
The range of media available is dependent on the passenger's class of travel and their Flying Blue status. The minimum available is one newspaper and one magazine, and the maximum is the entire library. Once the publications have been downloaded, they are available for online and offline use. Passengers without a booking code can access the airline's in-flight magazines for free.
There are 13 newspapers available for download now, with more coming in the future. The current selection includes The Financial Times, Die Welt, China Times, Le Monde, Telegraaf and USA Today. The app is out now on Android and iOS.
Ryanne van der Eijk, Senior Vice President Customer Experience, KLM said: "The KLM Media App is yet another improvement to the service KLM offers its passengers. The app means a selection of newspapers is always to hand, up-to-date and available for all passengers, both on European and intercontinental flights.
"We are also exploring the possibility of expanding the app to become a complete entertainment app, including films and series."