Inmarsat grabbed the headlines at APEX EXPO, co-located with FTE Asia EXPO 2016, with the announcement that its long-awaited 'GX for Aviation' connectivity service has gone live under a "soft launch" phase with Lufthansa.
After hearing the news, FTE sat down with Frederik van Essen, Vice President Strategy and Communication, Inmarsat, who described the overriding feeling of "excitement" at the launch. "Our intention was always to make this work with the launch airline first, rather than boast about something that was coming further down the line. Now that it is launched, we are really excited," he said.
Van Essen explained that extensive testing has proved the viability of the connectivity solution, which provides high-speed global coverage. "It's been great to see people actually using it, instead of just talking about dry facts," he stated.
He explained that GX for Aviation, which the likes of Singapore Airlines and Air Astana have also signed up for, will have a "massive" impact on the passenger experience, thanks in part to the ability to stream videos on a ground-like broadband service. Airlines will also be able to tap into a multitude of operational benefits. "We're setting a global standard," van Essen added. "We're raising the bar now to a global level, not just a regional level. This (service) is going to be the one to beat."
FTE also had the opportunity to experience an immersive, augmented reality-powered vision of how high-speed onboard connectivity will impact the travel experience in the months and years ahead. Ranging from in-flight sales of destination-based activities and rebooking flights during disruption situations, to the streaming of live sporting events on personal electronic devices, the experience suggested that airlines have a real chance to redefine the travel experience.
Emirates selects B777X IFE system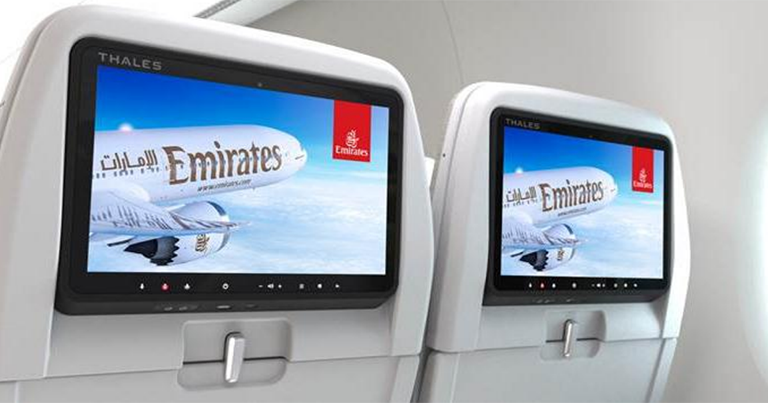 Thales made a big announcement of its own in Singapore with the news that its AVANT IFE system has been selected by Emirates for its future fleet of Boeing 777X aircraft, making it the only IFE supplier to be selected on the B777X to date. The company has also revealed that it will establish 'Discovery Dubai', a custom innovations centre for the passenger experience, in the United Arab Emirates. According to Thales, this centre will "enable Emirates teams to develop and shape their future passenger engagement initiatives and programmes in the air and on the ground".
Panasonic's success in Asia and beyond
Panasonic Avionics Corporation enjoyed a busy week, with the IFEC heavyweight making multiple significant announcements during the show. China Eastern Airlines has selected Panasonic's eX3 IFE system and Wi-Fi connectivity service for its fleet of 35 new A350s and B787 aircraft; Air Tahiti Nui has selected the company to equip four B787s with global connectivity and IFE; and Aeromexico has signed a deal to equip 60 B737 MAX aircraft with the eX1 IFE system. As if that wasn't enough to announce at one show, Panasonic Avionics also confirmed that Biman Bangladesh Airlines has selected the eX3 system for its new fleet of four B787-8s.
Air China and GEE launch IFEC trial
Having revealed a multi-year content service agreement with Qatar Airways, which will see Global Eagle Entertainment (GEE) provide a suite of core IFE services onboard 164 of the Doha-based carrier's commercial aircraft, GEE has since announced the start of a commercial trial of in-flight connectivity and entertainment services with Air China.
The trial will be conducted on a single Boeing 777 aircraft and follows a successful technical trial. During the pilot, Air China passengers will have access to the internet while onboard, as well as an entertainment portal offering live streaming of three Chinese-language television stations, Hollywood and Chinese movies, games and destination guides.
Rockwell Collins expands reach with B/E Aerospace acquisition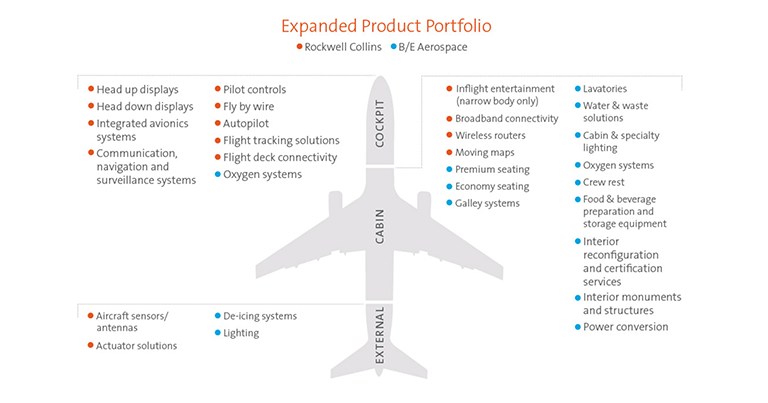 Rockwell Collins was also in the spotlight at APEX EXPO in Singapore, having announced ahead of the show that it had agreed to acquire B/E Aerospace in a multi-billion dollar deal.
The deal combines Rockwell Collins' capabilities in flight deck avionics, cabin electronics, mission communications, simulation and training, and information management systems with B/E Aerospace's range of cabin interior products, which include seating, food and beverage preparation and storage equipment, lighting and oxygen systems, and modular galley and lavatory systems for commercial airliners and business jets.
Kelly Ortberg, Chairman, President and Chief Executive Officer of Rockwell Collins, stated: "This transformational acquisition is consistent with our strategy to accelerate growth and build value through market-leading positions in cockpit and cabin solutions."
Rockwell Collins, a Value Added Reseller for Inmarsat's GX for Aviation service, also revealed that it has been awarded a contract by a "leading short- and long-haul European airline" for the connectivity service.
Mark your diary for FTE Asia EXPO 2017 – 7-8 November 2017, Marina Bay Sands, Singapore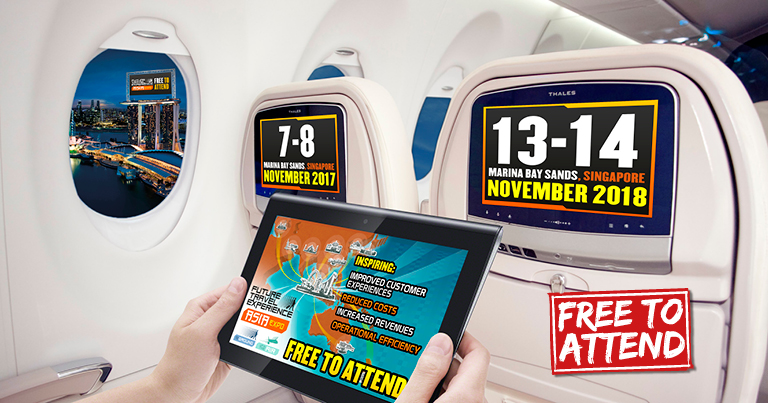 Future Travel Experience Asia EXPO 2017 – which will host Asia's largest exhibition of in-flight and airport products and services – will take place at the Marina Bay Sands in Singapore from 7-8 November 2017. We are delighted to announce that the Airline Passenger Experience Association (APEX) is the Headline Partner and Panasonic Avionics Corporation is the Lead Sponsor. Contact us to find out more about exhibition and sponsorship opportunities.