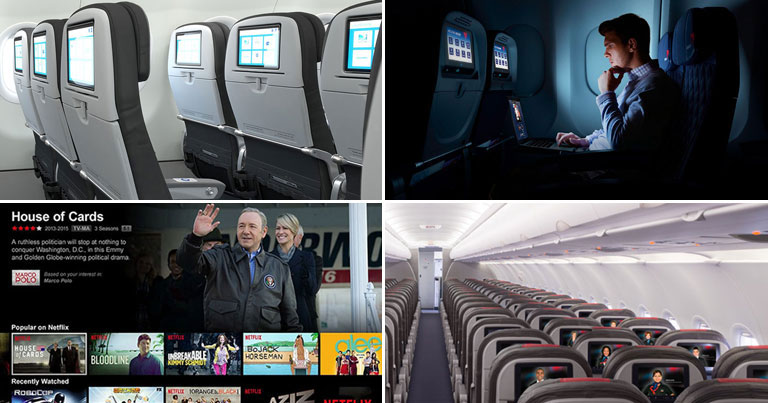 Following American Airlines' admission that it will not install seatback in-flight entertainment (IFE) screens on its new Boeing 737 MAX aircraft, questions have again been raised about the future of embedded IFE systems.
American Airlines' statement highlighted its reasoning behind the decision to opt for an extensive library of wireless IFE delivered via Wi-Fi to passenger devices, rather than seatback monitors. More than 90% of passengers now carry a personal electronic device, while vastly improved onboard connectivity supports streaming from the likes of Netflix and Amazon Prime, the carrier explained. These were among the key reasons, American said, why complimentary wireless IFE was selected ahead of "installing seatback monitors that will be obsolete within a few years".
It's important to note that American Airlines did not question the future of embedded IFE per se. The statement highlighted the fact that all of its wide-bodies, as well as the new Boeing 737 and Airbus A321 aircraft which will be delivered this year, will feature seatback screens. However, the decision has called into question the long-term role of seatback IFE on narrow-body aircraft, especially as the rollout of high-speed Wi-Fi continues apace.
Clarifying American Airlines' position to FTE, Brian Richardson, Director of Aircraft Interiors, Inflight Entertainment & Connectivity, explained: "The message is that the seatback monitors that are installed today are often outdated by the time the entire fleet of aircraft is delivered several years later. I don't know if, or when, IFE screens will be phased out completely but I do still think there are certainly markets and situations where seatback IFE still makes sense. It is difficult for airlines and IFE providers to keep up as technology advances with long development, certification and installation timelines."
Richardson admitted that the decision not to invest in a seatback IFE system on the new 737 MAXs was partly inspired by the rise of on-demand streaming services, such as Netflix and Amazon Prime. "I would say that it has been shaped (by this) to some extent," he said. "But our general desire is to allow customers to control and define their own experience. We will provide an "at home" Wi-Fi experience and still offer a large library of movies and TV shows that they can watch on their own devices. American was the first airline to offer wireless entertainment onboard, and this is an evolution of this product and experience."
JetBlue committed to seatback IFE
When approached by FTE, other airlines were keen to highlight the importance they still place on seatback IFE screens. JetBlue's Vice President of Marketing, Jamie Perry, said: "As we always have, all JetBlue aircraft will offer seatback televisions. Our customers love to use multiple devices and our philosophy has always been to offer customers more options while they fly. We want our customers to feel like they are at home even at 35,000 feet."
The carrier also pointed towards its investment in a "fully connected in-seat experience", which is centred on connecting the seatback screen to the aircraft's connectivity system. The new IFE system is built on the Google Android platform, supports live content streaming, audio and video on demand, and personal device pairing. Importantly, passengers will continue to be offered high definition, personal IFE screens.
Delta: Our customers want IFE options
While accepting that "like many aspects of the aircraft interior, seatback IFE hardware does have a limited lifespan", Delta Air Lines' Joe Kiely, Managing Director of Product and Customer Experience, told FTE that the carrier focuses on maximising the customer experience through "new and unexpected content, upgrades to processing power, and modifications to screen sizes and resolution".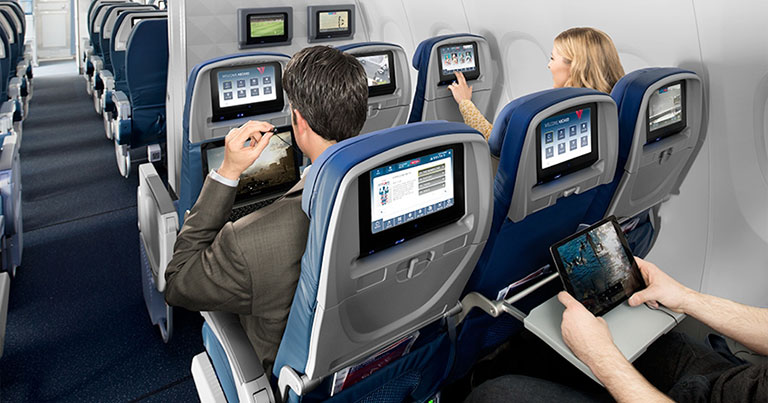 "For example, Delta is nearly two-thirds of the way through the rollout of a new user interface on existing hardware, and seeing a great response from customers," Kiely explained. "This new GUI brings customers closer to the swipeable, smartphone-like experience on our newer hardware – and we are already planning for what comes next so we can ensure we exceed customer expectations years from now.
"We recognise that Delta customers multi-task, using multiple screens throughout their day," he continued. "Delta is choosing to invest in seatback entertainment in addition to the ability to access content via mobile devices onboard while competitors remove options. Our customers tell us that flexibility is important to them and we will continue to listen."
Aeromexico: Seatback IFE is still a value proposition
Another airline that will soon be taking delivery of new Boeing 737 MAXs is Aeromexico. The airline's Customer Experience Corporate Vice President, Rodrigo Llaguno, explained that these new aircraft will include seatback screens because they are "still a value proposition for our customers".
He said: "You have to figure out the mobile device penetration per region and the customer usage per region with those customer devices. In Latin America mobile usage is growing tremendously but people are still getting used to using their mobile device to watch their entertainment. We do think Latin America has got some years until passengers use their personal device as their main entertainment device."
Llaguno admitted that "every time we're getting a (new) plane the debate is whether we should or shouldn't have screens", but at the end of the day it comes down to weighing up the cost savings against the customer experience implications. Airlines that opt to remove seatback screens, he suggested, are essentially "trying to cut costs". "If you look at all the other airlines in the US that focus on passenger experience, they've kept the screens just because, right now, it's one of the biggest pieces of the experience on board."
Next-generation IFE
In the coming years, as more aircraft are equipped with home-like Wi-Fi and airlines search for ways to cut costs, an increasing number of carriers will surely debate the pros and cons of seatback IFE. However, Llaguno said that a new wave of developments, such as significantly lighter IFE systems with content streamed wirelessly to the screens, could potentially make it easier for airlines to justify investments in seatback screens. "Eventually it might not make sense not to have the screen…Cost-wise, perhaps it won't make such a huge difference as it does now," he said.
American Airlines' Richardson – who is also the President of the Airline Passenger Experience Association (APEX), which is Headline Partner of the FTE Global and FTE Asia EXPO events – also highlighted the important role that connectivity will play. Interestingly, he suggested that seatback screens will continue to have a place. "I'm not sure what the world will look like in 10 years, but I think the focus needs to be on what our customers want. Customers expect to be able to have an experience in the air that is similar to their living room," he said. "I see embedded systems and Wi-Fi working with customer devices and providing a personalised experience, both with entertainment and with the overall customer journey."
American Airlines, along with the wider industry, will now be keeping a close eye on the impact that the decision not to offer seatback IFE has on the passenger experience onboard the new 737 MAX aircraft, the first of which will be delivered later this year. While high-speed connectivity provides airlines with more IFE options than ever before, the success of this decision, and perhaps the future of seatback screens on narrow-body aircraft, hinges largely on how passengers react.