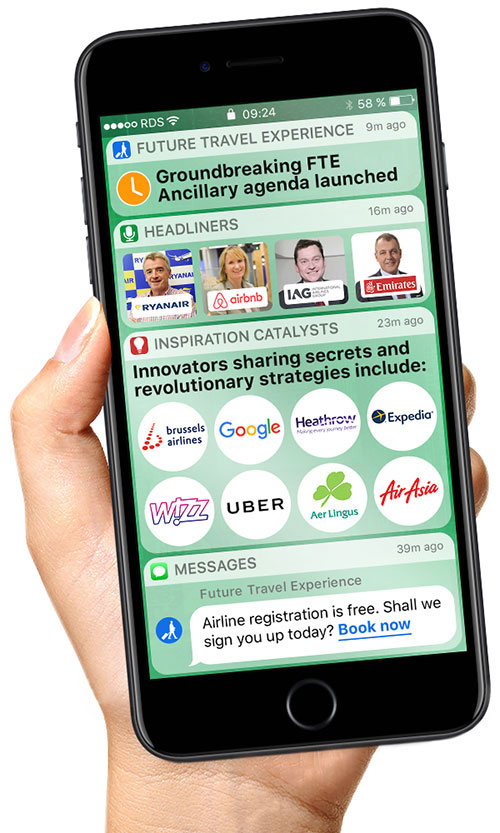 The conference agenda for Future Travel Experience Ancillary 2017, the world's definitive digital airline retailing show, is now live.
The event, which will take place in Dublin on 26-27 June and is free to attend for airlines, is focused on helping airlines and their partners generate new digital revenue opportunities at every step of the journey. Among the keynote speakers are Ryanair CEO Michael O'Leary, IAG Director of Strategy Robert Boyle, and Airbnb Head of Global Customer Experience Aisling Hassell.
Other confirmed speakers include Emirates Chief Digital & Innovation Officer Christoph Mueller, AirAsia Chief Data & Digital Officer Nikunj Shanti and Aer Lingus CEO Stephen Kavanagh.
Exclusive Think Tank and B.A.R.T.A. launches
The 'Passenger Experience and Ancillary Think Tank' vision (which is being co-created by senior figures from Brussels Airlines, Google, Heathrow and Expedia) will be unveiled on day one of the conference, while day two will include the exclusive launch of the Brand Airline Retailer Technology Airport (B.A.R.T.A.) initiative.
This revolutionary initiative, supported by TRBusiness, will bring together Budapest Airport, Wizz Air, Heinemann Duty Free, SSP Group, FLIO and L'Oréal Travel Retail (who are all present at Budapest Airport) to create a first-of-its-kind duty free/travel retail business model, with the aim of Budapest becoming a key test site for the B.A.R.T.A. initiative. The groundbreaking cooperation will harness digital technology and form new commercial relationships between all stakeholders to drive passenger spending both at the airport and on-board.
Across the two-day conference, senior figures from the likes of Paris Aéroport, Manchester Airports Group, JetBlue, airlinetrends.com, TUI, Gatwick Airport, Salesforce, Uber, APEX and Cork Airport will also share their digital ancillary and customer experience expertise.
In addition to the conference, attendees will have access to a major exhibition, a Networking Party at the Guinness Storehouse and the co-located Future Travel Experience Europe. Delegates will also be able to make use of the online One-to-One Meeting System ahead of the event to contact fellow attendees and arrange meetings in advance.
View the full FTE Ancillary conference agenda
Register to attend – airlines can register for FREE until 17 April