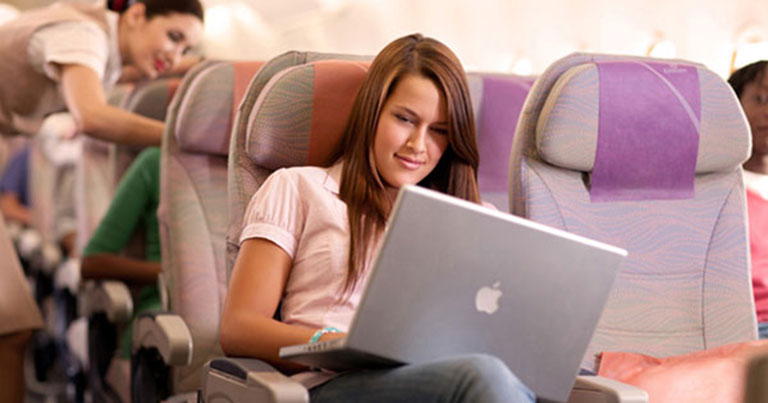 The United States Government has announced a ban on personal electronic devices (PEDs) "larger than a cell phone or smartphone" from being carried in cabin baggage on US-bound flights from ten airports in the Middle East and North Africa.
The ten affected airports are: Queen Alia International Airport (Jordan), Cairo International Airport (Egypt), Ataturk International Airport (Turkey), King Abdulaziz International Airport (Saudi Arabia), King Khalid International Airport (Saudi Arabia), Kuwait International Airport (Kuwait), Mohammed V Airport (Morocco), Hamad International Airport (Qatar), Dubai International Airport (United Arab Emirates), and Abu Dhabi International Airport (United Arab Emirates).
The UK government has since announced a similar ban on personal electronic devices larger than 16cm long, 9.3cm wide or 1.5cm deep. This ban covers direct flights to the UK from Turkey, Lebanon, Jordan, Egypt, Tunisia and Saudi Arabia.
The ban means devices such as laptops, tablets and cameras will have to be placed in checked luggage. Approved medical devices may be brought into the cabin after additional screening.
The airlines affected by the US' new measures are Royal Jordanian, EgyptAir, Turkish Airlines, Saudi Arabian Airlines, Kuwait Airways, Royal Air Maroc, Qatar Airways, Emirates and Etihad Airways.
Meanwhile, the UK-imposed ban also affects a number of carriers, namely British Airways, easyJet, Jet2.com, Monarch, Thomas Cook, Thomson, Turkish Airlines, Pegasus Airways, Atlas-Global Airlines, Middle East Airlines, EgyptAir, Royal Jordanian, Tunis Air and Saudi Arabian Airlines.
The reasoning behind the ban
In a Q&A on the Department of Homeland Security (DHS) website, the department states: "DHS, in close cooperation with our intelligence community partners, selected these airports based on the current threat picture."
The Q&A also includes the following information on why the US has decided to take this step now: "The US Government is concerned about terrorists' ongoing interest in targeting commercial aviation, including transportation hubs over the past two years, as evidenced by the 2015 airliner downing in Egypt, the 2016 attempted airliner downing in Somalia, and the 2016 armed attacks against airports in Brussels and Istanbul. Evaluated intelligence indicates that terrorist groups continue to target commercial aviation, to include smuggling explosive devices in various consumer items.
"Based on this trend, the Transportation Security Administration (TSA), in consultation with relevant Departments and Agencies, has determined it is prudent to enhance security, to include airport security procedures for passengers at certain last point of departure airports to the United States. These enhancements include more stringent measures applied to 10 specific airports."
It adds: "This security enhancement will be implemented through a Security Directive (SD)/Emergency Amendment (EA) process, which includes industry notification, to affected air carriers that will implement the requirements."
The DHS has provided no end date for the new security measures, simply stating that "the new procedures remain in place until the threat changes".
Calls for a passenger-centric solution
Calls are now being made for a more coordinated response to the ban. The Airline Passenger Experience Association (APEX) has called for "immediate government-approved security solutions for the airline electronics ban".
APEX CEO Joe Leader stated: "The US and UK this week pointed to a problem in airline security by banning electronics on certain flights. When we take away personal electronic devices from passengers, we are bowing to a potential threat rather than providing an acceptable security solution. Chemical detection machines utilised worldwide can detect illicit items in electronics. Turning on electronics checks functionality and non-functioning electronics could be banned from flights. The expense of hand-searching every carry-on for the personal electronics ban could instead be directed to a long-term solution that serves airline passengers and safety."