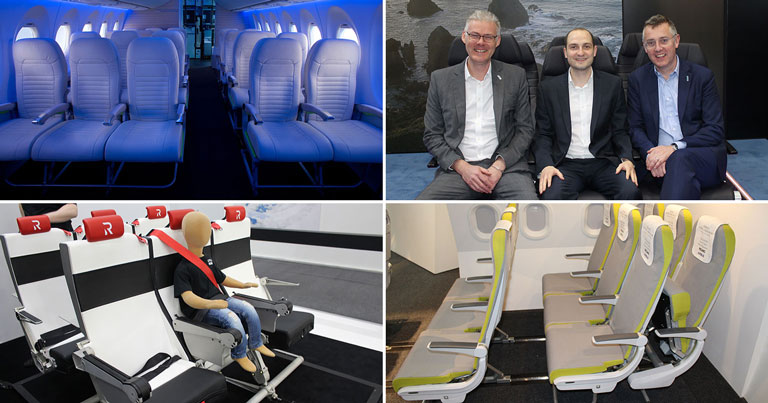 Promising improved passenger comfort is easy but delivering it is an entirely different story, especially when it comes to economy class. Space limitations, stringent safety and certification processes, and airlines' desire to derive maximum profit from every seat make for a challenging backdrop. However, aircraft manufacturers and seating companies are indeed making efforts to increase comfort across the board, as FTE found out at Aircraft Interiors Expo 2017 in Hamburg.
At this year's show, "collaboration" was very much a buzzword. Boeing and Airbus spoke of the importance of collaborating with seat designers and manufacturers earlier in the process, while seat suppliers themselves promoted the benefits of close collaboration with airlines.
Alan Wittman, Director, Seat Integration Team, Boeing Commercial Airplanes, highlighted how work with the likes of Jamco, EnCore and automotive seating supplier Adient is helping to bring about improvements. Following last year's launch of LIFT by EnCore's economy seat for the Boeing 737, Wittman revealed that the two companies have collaborated to create a new seat for the Boeing 787. He explained that the close collaboration means each seat is "spatially, structurally, aesthetically optimised" for the Dreamliner aircraft, so no compromises have been forced upon either party.
Tom Eaton, LIFT by EnCore's Director of Design, told FTE that the new Boeing 787 Dreamliner Tourist Class Seating offers a "refined, considered" quality. Extensive ergonomic testing has been undertaken to ensure comfort over long periods of time, he said, while reliability, maintainability and cost efficiency have also been considered throughout the project. "Airlines understand that they have to invest in the features of the seat to bring back the comfort that they once offered," he added. This has been addressed not only by the inclusion of features like personal stowage options and a focus on supporting various entertainment options, but also by the choice of colours and materials offered, each of which has been designed to complement the Boeing Sky Interior.
Reconfigurable cabin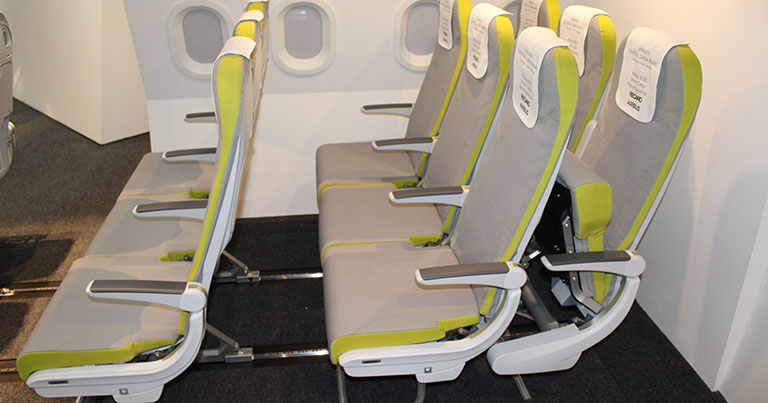 Airbus, Recaro and THK provide another example of how collaboration can benefit passenger comfort. The Smart Cabin Reconfiguration concept, making use of Recaro's Flex Seat, is a sliding seat concept that allows for seat pitch to be significantly increased in a matter of seconds. If an aircraft is flying at less than 100% capacity, the seat rows that aren't being used can be quickly folded up and the row in front can be moved backwards to increase legroom.
"The idea of the reconfigurable cabin came up years ago," Dr. Mark Hiller, Recaro's CEO, told FTE. "Together with Airbus we thought about how we can really give the cabin more flexibility. We worked together with Airbus to figure out what can we do on the seat tracks, what can we do with the seats, and (whether we can create a concept) which is adjustable in less than a minute. This really gives airlines completely new opportunities…Maybe just before boarding takes place, they can reconfigure the aircraft."
Collaborating to increase comfort
The theme of collaboration extends beyond the OEMs and seating suppliers. In Hamburg, Acro and Air New Zealand unveiled a new economy class seat for the airline's A320 and A321neo fleet. Alan McInnes, SVP Sales, Acro Aircraft Seating, described to FTE how the seat was developed closely with Air New Zealand. The final design features a middle seat that is three centimetres (1.18 inches) wider than Air NZ's current Airbus seats, and window and aisle seats that are one centimetre (0.39 inches) wider. The design also features a new seat cover developed in conjunction with New Zealand-based Flight Interiors, while the curved seatback has been designed by Acro to enhance ergonomics.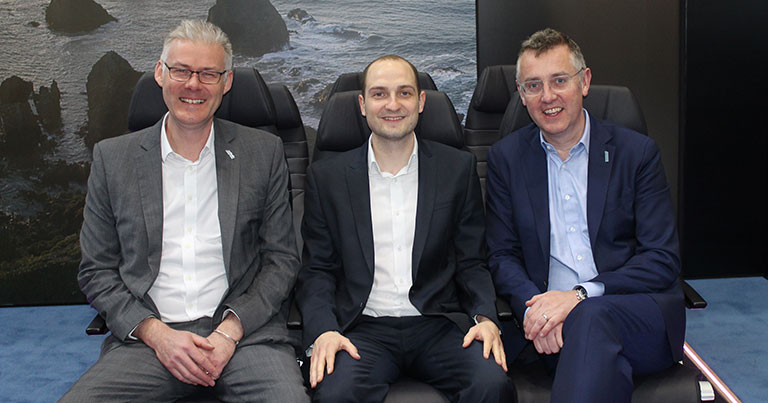 McInnes stated: "Air New Zealand recognised a seat with potential (Acro's Series 6) that needed some further work. We're always delighted to work with airlines collaboratively and this was very much what I would call a 'challenge and trust' relationship. What you see now is the final result of collaboration."
Referring to this approach, Kerry Reeves, Programme Director for Air New Zealand, said: "We certainly found a partner that has the same culture and the same philosophy of how they work together to produce a better outcome." He added: "For us the passenger is so important, and creating the opportunity for them to be able to use the seat and use the space effectively…is so important for our passengers going forward."
'Responsible airlines care about passenger comfort'
The POISE concept seat is also the result of close partnership. Tangerine teamed up with Bradfor Ltd, IPC Mouldings and Magnesium Elektron to create the concept, which set out to rethink the structure of the economy class seat in order to create extra legroom for every passenger. The concept seat also features extended headrest wings and a magnetic meal tray. Impressively, the concept was conceived, designed and developed in just eight weeks.
When quizzed by FTE on whether he sees a desire among airlines to improve the economy class experience, Martin Darbyshire, CEO of tangerine, said: "The more responsible airlines do care about it". However, he admitted that convincing airlines to deliver positive change can be difficult due to the "tremendous commercial pressure" that carriers are often under.
He said airlines shouldn't focus on "frilly" ideas, but instead on more "common sense" opportunities that can make a real difference. One such example is the six-way headrest that tangerine designed for Cathay Pacific's A350s, which offers extra neck support for economy class passengers. Darbyshire also revealed to FTE that tangerine is working on an exciting new project that aims to tackle passenger "slouch" in order to provide additional support for when the body moves away from the seatback. Further details are currently limited following the recent filing of a patent.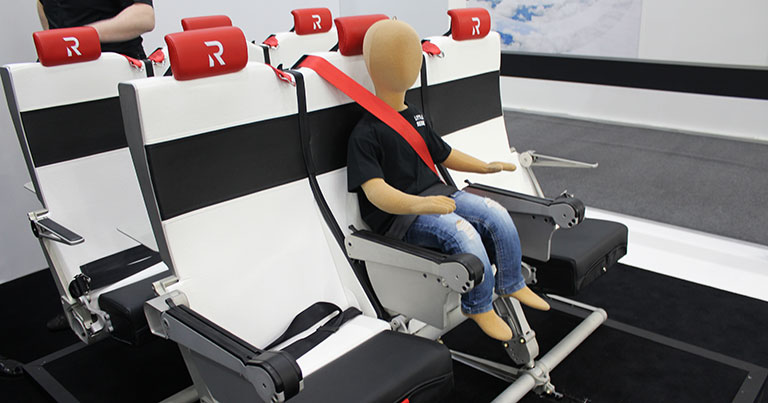 Elsewhere, another company that has taken a bold approach to reinventing economy class seating is Rebel.Aero, which was displaying its S:two and new S:three seats. As Jon Hannesson, Design Engineer, explained, a three-point harness has been included to improve safety and support, while the pre-reclined angle of 17 degrees aids comfort. The most eye-catching feature, though, is the folding "booster" seat. This provides passengers with an alternative seating position, makes it easier for them to move and stretch their legs, and can also help to speed up the boarding process. In Hamburg this year, the company unveiled its new S:three seat, which features a cradle recline system and is aimed at the premium economy market. In an industry that has reputation for being conservative, Rebel.Aero is really trying to offer something different.
Of course, in-flight comfort is about more than the seats, as STG Aerospace CEO Nigel Duncan told FTE. Duncan lauded the value of what he called "human centric lighting", and highlighted how LED cabin lighting can have a positive impact on the in-flight experience. "Airlines are getting smarter," he said, "and they're really thinking about what they can spend their hard earned profit on." He explained that an aircraft can act as a restaurant, a bar, a cinema or a bedroom, and providing the right type of lighting at the right time can have a significant impact on passenger wellbeing. He also stated that lighting can help to drive in-flight sales. "Research shows that relaxed people tend to spend," he said, which can only be good news for airlines.
Bombardier's fresh approach
During a visit to the Bombardier booth, Patrick Baudis, Vice President, Marketing, Bombardier Commercial Aircraft, highlighted a number of features of the C Series aircraft that have been designed specifically with passenger comfort in mind. In the 3-2 configuration, most seats are 18.5 inches wide, with the exception of the middle seat, which is slightly wider at 19 inches. The large windows are positioned high on the sidewall to provide an optimal viewing angle and there are more windows than any other aircraft in the class. Also, the five-abreast configuration reduces the number of passengers in the middle seat. In fact, at an 80% load factor, nobody has to sit in the middle.
SWISS and Air Baltic are already operating C Series aircraft, and Delta and Air Canada have committed to the C Series family, which includes the CS100 and CS300. Baudis explained that feedback from airlines and passengers so far has been positive. "We really see very, very good feedback versus other single aisle aircraft," he said. "Even in situations where the airline did not improve the pitch between the seats, the perception from passengers is they feel more comfort, more space, they feel better." He added: "The wider seats are a big element that pleases the passengers. With wider seats, you can turn, you can move your legs, and that compensates for pitch to a certain extent."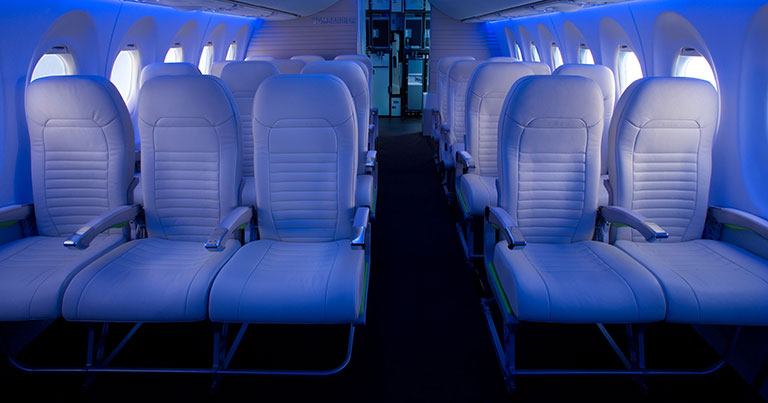 Baudis stated that the passenger comfort improvements stem from the fact that the cross-section was specifically designed to optimise the onboard experience. "With the cross-section, you can only do it once – you can never change it," he said. "You can change the wing, you can change the engine, you can do all sorts of things on the plane, but you are stuck with the cross-section until the end of the programme, so I'm glad we found a good balance that is pleasing so many passengers."
When another OEM, Airbus, confirmed back in 2015 that it would offer an 11-abreast economy class layout for the A380, big passenger experience questions were asked. Two years on, Italian company Geven – which offers a diverse portfolio of seating options – was displaying its 11-abreast seating for aircraft.
As Geven Managing Director Alberto Veneruso explained, every effort has been made to negate any impact on the passenger experience and, importantly, every seat is 18 inches wide, even at 11 abreast. The true impact of this seating layout will only truly be known if and when an airline commits to the high-capacity configuration.
Veneruso also took time to outline to FTE the benefits of Geven's business structure. He explained that the company has internalised the design and production of its aircraft seats to ensure it doesn't hit any supply chain problems. This, he said, has an indirect benefit on the passenger experience, because airlines aren't at risk of hitting delays when rolling out new aircraft and upgraded cabins.
Comfort vs Cost
After three days around the exhibition in Hamburg, it is clear that many OEMs and industry vendors are indeed innovating in an effort to enhance passenger comfort, but the reality is that ambition can be somewhat tempered by airlines' business models. As Bombardier's Baudis said: "The dilemma for airlines is the following: they need to become extremely efficient in economy class because passengers want comfort, but the same passengers will also select a flight based on a $10 difference on the Internet."
As airlines continue to unbundle their products into basic economy, economy, premium economy and so on, passengers will more frequently be presented with the option of a more comfortable on board experience, but the flip side of this is that increased passenger comfort will more often than not come at a price.