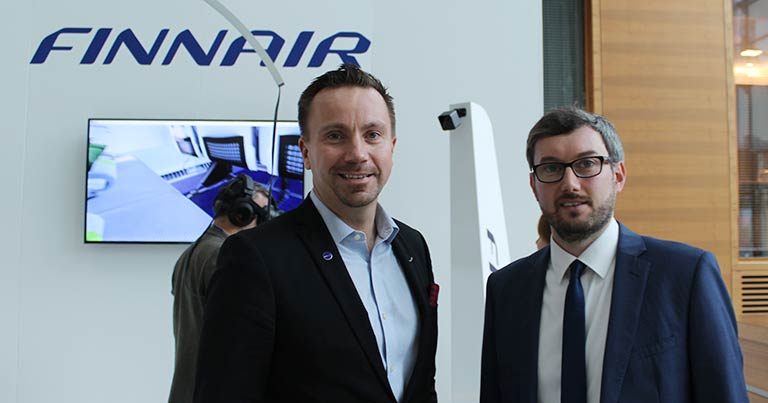 Thanks to the advantage provided by the geographic location of its Helsinki hub, which provides the shortest flight times between Europe and many destinations in Asia, Finnair's traffic between the two continents continues to grow at an impressive rate. In September 2017 traffic on the airline's Asia routes increased by 21.5% compared to the equivalent month in 2016.
To encourage and support this growth, Finnair has invested in a number of initiatives aimed at Asian travellers, particularly those from China.
For example, earlier this year the carrier became the first in the world to introduce Alipay as a form of payment on-board. After an initial trial on the route between Helsinki and Shanghai, Alipay is now available on all of its flights to Beijing, Chongqing, Guangzhou, Xi'an and Shanghai.
Speaking to FTE, Juha Järvinen, Finnair's Chief Commercial Officer, revealed "on our Chinese routes the retail sales have doubled" since the adoption of the China-based payment platform. He explained: "Lots of Chinese travellers love to shop. They can be very critical on the ticket prices but when they are on the trip they are very happy to spend, and to spend on luxury goods as well as souvenirs to bring back to their friends and family."
Järvinen also pointed out that passengers can pay for purchases at Helsinki Airport using Alipay, and suggested that making the payment method available throughout the journey has proved to be a big success.
Finnair, which was the first European airline to take delivery of the Airbus A350, has a well-deserved reputation as an innovator. It offers in-flight Wi-Fi on its long-haul fleet and is in the process of equipping its short-haul aircraft with a connectivity service. In addition, its on-board Nordic Sky Wi-Fi Portal allows passengers to shop and purchase products and tours using their own smartphones and tablets.
Artificial intelligence and virtual reality on Finnair's watch list
So, which technologies are currently high up on Järvinen's watch list? "Artificial intelligence is definitely something that we're trying to now look into, for example in our data capabilities," he revealed. Just last month Finnair launched its new artificially intelligent chatbot on Facebook's Messenger platform, providing a complementary way to answer passengers' frequently asked questions.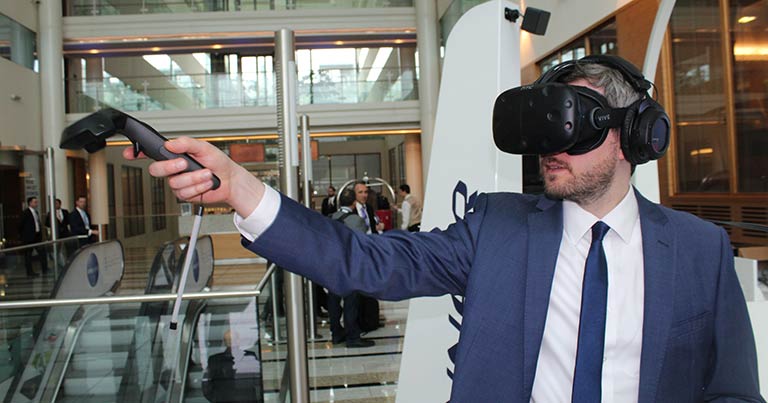 Another technology of interest is virtual reality (VR). "I wonder, could we bring virtual reality to the in-flight or the airport experience?" Järvinen pondered. "We believe virtual reality will impact the in-flight experience and then artificial intelligence will impact on our data capabilities, so those I would say are the two areas (of focus)."
Empowering staff members to provide the best possible level of service is also of importance, and Finnair is currently in the process of equipping all staff – both on the ground and on-board aircraft – with iPhones. "The reason for this is we want to make sure we can reach all of our employees using our apps, but also because it's good for frontline personnel, so they can assist passengers on-board using their own device to check passenger details, etc.," said Järvinen, who is also Vice President of the Airline Passenger Experience Association (APEX).
"We believe that in order to transform a company you also need to provide the tools and the vehicles to do it. The iPhone is a major investment for us for over 5,000 people. We believe it's an investment for the people and also it will enable them to meet the customer requirements. We believe technology is at the core of the things we need to do in order to improve, and passengers now expect that."
The response to Finnair's customer-centric approach certainly seems to be paying off. Total passenger numbers during the first nine months of 2017 increased by 8.2% year-on-year to almost 9 million, and traffic on the Asia routes showed an even more impressive 15.1% increase.
As passenger numbers continue to rise, Finnair plans to do everything in its power to improve the travel experience, especially for its all-important Asian customers.