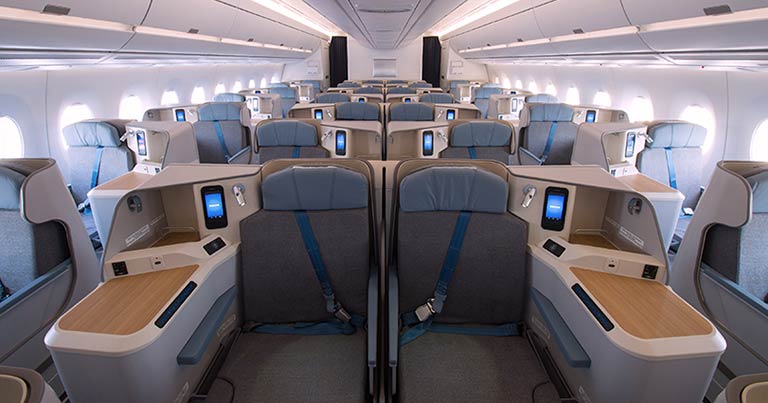 Air Mauritius has taken delivery of its first Airbus A350-900 aircraft, which offers a number of passenger experience benefits in business and economy class.
The airline, which already operates a fleet of 10 Airbus aircraft (six A340-300s, two A330-200s and two A319s), has chosen a two-class layout for its A350s, with 28 seats in business class and 298 in economy class.
At the front of the aircraft, the 28 Stelia Solstys III business class seats are configured 1-2-1, pitched at 44 inches and offer passengers a lie flat bed. Passengers can also enjoy in-flight entertainment (IFE) on 17-inch seatback screens.
In economy class, the Recaro CL3710 seats are configured 3-3-3, with the majority pitched at 31 inches. The IFE screens are 11.6 inches. All passengers will also have access to Wi-Fi, which will initially be available for free.
The A350's advanced air management system and LED ambient lighting will also help to create a more comfortable in-flight experience.
This A350-900 is the first of six to be delivered to Air Mauritius. Four will be purchased directly from Airbus and two leased from AerCap.