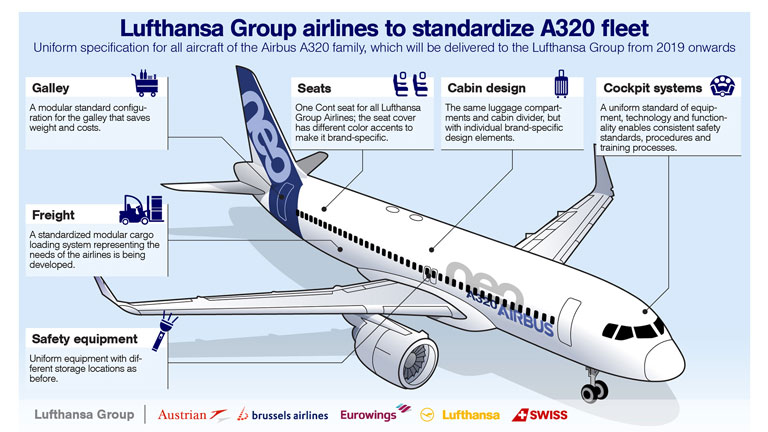 Lufthansa Group has announced plans to standardise its Airbus A320s across its carriers, namely Austrian Airlines, Brussels Airlines, Eurowings, Lufthansa and SWISS. The standardisation process applies to aircraft that will be delivered to Lufthansa Group from 2019 onwards. Each airline's brand identity will remain, however.
The Airbus A320s will be configured and standardised so that aircraft can be converted quicker and with less effort when they are transferred between Lufthansa Group airlines.
According to the Group, the airlines will focus mostly on the "large, cost-intensive components such as cabin design and the galley", when it comes to standardisation.
This will allow Lufthansa to react more quickly and flexibly to current developments and to move aircraft and capacities more easily and efficiently between the airlines and the Group's hubs.
The Group states that costs for conversion and layover time could be significantly reduced. Moreover, standardisation will result in further synergies when purchasing aircraft.
Lufthansa Group airlines are expecting to receive around 100 new Airbus A320neo family aircraft by 2025.