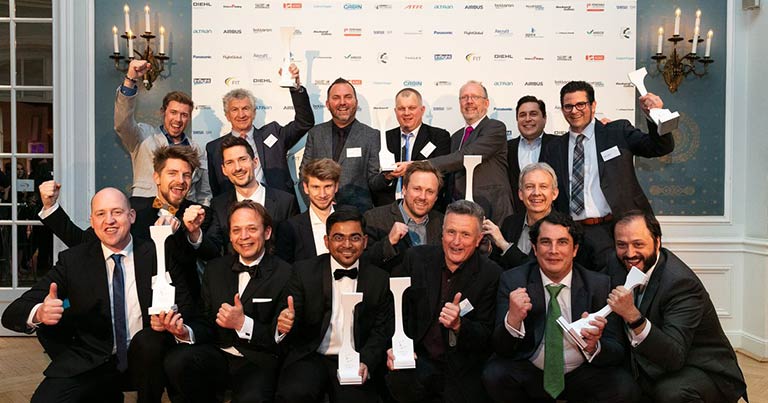 Future Travel Experience was proud to be a Media Partner for the 12th Crystal Cabin Awards, which were presented in Hamburg on Tuesday 10 April. The winners of the coveted prize for aircraft interiors were Airbus, Bluebox Aviation Systems, Cranfield University, PriestmanGoode, Renacen, Rockwell Collins and Villinger.
For the first time, a Crystal Cabin Award was awarded in the category of Inflight Entertainment & Connectivity (IFEC). The winner in this category was Bluebox Aviation Systems, which developed a dedicated portable IFE platform for visually impaired passengers. The product is already in service with its cooperation partner, Virgin Atlantic.
PriestmanGoode, together with Qatar Airways and Rockwell Collins, was successful in the Cabin Concepts category, thanks to its Qatar Airways Qsuite. Among the key features of the Qsuite are adjustable panels and movable TV monitors on the centre four seats, which allow colleagues, friends or families travelling together to transform their space into a private suite.
The award in the Cabin Systems category went to Rockwell Collins for the company's partition wall between business and economy class, Silhouette MOVE. The wall behind the business class cabin is bowed in such a way that the economy passenger sitting behind it still has enough legroom and space for cabin baggage.
The Greener Cabin, Health, Safety and Environment category saw Villinger prevail with LiteHeat, a heated floor panel. Whilst most foil- or cable-wrapped heated floor elements are often extremely sensitive, this Austrian innovation is indestructible, regardless of outside impact.
Airbus and Altran were victorious in the Material & Components category, thanks to their Printed Electrics process. Cable harnesses for cabin electronics may soon be a thing of the past, if wiring is directly printed using this process. The new technology was jointly developed in Hamburg's ZAL TechCenter.
With its creative approach to increasing comfort, Rockwell Collins took home another Crystal Cabin Award, this time in the Passenger Comfort Hardware category. The company's premium Valkyrie Bed offers a roll-up mattress that can be drawn across the seat from the wall panel when needed to create a lie flat bed.
Students from England, Scotland and the USA all made it into the final of the Crystal Cabin Awards this year in the University category. In the end, Cranfield University took the honours. The E-tom Smart water tap concept, which uses water nebulisation to save up to 90% of this resource, convinced the jury.
The Visionary Concepts category once again honoured concepts that the jury considered particularly forward-looking. Spanish company Renacen was the big winner here, with its 3D Seat Map VR software. During the flight booking, the application offers a virtual 360-degree view of the cabin from the passenger perspective.